What if you could visit a French city carved into arrondissements, with riverbanks for romantic promenades at dusk and beautiful buildings that sparkle at night - all without setting foot in Paris?
You would be in France's other "City of Lights", Lyon.
And you would wonder why you'd never been here before, since the figures confirm it: visitors love Lyon, France's second travel destination.
Seeing Paris is important, fundamental even.
But Lyon is where you might touch France's heart and feel its essence.
Lyon, Capital of Gastronomy
For many, that essence is food. Nothing embodies it better than the name Bocuse, whose most approachable venue is Les Halles, an indoor market of sorts where the escargots are as large as oysters and the oysters as plump as well-ripened figs.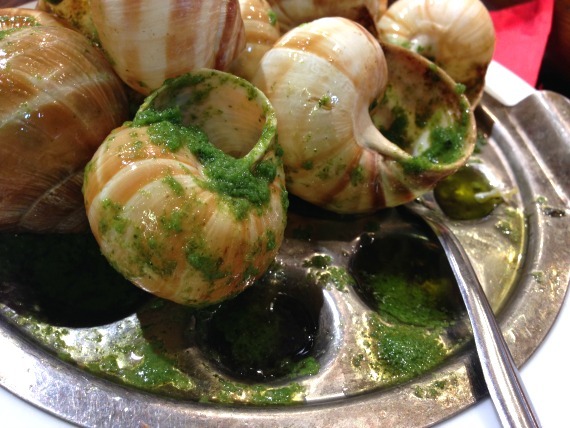 Alternatively, your Bocuse experience could take the form of a once-in-a-lifetime visit to the Auberge du Pont de Collonges, his three-Michelin starred restaurant, or to his hotel and restaurant school on Place Bellecour, where students replace chefs and waiters.
If you're feeling casual, visit one of his five city brasseries. It may not be haute cuisine, but each provides great value and, well, it is Bocuse.
Food may fuel Lyon's heartbeat, but history feeds its soul.
You'll sense it in the heart of Old Lyon, as you catch your breath at a café on the Place St. Jean, across from the 15th century Cathedral.
You can chase it down the pedestrian Rue St Jean, lined with ancient buildings, quaint shops and plenty - as always in Lyon - of food.
Dart into one of the many traboules, those secret passageways originally meant to protect silk workers from the rain. Only a few dozen are open to the public - and there's an iPhone app for that, by the way.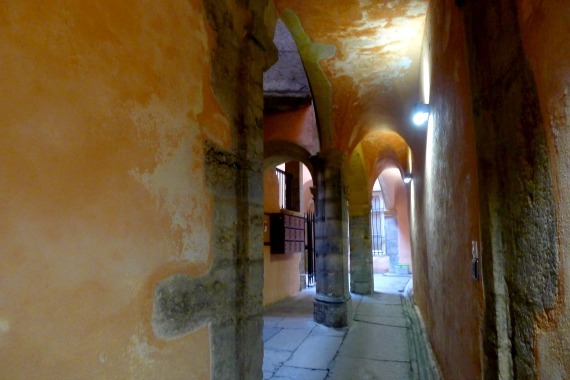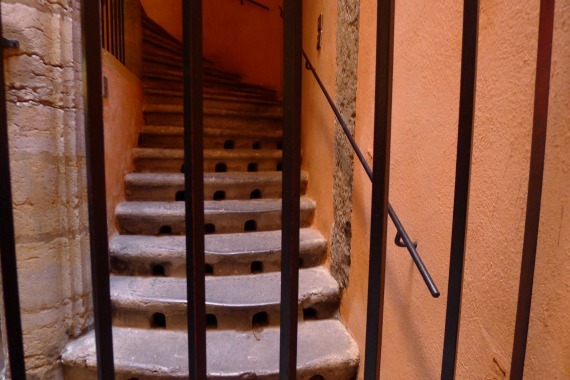 High above you on Fourvière hill sits the Basilica. Look closely for a glimpse of the Eiffel Tower next door. Not the Eiffel Tower, of course, but a pocket version which legend says was built to compete with Paris. Being parsimonious, Lyon decided to make it smaller and save money...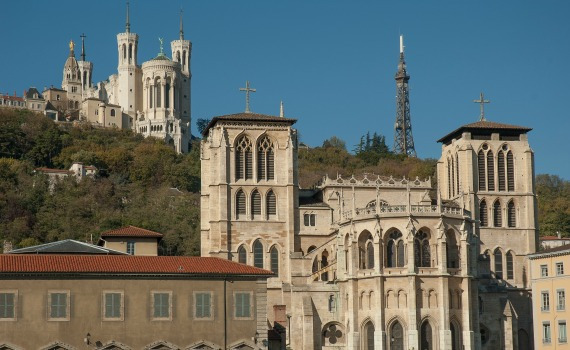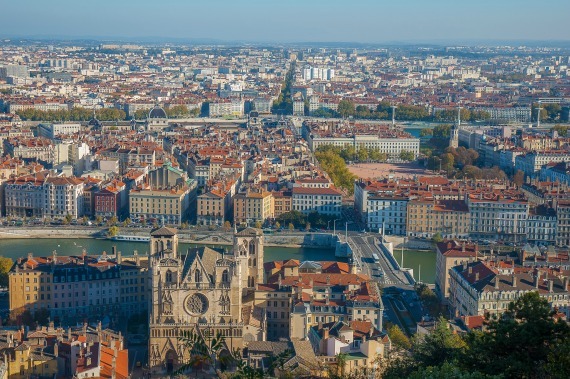 Another of Lyon's hills is also drenched in history: Croix-Rousse, once the capital of Europe's silk trade is now the city's answer to Montmartre.
As you climb the cobblestoned Grande Rue, notice the multitude of broad windows on upper storeys: they once allowed brilliant light to flood the silk weavers' workshops located there.
The workers are gone but their memory is everywhere - in museums or innumerable shops, restaurants or foods containing the word soie - silk.
You could spend your time exploring every side street in Croix-Rousse or picking your way through the nearby Roman Amphithéâtre des Trois Gaules, once dedicated to people's assemblies, gladiator fights - and the massacre of Christians.
Or you could walk around looking upwards, often the best way to see Lyon.
The most impressive of the city's many mural works of art is the Mur des Canuts, the silk workers' wall. The city thoughtfully scattered a few park benches to allow you to sit and contemplate. And you will, never quite sure whether those visitors catching their breath on the stairs are real or works of art.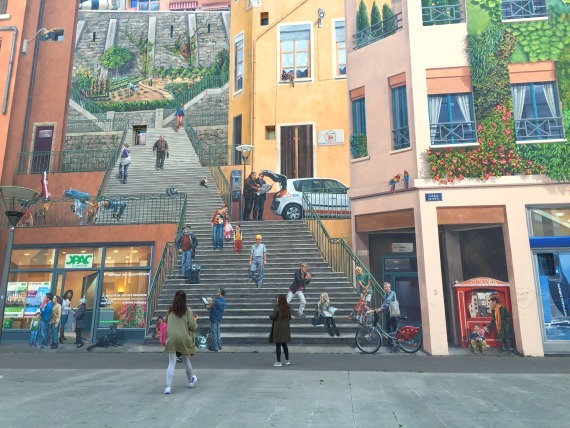 Lyon ranks in the top five world capitals for street art and murals and you could spend your entire visit hopping from mural to mural. It also has the world's first 'mural art university', ECohlCité. And yes, there's an app to tell you where the murals are.
To many, Lyon is best known for its wintertime Fête des Lumières, or Festival of Lights, which each December carpets the city with dazzling light shows (in 2015 the festival was cancelled for security reasons in the wake of the Paris terror attacks).
You don't have to wait until December. Just go out at dusk, any dusk. When the blue hour strikes Lyon, the lights go on across the city. From the town hall to the Basilica, from the bridges to the squares, lights scintillate against buildings in waves that dance across the facades.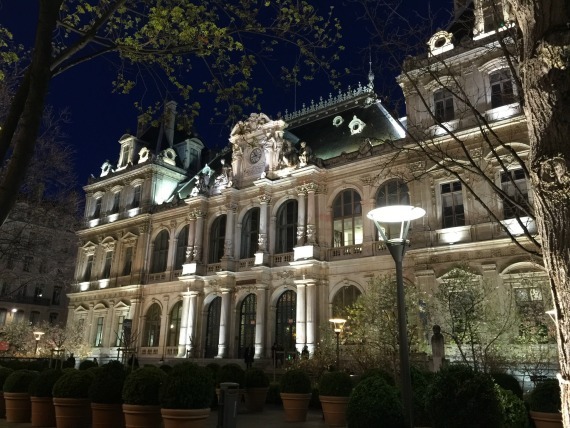 If you have the good fortune to be in Lyon early on a Sunday morning, grab a bus or a cab and get yourself to the Puces du Canal, France's second largest flea market. You'll spot 1920s leather chairs resting next to Renaissance puppets and 1960s chrome lamps. The earlier you arrive the better, because the 'pros' show up and grab all the good stuff before the day-trippers have crawled out of bed.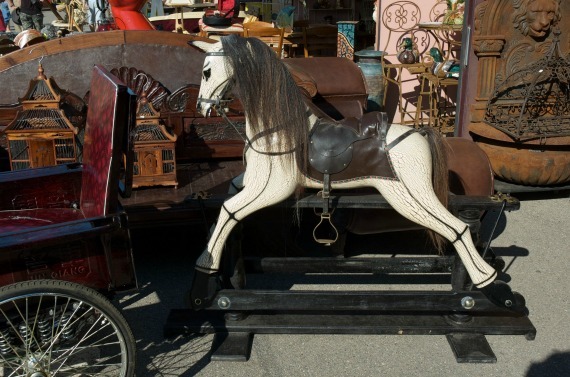 Stop for coffee in the middle of the market at one of the small bars frequented by merchants. In scenes likely unchanged in decades, antique dealers trade stories and throw back their early-morning white wine or cognac, especially when the cold winter bites. Sometimes, the elders 'forget' to go outside for a smoke, forgetting the smoking ban and pretending they're still in 'good old France'. Looking for something more upmarket? More than 100 shops in the Cité des Antiquaires (literally the City of Antique Dealers) are packed with high-end treasures, both classical and offbeat.
So yes, Paris may well be France's window to the world.
Lyon, however, is the gateway into its heart.