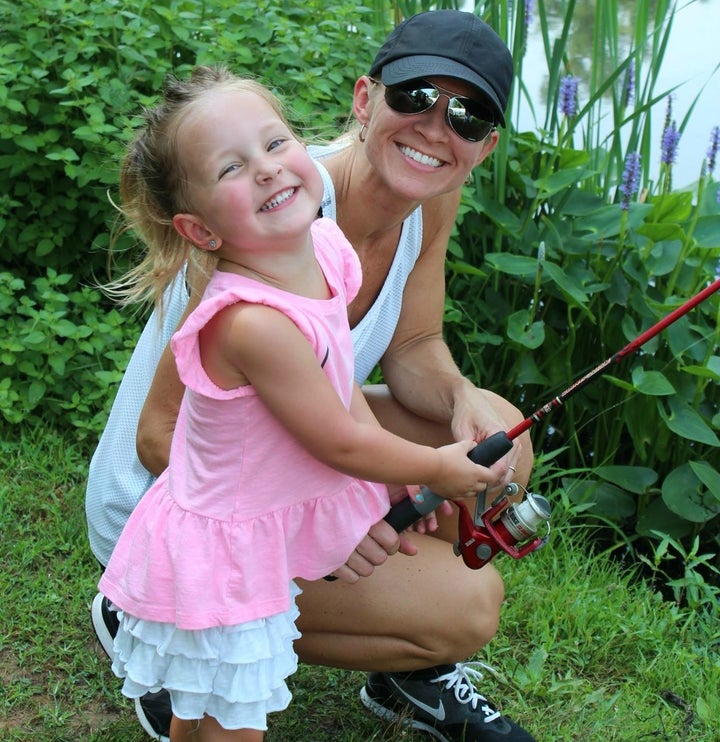 At 6 p.m. every workday, Lindsey Brooks sprints into her daughter's child development center, her smile and arms stretched as wide as possible.
When 3-year-old Ky sees her, the girl screams with delight – "Mommy!" – and runs toward her. They embrace as if reunited for the first time in months, not the nine hours it's actually been.
This seemingly small interaction is hugely important to Lindsey. While sometimes the joy comes naturally, many days she gears up in the parking lot to make sure this moment plays out so magically.
"I want to give my daughter my full and best energy and attention, because that's what she deserves," Lindsey said. "Whatever stress I may experience during the day has nothing to do with her, so I always make sure to leave it in the car."
It's all part of Lindsey's Ultimate Mission, a sort of life compass she developed during a training program offered by her company, Johnson & Johnson. The program, Corporate Athlete, is part of J&J's emphasis on "resilience training," which offers ways to navigate any stressful situation – before, during and after it happens.
A report released Wednesday by the American Heart Association's Center for Workplace Health Research and Evaluation shows that people are looking to their employers for help coping with job-related stress, which we all know ultimately impacts health.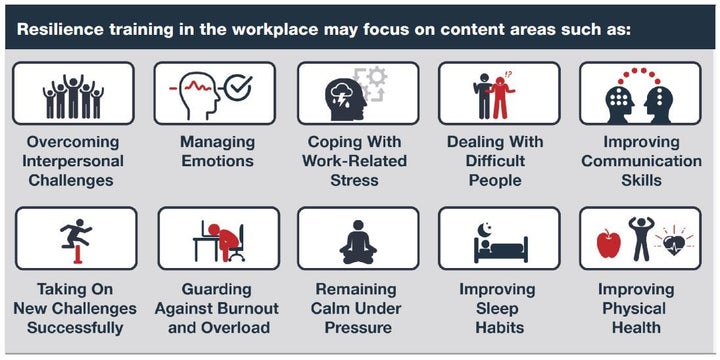 A new survey in the report shows that while 76 percent of workers believe something like resilience training would help, only 25 percent said their company offers anything like it. Among those who do have the option, nearly 80 percent said they took advantage – and 73 percent said it improved their health.
The numbers clearly show that companies like J&J are onto something. Lindsey's story offers further proof.
Lindsey's first exposure to the Ultimate Mission came in 2008, when her husband – a fellow J&J employee – went through a 2 1/2-day Corporate Athlete program.
In overly simple terms, he decided what mattered most to him and then prioritized his life around it. That meant everything from repairing fractured relationships to eating better and exercising more.
The emphasis on diet and exercise might seem predictable, but there's more to it. For instance, a hard workout can prompt better sleep, which leads to other benefits. Layer that with eating more fruits and veggies, and fewer chips and cookies, and you get a livelier person.
"He started doing small things that made a big difference and helped him show up better for me and our entire family," Lindsey said. "I could tell immediately that this program was different and I wanted to experience it, too."
She went through a 1 1/2-day course in 2010 and the longer version in 2012. She loved it so much that she became trained to teach it in 2013, the year before her daughter arrived.
It's built around the idea that while many people manage how they spend their time and money, they rarely manage how they spend their energy. As with any investment, it's wise to have a strategy. And a good one requires research, which in this case means going through the program.
Managing energy has four core principles, starting with a multi-dimensional view of energy:
Physical – The quantity of your energy. Are you getting the most out of your body? Thus the diet and exercise component.
Emotional – The quality of your energy. Is your default setting positive or negative?
Mental – The stability of your energy. Do you focus on a single task or do you spread yourself thin by multitasking? Are you present in conversations or does your mind wander?
Spiritual – The force of your energy. When you get knocked down, can you summon the resolve to get up?
Other principles include balancing energy expenditure with renewal (charging our personal batteries), finding the right kind and mount of stress (the discomfort needed to build capacity, like an athlete going through a hard workout) and connecting our behaviors to a meaningful purpose (the glue that holds it all together).
Through it all, a participant derives their Ultimate Mission and plots a strategy to manage the energy to best make it happen.
Small changes can make a big difference. Lindsey offers these examples:
If you get "hangry" every afternoon, bring a healthy snack to work. Keep extras in your bag or desk.
If you know you'll be sitting for a prolonged period, set an alarm reminding you to stand and stretch every 45 minutes.
If you arrive home still mulling problems at work or the driver who cut you off on the highway, pause before you walk in the door. Take a few deep breaths to blow away your burdens and clear your head for the folks inside. (Like Lindsey does when picking up her daughter.)
"When you identify your Ultimate Mission (an articulation of your purpose), you also talk about this notion of your best self," Lindsey said. "It's not someone you aspire to be – it's someone you are. You're just not that person as often as you'd like to be. You need to remind yourself to become that person more often. Every day you do it, it becomes more of a habit."
Ultimate Missions can be very personal – thus not something people always share. Still, they can be as common as "I want to be the best mother and wife that I can be" or as profound as "I want to create family everywhere I go."
When realigning your expenditure of energy to match your Ultimate Mission, it's important to start small by taking one thing at a time. Begin with the area that can have the greatest impact and give it 90 days.
"Maybe you're not being the best mom or wife because you lack physical energy," she said. "You might consider a training mission focused on becoming more engaged with your fitness, something like walking for 30 minutes twice a week."
Such a plan follows the acronym SMART: specific, measurable, achievable, relevant and time-based. It's also likely to lead to longer walks, perhaps more often, which in turn boosts confidence.
"People tell me all the time that after they start making a change, friends and family will say they're more fun to be around or more present in conversation and more engaged," Lindsey said. "So changes may come to life in different ways for different people, but whatever the positive reinforcement is, it fuels them to keep going."
The research I cited comes from a report called "Resilience In The Workplace," which was commissioned by the AHA's CEO Roundtable. I'm proud to be among the leaders of this effort featuring more than 35 chief executives representing some of the nation's leading employers.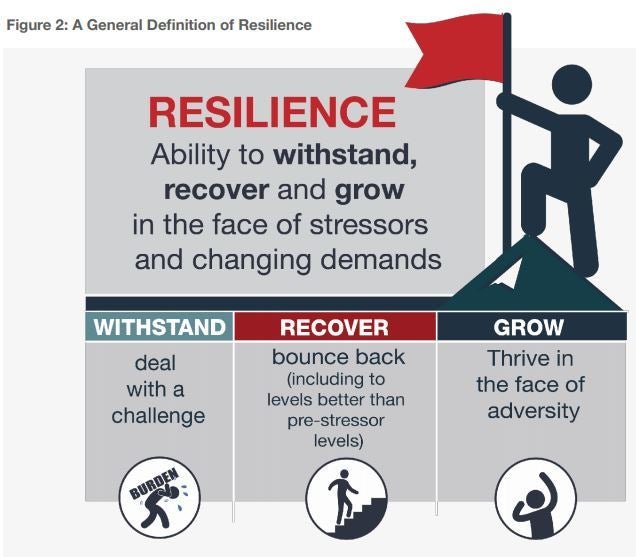 The AHA's CEO Roundtable is working to combine innovative strategies and best practices for employee health and well-being that can be implemented in companies of all sizes. You may recall my columns when we convened the group and when we released our Workplace Health Playbook.
Alex Gorsky of Johnson & Johnson is among our members, and – as you've read – is a big believer in resilience training. The J&J Human Performance Institute is a pioneer in this area, and J&J is working toward a goal of training at least 100,000 of their global employee population in the principles of energy management by 2020.
Lindsey – whose main role is as Senior Manager, Retail Health & Wellness – is among more than 100 coaches within J&J. In addition to helping reach the big company goal, she has her own mini-goal: "I want to help people identify their Ultimate Mission and learn how to manage their energy effectively so that they can sprint across the parking lot every day to achieve it."