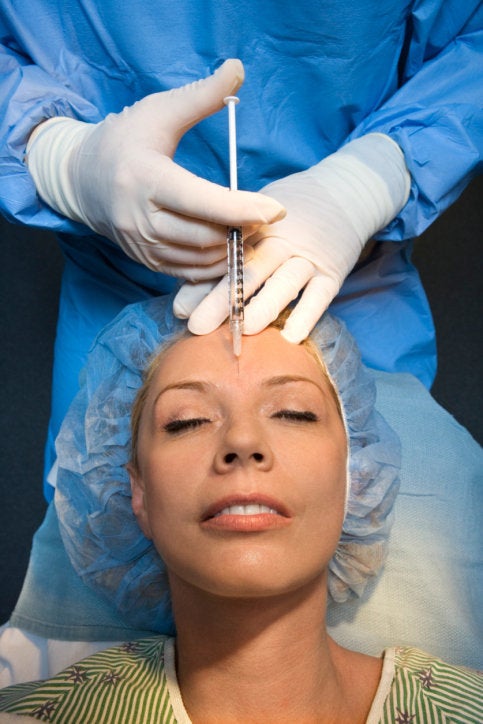 "Does she or doesn't she?" The question asked furtively by women just a few decades ago has now shifted to "has she or hasn't she?" This shift clearly reflects the increased casual use of non-invasive cosmetic and surgical procedures. But my question is: can we take advantage of these options without experiencing shame or regret? Can we avoid heading down a slippery slope, so that one procedure leads to the next? Perhaps the answer depends upon how thoughtful we are about the long-term impact these options have on us, not just medically, but psychologically as well. Before you reach for that expensive new jar or spend $1,000 on the next injection, be thoughtful and be careful.

As a psychologist who works with women who openly talk about their desire to look good at any age, I use the acronym S.A.F.E. to help them make good choices regarding cosmetic procedures. I encourage them to think about these four issues: SAFETY, AFFORDABILITY, FOR WHOM and EXPECTATIONS.

S is for SAFE. Safety seems like a no-brainer, but my experience as a psychologist has taught me that some women are hesitant or negligent about doing even the most basic research on cosmetic procedures. They rely on friends or magazines (sometimes neither) and forge ahead on decisions that can have permanent ramifications in their lives. Before considering any procedure, you must ask if your surgeon or dermatologist is board certified and if the procedure you are doing is FDA approved. You should also personalize your questions so that they relate to your particular needs. You are entitled to know these answers.
Not only should his/her reputation be good, but these practitioners should make you feel comfortable and take time to listen to your personal concerns. Ask as many questions as you like. A good one I've heard women ask is, "if I were your wife, daughter, friend, would you recommend they do this procedure?" It helps all involved take an individualized approach to what is about to happen. Ask how long the benefits will last. Will there be pain? A need for anesthesia? How long is the recovery? Is there anything to be done to avoid bruising or speeding up the recovery? How many years has this procedure been performed? Safe is not synonymous with successful results for an actor you admire, or even a friend. This is your face and your body. And cosmetic surgery is a personal, physical and psychological individual experience.

A is for AFFORDABLE. You would think this issue is another no-brainer, but too many women sign up for procedures without knowing their long term cost. Most, like botox, fillers and laser treatments require constant up-keep to continue their positive effect. Many women I work with, who like what they see from these treatments, want to continue. Not only do most want more of the same, but often one procedure leads to another. Just as a newly painted room makes the furniture look older, so does a wrinkle free forehead make crow's feet seem more pronounced. And after the "work" wears off, women say they notice the changes on their face/neck/body more than ever. Money worries create their own version of visual stress, so enter this process knowing if they are affordable, with awareness, both medically and financially.

F is for FOR WHOM, as in for whom are you doing this surgery? Some women have cosmetic surgery or try a procedure because someone else has persuaded them to try it. Sometimes the desire is provoked by "uh-oh moments," those feelings of discomfort as aging sneaks up on us. "Can I help you, Ma'am?" or "how many grandchildren do you have?" are innocuous comments that can lead women to feel they need to do something about their aging appearance before it's too late. Sometimes the comments come from a loved one, like a husband who becomes critical of his wife's body, or children who innocently ask their moms about the lines on their faces or the veins in their legs. Sometime provocative comments come from doctors themselves, who enthusiastically suggest a new procedure they believe will be appealing to an aging woman. Then there are friends, swearing by the positive results gained from a little of this or that, who make these procedures tempting. Remember this: findings show that surgical changes are most satisfying when they fulfill clear, personal goals. Think carefully for whom you are about to alter your face and body. You are the one who will be under the knife and living with these changes.

E is for EXPECTATIONS. Think carefully about what you hope to accomplish. Some women are unrealistic about cosmetic surgery. They are shown "before and after" pictures that look transforming but lack credibility. They watch magic wands remove wrinkles on infomercials and online ads. Unbelievable? Magical? Plastic surgery can do marvelous things for those who have realistic expectations, but magic, it is not. It does not make an older woman young, nor does it necessarily transform a woman's appearance. Nor should you hope for that, since the most satisfying surgeries are ones that make small changes that result in a refreshed and healthier looking appearance.
A woman who I treated had been depressed for many years, after neglecting herself and living in an abusive relationship. She wanted to have her eyes and neck done, but I suggested she wait until she made changes in her personal and professional life. After a year of challenging work in psychotherapy, she said she felt a lot happier, but still appeared tired and sad when she looked at herself in the mirror. She was ready for surgery and the results were positive. After the procedure, she felt her face now matched her internal experience. Women who want to fix their faces and bodies so that they will feel better about themselves are often disappointed. They go on to want more work done after the first procedure doesn't solve their problem. Having realistic expectations leads to satisfying results.

So use the acronym S.A.F.E. to remember to ask the right questions before you have cosmetic work done on your face or your body. Look at it this way: would you go up a mountain and ski down without knowing the terrain -- without knowing if there is an end in sight or if you can make it down safely? The many new options now available may bring you great pleasure, just as that mountain might for a skier who knows how to make good choices. But, one who plans to ski a lifetime thinks carefully before going down a dangerously slippery slope. When it comes to your face, your body and your aging process, be as thoughtful as you are in other aspects of your life. You will feel, and ultimately look, far more beautiful.
Copyright 2010 Vivian Diller Ph.D., author of Face It: What Women Really Feel as Their Looks Change
Author Bio
Vivian Diller, Ph.D., is a psychologist in private practice in New York City. Dr. Diller was a professional dancer before she became a professional model, represented by Wilhelmina, appearing in Glamour, Seventeen, national print ads, and TV commercials. After completing her Ph.D. in clinical psychology, she went on to do postdoctoral training in psychoanalysis at NYU. She has written articles on beauty, aging, eating disorders, models, and dancers, and served as a consultant to a major cosmetic company interested in promoting age-related beauty products. Her book, FACE IT: What Women Really Feel As Their Looks Change (2010), written with Jill Muir-Sukenick, Ph.D. and edited by Michele Willens, is a psychological guide to help women deal with the emotions brought on by their changing appearances. "Today" co-host Hoda Kotb called it "a smart book for smart women."