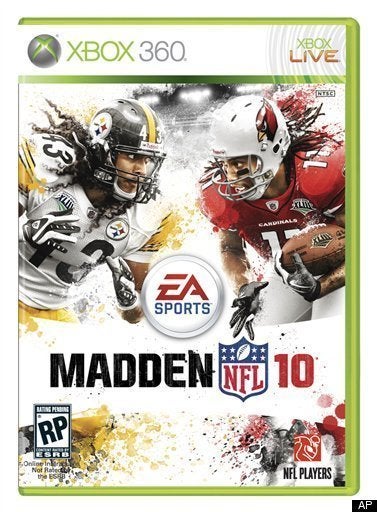 I lose two of the main men in my life to football this week. No the season hasn't started early this year. I'm talking about the two biggest things to happen to football, since, well, football - fantasy and Madden 2010 -- and my husband and brother respectively. With virtual football becoming as popular as the real game, women all over the country are dreading (or loving?) that August now marks the start of the season. Gone are the days when you just got to lose your husband, boyfriend, son and dad on Sundays and the odd Thursday night. Virtual football has made a once seasonal obsession into a full-blown addiction worthy of a stint in Hazelden.
Madden 2010, which is being released tomorrow by Electronic Arts for the PS3, PS2, PSP, Wii and Xbox 360 is getting great reviews and generating fantastic buzz. By all accounts it looks to be the best yet in the hugely popular franchise. This year EA took some amazing leaps to up the realism. Everything from players getting yelled at on the sidelines, to arguing refs, to the much anticipated Pro-Tak (procedural tackling) which allows for realistic pile ups, makes this game as close to the real thing as it's ever been. All we're missing now is the Coors Light smell-o-vision. In fact, EA claims that the game is so accurate that they can use it to predict the outcome of the real season. According to a Company release the Patriots will have the best record and Tom Brady (coming off last year's injury) will be MVP and Offensive Player of the Year (New York Fans like me are hoping the soothsayers over at EA are wrong about this one).
Fantasy Football -- the other 800 pound linebacker in the room -- hasn't changed much since last year with the exception of some cool new iPhone Apps. Yet it seems the fervor for it, and the huge revenues it generates, grows every season. This year, I'm going to urge my husband to use Madden's predications to encourage his draft picks. That means not drafting Larry Fitzgerald or the Steelers defense (they are both "cursed" cover models) and taking Brandon Jacobs (not an easy pill to swallow for a die-hard Jets fan).
So where am I in all this? I love Football and video games, but this Sunday it's all about my own "Mad" obsession - Jon Hamm and Mad Men.
Support HuffPost
The Stakes Have Never Been Higher
Popular in the Community