In 2016 we have seen a year filled with everything Customer Experience and, as we now near the end of the year, many organizations are well underway with their 2017 planning. While the focus on Experience is always very welcome (and should be an everyday thought and focal point for businesses), it is also apparent from talking to organizational leaders and spending most of our days evaluating experiences that many organizations, unfortunately, did not see the return or results they had expected from their 2016 CX agenda.
In some of our recent experience evaluations of Apps and in the retail and travel industries, it was easier than ever to spot the CX laggards from those who had a clear and genuine focus on the customer experience. One experience was so awful that I have not used the brand again, and in comparison, one was so great that I felt compelled to write in and say how wonderful their employees were. This was so noticeable, not just because of what you saw or heard about their "focus on the customer", but because of the way that interacting with the brand actually felt. It was in how the total composite came together for the laggards and the leaders that a completely different feeling was created.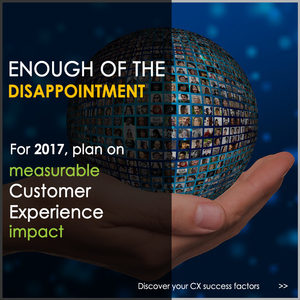 Being in the business of defining success factors we had a good inkling as to why this might be the case, and, after speaking to several people across different organizations, as expected, many of their stories and thoughts boiled down to a few core problems. These problems, or CX mistakes, serve as a good reminder for any organization planning a better focus on CX in 2017, especially if they are looking for the clear business impact that CX leaders are seeing, such as faster revenue growth:
For starters, many organizations still have not applied true awareness that experience is based on an understanding of people - how they feel, and how they behave. Unfortunately, some organizations have simply played "follow the buzzword", or suffer from "check-box-itis", in which experience can end up as little more than lip-service, just words on slides, or a list of activities lacking common glue and purpose, not to mention the fact that buzzwords do tend to change with the weather.
To be successful, there needs to be a shift in culture. To advance in CX maturity, there needs to be a core understanding of what experience design is and what creating successful experiences means across the customers, the business, and the employees that deliver it. Experience design is a discipline, a way of thought, and it can therefore be developed. Organizations that saw real results from their experience agenda understood that they needed to work actively on developing the mind-set cross-organizationally; that they needed to set themselves up for success because enabling a real customer experience focus is multi-faceted. Successful organizations strategized correctly, ideated and experimented, and were able to execute.
Many spoke of the cycle of "reactiveness" that plagued their efforts, making it incredibly difficult to leap-frog forward enough to see necessary results. Many companies had made great investments in gathering information, real time data, and analytics. But while data is incredibly useful and plays a hugely critical role in achieving success, there were two common occurrences that limited the value these investments afforded them:
There was a lack of understanding in what to actually listen for, collect, and apply.
There was so much data that it was tough to focus on what was actually important, which, in turn, led to wrong decisions.
We found some organizations had spent a lot of time responding reactively to data in small increments. While this may at least be a step in the right direction, many of the solutions proposed as a result were not optimal. Organizations in this mode ran the risk of not innovating and, therefore, only achieving a "local maxima". It is critical to understand the impact that solutions may have, i.e. where a fix may be good, but where a more strategic plan, longer term implementation, or pivot might be needed instead.
Organizations that were successful in advancing their experience were able to recognize the difference between knowing proactively what impacted the customer experience and using this to make the right decisions as opposed to only listening afterwards.
A good first step in moving to a more proactive mode is to really understand what the experience entails - what is success? What drives a genuine emotional connection for the customer? Knowing this means you can optimize across the whole ecosystem, analyze solutions and ideas, weigh up against the likely impact through measures that matter, and balance the best way forward across your efforts.
3: The Cross-Functional Fight
It would appear that as CX has gained momentum, unfortunately, so has organizational "politics", as numerous stories of politics and functional "jockeying" around who owns experience demonstrate.
Organizations that gained real momentum in their customer experience understood the truth that it takes each and every person in the organization to create and deliver the best experience possible. It takes alignment and shared common drivers. These organizations also understood the importance of having a clear and able leader responsible for driving the cross-organizational CX, so that there is someone that can spend the dedicated time and effort necessary in executing such an agenda. Traits of successful leaders in such a role included empathy, the ability to build relationships across the organization, an understanding of human behavior, the ability to see patterns in data, the ability to be proactive, the ability to influence and inspire, and, a true understanding of the business, the customers, and the goals.
As the buzz continued, some organizations shifted to what they thought was a full customer focus. Suddenly dollars were thrown at everything the customer wanted. Some of the problems encountered with this sudden swing of the pendulum included wasting funds on things that people didn't really need, efforts spent on assumption-led solutions, and lack of smart investment into the areas that had the highest chance of driving success.
Organizations that were seeing results, on the other hand, focused on the customer's true needs - not their wants. They understood that optimization is a process across business and customer experience and you can achieve both without the pendulum having to go to extremes.
To ensure an authentic customer focus, be sure to understand the stated and unstated needs, what is good enough, what are the true moments of impact, and what to invest in so that you have the most optimal chance of moving the needle to meet both business goals and customer experience as these should be aligned.
Start with a real understanding of what result the experience needs to bring about.
As the gap widens, the laggards will have a harder time surpassing their competitors who have an authentic customer experience focus at their core. From leadership to purpose, from process and structure to employee engagement, from metrics and insights to tools, the organizations that are showing true results are not only seeing it in their business metrics, but they are quickly garnering customer love, recommendations, and repeat business.
With the next wave of CX set to have a profound impact on firms' P&L, it is important for those organizations who want to see tangible CX results that they don't let 2017 pass them by with yet more reactive initiatives which don't yield the results or return that is needed.
It is imperative that they proactively understand what impacts the customer's experience and feelings about the brand, otherwise they run the risk of flying "blind", using the wrong data or listening to wants or the voice of a few, which in turn will limit the impact they see.
If you are planning for your 2017 CX agenda, here are a couple of things to think about:
Do you have the leadership and skills in place to achieve the desired experience?
Do you actually have an understanding of your customers - do you understand what they see, hear, feel, think, and genuinely need - be that stated or unstated?
Are you utilizing the right data at the right time to make better decisions? Do you know what to listen for and collect?
Are you focused on genuinely improving the lives of your customers?
Do you actually understand what is measurably the successful experience customers need and what outcomes will drive a positive brand association?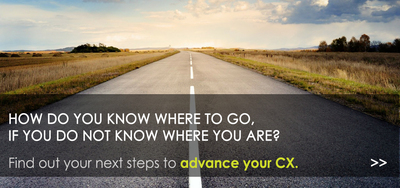 Calling all HuffPost superfans!
Sign up for membership to become a founding member and help shape HuffPost's next chapter