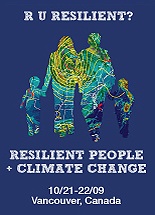 "The conference sessions offer a true test of the successes and failures of our climate change narrative.... This conference is mining deep for gold."
-- Jen Marlow, co-convenor of Three Degrees: The Law of Climate Change and Human Rights Conference, University of Washington School of Law, Seattle, WA
Are you resilient? In the run up to this December's United Nations Climate Conference in Copenhagen, Denmark, it seems necessary, given the high-stakes poker involved, to reflect on this question. And a few others: What kind of person would you need to become, what kind of community would you need to create, and how could you develop the capacity to face increasing unpredictability and loss as the twenty-first century unfolds?
Bringing together experts and community members to discuss these and other crucial questions is why I'm co-convening a conference called "Resilient People and Climate Change," which gets underway next week, October 21 to 22, 2009, in Vancouver, Canada. The other co-convener is Mike J. Littrell, a cultural mythologist and political-campaign consultant, who provided support to the Obama campaign during the January 2008 Iowa caucus.
For example, today we face a growing possibility that the accelerating pace of climate change may outstrip humanity's ability to institute the dramatic and widespread structural changes needed to ensure just, inclusive, and large-scale adaptation. Meanwhile, our narratives about climate change -- and the effort it might take to mitigate it -- are not in alignment with reality. Equally unsettling, our collective response to climate change is not proportional to its threat.
According to colleague Littrell, "We are living through a climatic, economic, social, and cultural transition that is desperate for a new narrative." If this analysis holds up, then individuals, as well as private and public sector organizations, need to encourage psychological and social adaptation that helps people become more resilient to climate change -- and more capable of being in service to fellow citizens -- as an inexorable shift towards a more challenging climate regime unfolds.
Former international director for Earth Day International, Littrell uses rich insight into narrative and storytelling to align stories with causes, in this case climate change and the people and organizations affected by it. "The Resilient People + Climate Change Conference is unique," he says, "because it highlights narrative and storytelling as central to human relationships, and thus to psychological and social resilience. It advocates turning people into active participants rather than passive listeners by showing how facts and theories can be invited into dialogue."
With a nod to Hemingway, he adds, "From a storyteller's point of view, resilience is the process whereby a person gets stronger in the broken places."
One aspect of humanness that climate change threatens to alter is our cognitive capacity. My recent HuffPost articles posit that converging economic, social, ecological, and climatic stresses are poised to affect people's ability to think well and make sound decisions. In this regard, Littrell suggests that what is needed is "personal resilience in decision-making." More plainly, Littrell and I concur that individuals need an inventory of their personal and community-based assets -- the relationship webs that contribute to inner strength, "decision-making space," and a raison d'etre.
Even before conference kickoff, we've had a couple of encouraging wins. Less than two weeks ago, partially as an outcome of policy discussions I'd had with the Green Party of BC regarding mental health impacts of climate change, the party drafted and passed breakthrough policy stating that it would "implement a full range of direct and supportive programs- as part of a fully-costed, preventive health care plan -- to help mitigate the impact of climate change on the mental health and psychosocial well-being of British Columbians." Yes, we know, the Green Party of BC isn't in power, but the policy is laudable and may set a benchmark for other political parties to review, discuss, and emulate.
Finally, we have managed since mid-July to attract high-caliber panelists and participants. This wouldn't have been possible without the kind assistance of Rick Ingrasci, psychiatrist and co-founder of Physicians for Social Responsibility and Hollyhock Retreat Centre, and Leif Utne, vice president of Zanby, a community development software firm with clients such as 350.org, or the tireless efforts our equally valued volunteers, sponsors and Swedish climate allies, as well as an anonymous philanthropist who contributed to the cost of airfare for an out-of-country panelist.
Mental Health and Psychosocial Impacts of Climate Change
Communicating 21st Century Challenges, Including Climate Change, Constructively
Beyond Resilience: Working Towards Compelling Narratives (Stories of Courage, Survival, Adaptation, Beauty)
We look forward to reporting on conference outcomes that may contribute to the process of fostering psychological and social resilience, something urgently needed for humanity to maintain the "civil" in civil society, particularly as a number of crises, including climate change, coalesce in a fashion that won't be easy to sidestep or ignore.
Support HuffPost
The Stakes Have Never Been Higher
Related
Popular in the Community