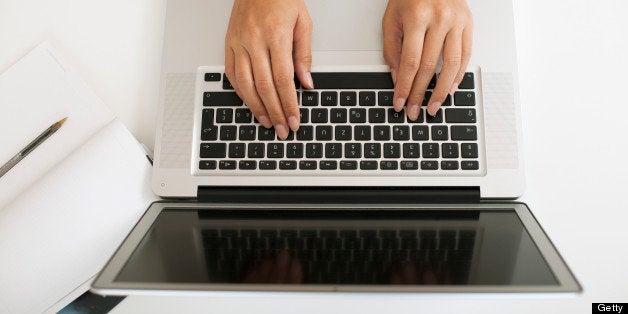 According to a survey by Foodista and Zephyr Adventures from February 2012,
The prototypical food blogger is a married woman in her 30s or 40s living in the United States. While she is either a parent or perhaps on the way to being so, she is likely to be employed full time, part time, or working in her own business. She most likely comes to the food blogging world with some relevant food, marketing, or writing background.
This generalization includes me, a 33-year-old married female blogger living in Atlanta, who started her blog as a hobby while holding down a job in corporate America. The only difference between the 181 million bloggers around the world and myself is that I discovered a way to live my dream lifestyle and have a viable business that emerged from my blog.
Four years ago, I started Go Eat Give as a way to document my travels, restaurant reviews, recipes and inspiring stories of people doing good. The theme of my blog was to connect people, places and palates. In other words, to show how people around the world share the same emotions and aspirations, despite our differences in customs, religions and ethnicities. Food is one component that brings everyone together, whether you are in Kabul or Paris. As a result of reading my blog, people got motivated to volunteer when they traveled, to give back in their own communities and to walk inside a strange-looking ethnic restaurant in their city. The readers started sending me compliments and donations, inviting me to speak at events and share with others my vision of a connected world. What started as a blog became a movement for global change, and I incorporated it as a nonprofit organization that serves to impact hearts and minds of citizens everywhere.
Most bloggers start their blogs because they have a passion for that subject. According to the Foodista and Zephyr Adventures survey, about 40% of food bloggers do it in hopes of turning their blog into a job, yet only 1% of blogs generate enough income to substitute a salary. Sure, they can collect ad revenue and get free samples and complimentary invitations to tastings and festivals. More successful bloggers contribute to magazines, write books or restaurant guides, teach cooking classes and even become a local authority on food. A few lucky ones are able to get a job in a related field, such as food styling, photography, marketing, recipe testing, etc. Some enterprising ones end up opening a food-related business, such as a restaurant or a line of specialty food items (vinegars, sauces, mixes). The bitter truth is 75% of food bloggers do not make any money from their blogs.
Should you stop blogging, then? The answer depends on what you want to achieve from it. If your goal is to share your recipes with the community and spread the message of good eating, you should continue to do what you are doing. But if your goal is to quit your 9-to-5 job and earn a living from blogging, start thinking out of the box.
In fact, when I paid closer attention to the professional lives of my food blogging colleagues, I found that most of them were using their blog as a platform to showcase their work, instead of a direct stream of income. Graphic designer Melissa Crane discovered her passion for food while doing freelance work. She launched her blog Dash of East to get her photography gigs in the food and restaurant industry.
Another inspiring lady, Malika Bowling, started by writing about chefs and restaurant on her Atlanta Restaurant Blog. Before she knew it, companies started hiring her to do their PR, online and social media marketing. With a guidebook (Food Lovers' Guide to Atlanta) under her belt, Bowling is now the Atlanta Editor of 10Best.com and earns a living through blogging-related business. She has also founded the Association of Food Bloggers to serve as a directory of ethical and reputable food bloggers.
Raleigh based Linda Watson had seen the full spectrum of food blogging. Watson started a campaign for healthy eating for less through her blog Cook for Good, where she posted delicious recipes that one could create with a food-stamp budget. Since then, she has published two books, her latest being Fifty Weeks of Green: Romance & Recipes. Watson tours the country giving talks on fighting hunger, affordable eating and sustainability, creates instructional videos and teaches cooking classes. If there is one thing to learn from Watson, it is that as a food blogger you must never stop being creative and resourceful.