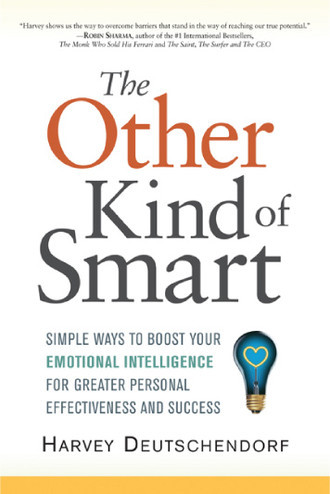 Entrepreneurs and family business owners are taught to focus their time and attention on business and technical skills to succeed. What's missing are the skills necessary to develop emotional intelligence. Leading with emotional intelligence is critical to improving productivity and creating high performing teams. I interviewed Harvey Deutschendorf, author of The Other Kind of Smart, to learn more about why developing emotional intelligence makes entrepreneurs smart.
DM: Why should entrepreneurs care about emotional intelligence? Shouldn't our priorities be learning to sell, project management, strategic planning? What's the value of developing emotional intelligence?
HD: You must have good positive working relationships to really succeed. To do that, you have to become self-aware of how you come across to other people. You also have to become aware of other people's needs and desires. You have to learn how to bridge the gap between those two interests, yours and theirs. You also have to be a good listener. People need to feel like they've been heard and understood. If they don't feel that way, it will impact your working relationships.
DM: What about entrepreneurs who don't work in teams? Perhaps they're serial entrepreneurs who hire competent managers to run their businesses and are not involved in the day to day operations? What does developing emotional intelligence have to do with them?
HD: For an entrepreneur, being able to influence people and develop trust is crucial in any business. The ability to have more influence is largely dependent on being able to form relationships with others and that depends on your people skills. If you don't have those kinds of people skills that will increase your influence, then you won't do well.
DM: I don't hear you downplaying the other skills that entrepreneurs and family business owners to become successful. What I hear you say, is that there's a critical component of leadership development we should not neglect. What percent of leadership skills would you say should be allocated to emotional intelligence?
HD: It's very high. Technical skills can be delegated. What people in organizations look to leadership for is emotional intelligence. The leader must have good people skills, demonstrate trust, and show empathy which filters down to staff and teams. If your people trust you as a leader, they will develop trust about your business. They will be motivated to do more. They will show the same types of skills to others. They will do more than what's necessary. When there's no trust, for example, people will only do what's absolutely necessary to complete tasks, but no more.
DM: Why did you list "Social Responsibility" in your book as a trait of emotional intelligence? Why do you view it as a component, rather than a duty or by-product of running a business?
HD: Many entrepreneurs who are successful in business are givers. They are people who give to the community. They are seen as givers, and therefore, other people want to help those entrepreneurs in return. These entrepreneurs are viewed in high regard, as people who care about others and are responsible. It's a natural desire to want to help them, in terms of financing them or becoming a customer. People are drawn to them. The people who have social responsibility are also people who have a high degree of empathy. They want to reach out and help others and it makes them people of influence.
DM: Why do you list independence as a trait? What about interdependence? Shouldn't entrepreneurs excel at collaboration and getting work done through others?
HD: Before you can become interdependent, you must be independent. You must have your own ability to think critically before you can appreciate another person. You have to have a certain degree of independence. Otherwise, if you don't have any degree of independence, interdependence becomes dependence. Part of emotional intelligence is knowing who you are. Otherwise you'll just be drawn into a dependent relationship. Independence has alot to do with self confidence. You rely upon yourself more to make decisions. You listen to others and gather information, but you rely on your own thinking and faculties for making decisions. You don't rely on other people for that.
DM: How would you advice entrepreneurs and family business owners to get started in developing emotional intelligence?
HD: Do anything you can do to become more aware as individual. Develop a good sense of self awareness of who you are, what triggers you and how you operate. Work on building relationships.
Become a well-functioning family before you go into business. If you don't have a solid foundation, the opportunities for more stress and conflict that come from business activities can be devastating. If you don't have the tools within your family to develop better relationships, you're headed for disaster. Don't think about going into business until you're at the point where everyone understands and appreciates one another, and until you have the tools to resolve conflict.
Calling all HuffPost superfans!
Sign up for membership to become a founding member and help shape HuffPost's next chapter