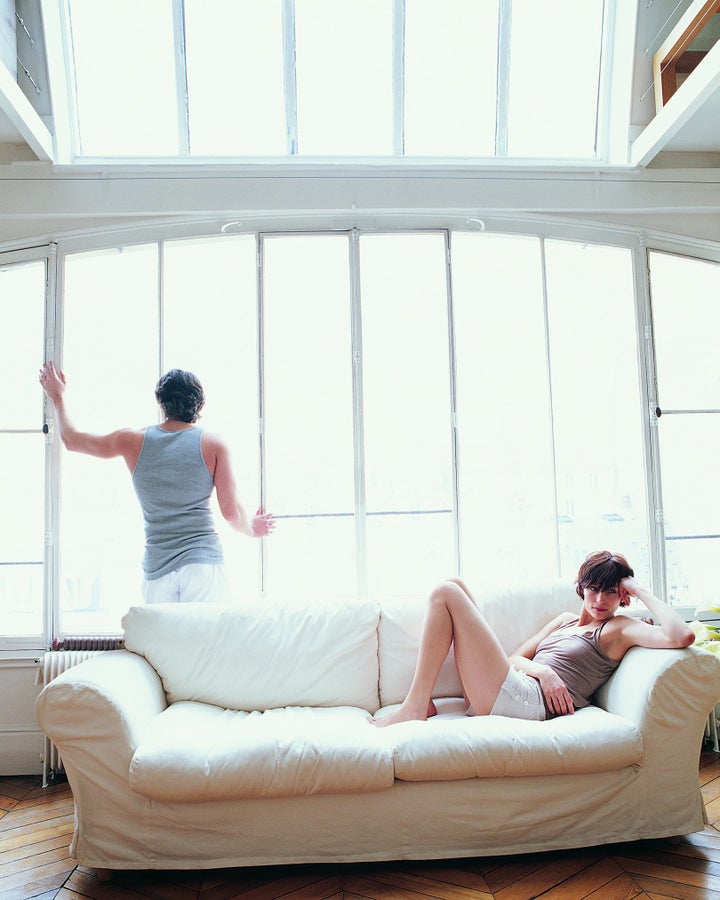 Some couples stay together for love, and others stay together for the kids. But today, with unemployment at 9.1% and real estate prices continuing to decline, more and more couples are staying together for the home. Divorce rates have declined every year since the onset of the Great Recession, back in 2007.
Many cities have multiple foreclosures and homes sitting for months on the market. Not the best seller's market! But, if you're staying together waiting for real estate to turn around, you might have to wait years. According to James J. Saccacio, chief executive officer of RealtyTrac, "Data from the Mortgage Bankers Association shows that about 3.7 million properties are in [a] seriously delinquent stage." That means there are a lot more foreclosures waiting in the wings, which could continue to drag home prices south.
If you and your ex are underwater on the mortgage or struggling to keep up with the payments, the decision is even more dire. Letting the property go to foreclosure is a decision that has ramifications on your credit for years to come. There are many risks attached to short selling - including phantom income and bill collectors hounding you for the shortfall. And banks are not forthcoming about modifying loans for people who stay current on their payments.
If you're sure the best plan is to sell now, then be sure to know the market, price your home reasonably and consider advertising to an international marketplace to increase your odds of getting into escrow within a reasonable time frame. If you're in trouble financially or underwater on your mortgage, below is a sobering look at seven available options for distressed homeowners. There is no easy solution, but there are resources -- many free -- that can help you cross on over to the other side, out of financial ruin and onto creating an improved, more sustainable life and lifestyle, where your choice of whether or not to divorce isn't based solely on desperation.
1. Hanging On
2. Selling to a Friend
3. Loan Modifications
4. Short Sales
5. Foreclosures & Bankruptcies
6. Tapping Your Retirement Plan.
7. Recovering Your Credit Rating.
1. Hanging On.
May prices, on a nationwide basis, are down another 5% this year over last, according to Dr. Lawrence Yun, the chief economist for the National Association of Realtors. Certain areas, like North Dakota, Alaska, many parts of Texas and Washington D.C, are seeing a local renaissance in home prices, largely because the job market is stronger. So, look to the local economy for signs of when real estate will recover in your neighborhood. If the math makes sense for another 2-5 year horizon (at some point, retirees should start snatching up bargains in some of the most distressed areas) then hanging on could be an option for you -- that is if you and your ex can agree to this strategy without reliving "The War of the Roses" (a black comedy).
2. Selling to a Friend.
Think that you should short sale to a friend, who can then sell your property back to you in a few months for a more reasonable price? According to Pamela D. Simmons, a partner with the Law Office of Simmons & Purdy, who is an expert on mortgage lending law, you could be risking jail time. In the short sale process, you have to list your home on the open market and sign papers declaring that you have not used a straw buyer. If you lie, that's fraud.
3. Loan Modifications.
Buyer beware. There have been far too many distressed homeowners who put their faith in a company that promised them the moon and the sky, after a rather substantial upfront fee, only to be ripped off. Don't trust fee-based strangers, especially when the advice you need is available from HUD-approved counselors for free at HopeNow.com. If you received a loan modification a few years ago, you could qualify again at even lower interest rates. So, this is an option to consider, especially if you've done the math on hanging on and determined that this is your best course for now.
4. Short Sales.
Some short sales come with hidden terms that could Shark Attack you while you're trying to swim away. According to Simmons, "Lenders have become rather sophisticated in making it sound like they are going to release you from liability on the loan, when in fact, they are going to release the security interest, meaning the property, but they are not releasing you from the liability." After you complete the short sale, the shortfall is then sold to a debt collector who comes after you to pay it. In order to protect yourself, be sure to have an attorney with a strong background in real estate review the short sale document to ensure that you are being released from all liability and that the account is being closed. Another downside of the short sale is phantom income - where you may be liable for taxes on a portion of the loan.
5. Foreclosures and Bankruptcy.
Let's take the case of Roger, who is a semi-retired divorcee, who has two grown children with young families. Roger was lonely and got sucked into seminar land, where he was convinced that if he purchased real estate, he could flip the property for a profit and become a multi-millionaire. Roger got stuck with five houses in Las Vegas that are worth half the price he paid. His ARMs reset and for the money he is spending each year, he could buy two homes for his kids free and clear. The banks refuse to work with him because he has a lot of money in his retirement plan. So, should Roger use his retirement funds to pay his mortgage - even if that strategy will only last a few years before his retirement funds are completely depleted?
6. Tapping Your Retirement Plans.
As Pamela Simmons counsels, "If you are using debt to pay your mortgage, you really need to stop." Why? Simmons says, "No matter what happens, you can almost always count on being able to protect your retirement fund from the lien holders. So why would you want to spend that money?" The truth is that your nest egg may be the only lifeboat you can row away with, if you purchased more home than you can afford, at the top of the market. If you're underwater on a mortgage and struggling to survive, the last thing you want to do is to give up your lifeboat. If you can't afford the home, face reality. Don't go through all of your retirement savings, rack up additional high interest debt and then consider bankruptcy.
7. Recovering Your Credit Rating.
A few years ago, anyone with a heartbeat and the willingness to lie on a no-doc, no-down loan could access enough credit to buy a home. Now, the richest person on the planet might have a problem borrowing money from a bank. As Steve Dietrich, President of Financial Research Group, points out, "It is hard to say what the future is going to hold in terms of credit." It could take 5-7 years before you could repurchase a home after a bankruptcy or foreclosure. Then again, if you've got enough money in your retirement account, you might be able to pay cash - particularly in one of the retirement centers -- like Phoenix, Las Vegas and Florida -- which have been hardest hit by the real estate implosion.
Losing a home to foreclosure is one of the hardest decisions you'll ever make. Short-selling is a risky process that might not get rid of the problem. Tapping your retirement plan or taking on more debt to hang on is a no-no. And your best bet for a loan modification is available for free at HopeNow.com. Once you have the facts, you can and must do a serious evaluation of the best course for you and your ex, including putting the option of the unthinkable on the table.
Go to BlogTalkRadio.com/NataliePace to listen back to the complete radio shows that I hosted with Pamela Simmons and Steve Dietrich, on June 8, 2011 and with Dr. Lawrence Yun on June 16, 2011. These shows are available 24/7 streaming on demand, or by pod cast, for free. So be sure to share this article and link with your friends (and with Roger).
Natalie Pace is the author of You Vs. Wall Street. She is a repeat guest on Fox News, CNBC, ABC-TV and a contributor to HuffingtonPost.com, Forbes.com, Sohu.com and BestEverYou.com. As a philanthropist, she has helped to raise more than two million for Los Angeles public schools and financial literacy. Follow her on Facebook.com/NWPace and on YouTube.com/NataliePaceDOTCOM. For more information please visit NataliePace.com.

Popular in the Community