Travel is more than the seeing of sights; it is a change that goes on, deep and permanent, in the ideas of living.— Miriam Beard
How To Do Exceptional Things Inexpensively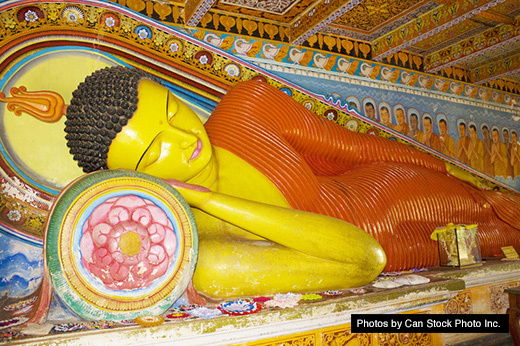 I was flattered when a cosmopolitan friend of a friend took my advice about where they should go on vacation this past winter. After learning their interests and how they liked to travel, I'd suggested Sri Lanka off the eastern coast of India. But soon after, I felt less flattered and more puzzled when I heard they'd signed up for a tour.
Sri Lanka has absolutely everything a traveler could want. Miles of sugary beaches lined with palm trees, wildlife reserves, ancient ruins that house massive Buddhas, historic colonial towns, a bounty of tropical fruits -- and it's safe. For people worried about difficulty communicating, English is widely spoken as the second language; for those concerned about getting lost, if you do a little research beforehand and buy a good guidebook and map, it would be almost impossible. There's usually just one road to get to a place!
A variety of transportation is readily available and I usually mix it up depending upon where I am. Tuk tuks, a motorized rickshaw, and the sleepy train running along the southern coast are convenient when staying within the area. When one wants to move from the coast to the interior of the island, hiring a car and driver is ideal. Every hotel has a few they highly recommend and Sri Lanka is one of the countries where most tourist sites have separate inexpensive accommodations and dining options for drivers if you want to take a 2-3 day trip. (Experience has taught me to always meet with the man beforehand to ensure the right personality fit.)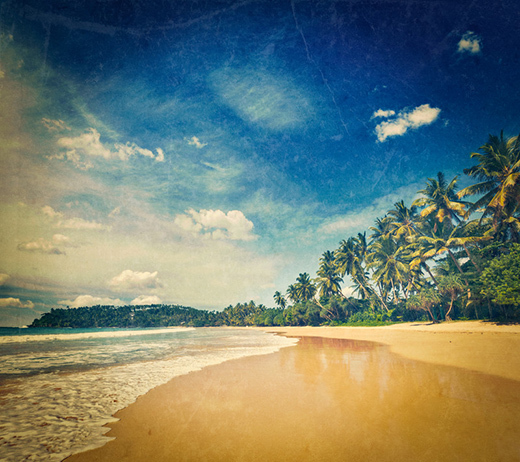 The southern coast between Bentota and Galle should definitely be one of your bases. Whether you enjoy water sports, volunteering at a turtle sanctuary, or simply lying in the sun, there's no better place to rest up after a long trip. Beyond those endless beaches, even the less expensive hotels exude charm. The only country I've ever been to that can rival the accommodations is Bali. Galle, a Unesco World Heritage site, deserves a couple of days on its own. Unique for its 16th-century architecture, fort, and upscale hotels (particularly seductive are the renovated former merchants' houses in the hills), Galle is the best example of a city built by Europeans in Southeast Asia. For longer stays, there is an abundance of lovely homes to lease.
The area east of Galle is rich in national parks and this is where I like to rent my own jeep. If you want a guide, one can easily be hired to join you. At the vast reserve called Yala--home to herds of elephants, sloth bears, wild boars, leopards (one of the highest concentrations in the world), and indigenous birds galore (more than 200 species)--you'll end up at an inhospitable beach flanked by cliffs and a constant wind that makes you feel as if you're at the ends of the earth.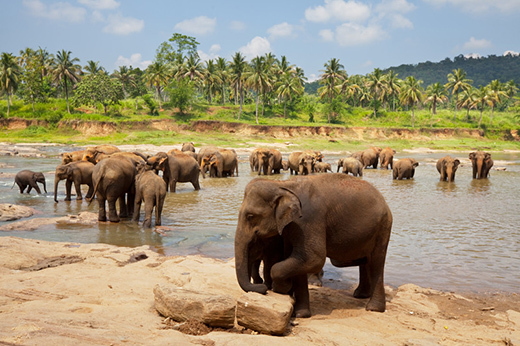 Kandy in the center of the country is another great place to stay for a few days. Shopping in this town is irresistible and with a car and driver you can enjoy a delightful lunch in Nuwara Eliya, tea country high in the cool hills where the Edwardian style of old Ceylon remains powerfully present.
On another day, the ruins and view from the top of Sigirya and Polonnaruwa will hold the attention of even those not normally interested in ancient sites. One enters Sigirya between the legs of a 40' lion carved into the rocks; Polonnaruwa has one of the largest reclining Buddhas in the world. The cave murals with Buddhas painted from floor to ceiling at Dambulla is another must. If you drive to Kandy from the coast, be sure to stop at the elephant orphanage in Pinnawela. Sri Lanka truly has something for everyone and is a great destination for a family trip.
For the adventurous, you can now visit the northeast of the island which had been off limits for more than twenty-five years during the Tamil/Sinhalese civil war. This coast has some of the last undeveloped beaches in the world and the big hotel chains are already dividing the land up. Go now while it lasts. Enterprising families have built simple places to stay in pristine settings. Few foreigners come to this part of Sri Lanka and the people are most welcoming. If you want to explore, this is when it makes the most sense to rent a car. The interior of the northeast is scattered with jungle ruins.
Last but definitely not least, it's crazy cheap to fly from Sri Lanka to the Maldives, among the most beautiful islands in the Indian Ocean. Through local travel agencies, round-trip packages for a few days of snorkeling and diving are offered in all price ranges. There is only one resort on each island that (though not mentioned) caters to a particular nationality--Japanese, Australian, American, etc. I usually select a smaller European (French/Italian) resort because of the chicer yet laid-back atmosphere. The Maldives would be a far more expensive trip if arranged from the U.S. or Canada. Wouldn't it be a shame to be so close and miss it?
I find Sri Lanka to be one of the most captivating countries in the world, a country that deserves to be savored slowly. Though indeed exotic, it is not crowded, chaotic or in any way intimidating. Travel there independently, and I can promise you won't be sorry. If you avoid holidays, you don't even have to book all accommodations in advance. No matter how well organized, tours are strictly scheduled, limiting the flexibility to be spontaneous and linger.
Let me hear about your experiences. Ask questions. I'm happy to offer suggestions and look forward to solving challenges together. And check back every month for my latest travel tips.
*Disclaimer: I receive no compensation for my recommendations.