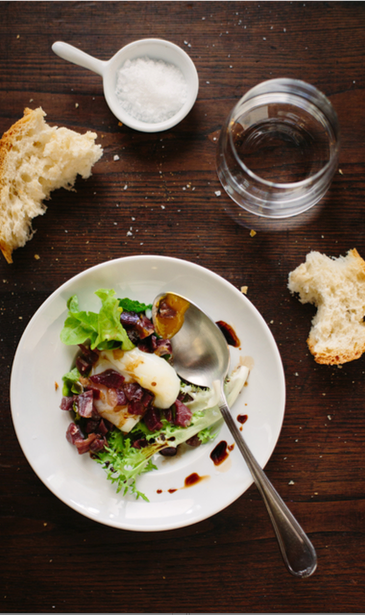 It is one of Italy's favorite condiments and people count it out with droppers because, if authentic, it is very expensive. An invention from the towns of Modena and Reggio Emilia (the same region as Parmigiano Reggiano cheese and Parma ham), it has always had notable connoisseurs, from Napoleon Bonaparte to award- winning chefs around the world. This is what you need to know about it.
HISTORY
The custom of cooking the must of grapes to obtain a "juice" goes back to the ancient Romans; the poet Virgil, 1st century BC, mentioned it as a condiment and medicine. The cradle for the production of balsamic vinegar was the Este court (dukes of Modena), which had vinegar cellars active since 1200. The adjective "balsamic" rst appeared around 1747 in the register of harvests and sales of the ducal cellars, while legal recognition of Modena's age-old balsamic- vinegar industry goes back to 1933. More speci c regulations—with rules on how it should be produced—came in 1965, while "Aceto Balsamico di Modena" entered the register of PGI (Protected Geographical Indication) products in 2009.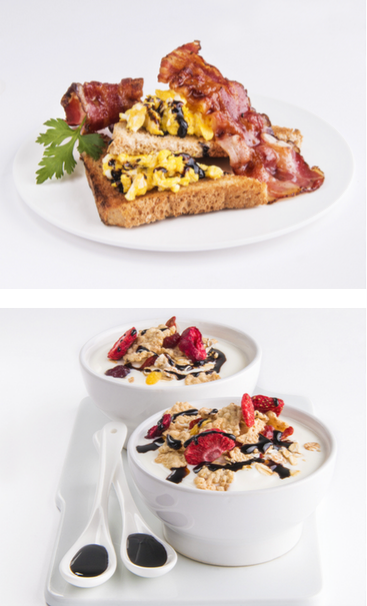 AREA
The provinces of Modena and Reggio Emilia, characterized by a semi-continental climate, mitigated by the in uence of the Adriatic Sea.
NAMES
Aceto Balsamico di Modena PGI is the best known. It is made use partially fermented, cooked and/ or concentrated grape must made exclusively from the Lambrusco, Sangiovese, Trebbiano, Albana, Ancellotta, Fortana and Montuni grape varieties. Wine vinegar is then added—at least 10%—as well as a percentage of wine vinegar that has been aged at least 10 years. It is also possible to add a percentage of caramel, but no more than 2% (for color). This blend is then aceti ed (using colonies of bacteria) and aged in wooden barrels. The most common are durmast oak, chestnut, oak, mulberry and juniper. The minimum aging period is 60 days. If it is aged in wood for more than three years, it is considered "aged" balsamic and this will be listed on the label with the wording "Aceto Balsamico di Modena IGP." Aceto Balsamico Tradizionale di Modena PDO/Aceto Balsamico Tradizionale di Reggio Emilia PDO. These are the only other two appellations that are envisioned and registered. The addition of "traditional" to the name is not just an adjective but distinguishes a special category of balsamic vinegar, which has distinctive characteristics. Always produced between Modena and Reggio Emilia, it is made with the Trebbiano, Spergola, Sgavetta, Sauvignon, Lambruschi, Ancellotta, Berzemino, Occhio di Gatto and Trebbiano di Spagna varieties. The must is cooked at 194 °F, ltered and placed in barrels, where it is left to age for at least 12 months. It is obviously the most expensive, costing between 80 and 100 euros for 100 ml, equivalent to about 3.4 uid ounces. There is also "extra vecchio," which must be aged for at least 25 years.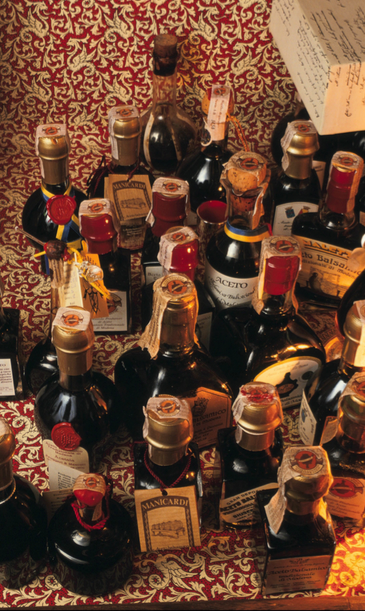 HOW TO RECOGNIZE IT
It is clear and dark brown; if poured into a small glass, it has amber highlights. On the palate it is sweet but tart, with woody notes; very fresh and smooth. Depending on the wood that is used, it develops different notes that can be fruity- spicy or vegetal.
HOW TO USE IT
In drops (or by the teaspoon, one per guest), it is perfect on traditional local products like Parmigiano Reggiano and mortadella. It is excellent on cooked meat, boiled vegetables and cold salads, but should always be added last. It has recently been added to pizza dough, winning its inventor the 2016 Aceto Balsamico di Modena PGI Award at the World Pizza Championship.
AT BREAKFAST
The Aceto Balsamico di Modena PGI Consortium has created a special recipe for an American-style breakfast. Prepare bacon and eggs, and add a little balsamic vinegar to the bacon, which cuts the fat and adds a delicious touch. Not just main dishes: a few drops of balsamic vinegar add a delicious touch to yogurt or a slice of cake.
NEWS
One of the latest gourmand proposals is pouring a few drops of balsamic vinegar on a bar of white chocolate, or adding it to vanilla ice cream topped with a warm berry sauce.
It is not Aceto Balsamico di Modena PGI if you nd notes of leather, milk or cheese when you taste it.