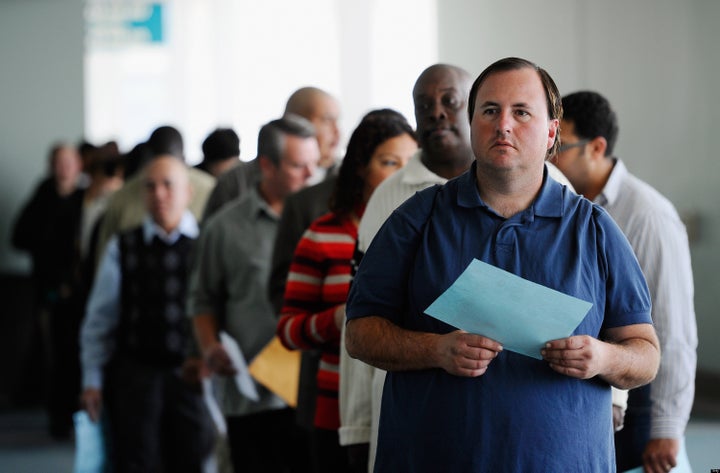 Last Thursday, the Labor Department released data stating that the number of new unemployment applications is at its lowest since July 2008. While this indicates the economy is picking up speed, the news can either be a beacon of hope or salt rubbed into wounds for the presently unemployed. Faith is in a precarious perch for the religious and jobless. While some become despondent from repeated rejection and thwarted efforts, others cling to faith and turn fervently to prayer.
Deirdre McEachern is a career coach who says she sees clients "whose faith has been enhanced and re-affirmed by the job hunt." One of those clients, Jennifer Bindhammer, was a flight attendant with United in September 2011. "She came to me in early 2002 re-evaluating her life," explains McEachern. "We worked together for several months and in the process she reconnected strongly with her personal faith. Once she deciphered her life purpose, she felt as if God was opening doors for her -- helpful coincidences kept appearing -- like the sign she spotted on a subway platform advertising an MBA program." This literal and figurative 'sign' led the flight attendant to pursue her MBA.
In the process of contemplating the switch to a corporate profession, Bindhammer -- no stranger to the friendly skies -- turned to the heavens. "I enjoyed flying and I enjoyed my job, she writes in a testimonial, "It just wasn't the challenge that I wanted it to be, and realized that I needed to be challenged. When I thought about changing careers, I prayed about it -- I actively prayed."
Bindhammer followed her passion, received her MBA and kept praying. She is now working with an international air transport consultancy that focuses on aviation.
While the former flight attendant's faith was reaffirmed, Fiona (not her real name) reflects on how she sunk into a deep depression when she was laid off from a Public Relations start-up during the late 90s "dot bomb" era. She stopped praying and began spending Friday nights at local bars instead of the synagogue. She could have benefitted from an organization like Project Ezrah, had it been around at the time. The North Jersey based organization was founded in 2001 to aid members of the Jewish community (and now helps Jews and non-Jews alike) who were suffering from the hardships of unemployment.
Rabbi Yossie Stern, Executive Director of Project Ezrah, has seen individuals like Fiona who have been turned off to the synagogue experience, who are angry with God, and who are depressed about their situation to the point of losing faith. His organization has put together programs to help those who feel despondent. Notably, it developed initiatives to professionally retrain unemployed baby boomers.
"When your brother is impoverished, you have to be able to empower him to be self sufficient," he explains, "The highest form of charity is being able to afford someone a job, to help him achieve the same sense of self-esteem and quality of life that you have." His organization provides a wide range of services including a popular job board, career counseling services, financial counseling, mental health counseling, job training, and "in the box and out of the box services. We try to provide it all," Stern says. There is also a LinkedIn group that includes seminars on how to use social networking to find a career and much more. "We empower people to network, which is the best way to find employment."
Fiona eventually found her way back to a public relations career and to the synagogue, but admits that she felt at odds with her faith when things were uncertain: "I didn't feel it was God's fault," she explains, "It was related to a sudden, dark depression, which came about from my unemployment." And which, she admits, also may have been related to the fact that she was in a bad relationship at the time. "When life is unstable, it contributes to the instability of unemployment." Rabbi Stern stresses that it is critical that spouses be encouraging and not place blame due to unemployment. He emphasizes that a support system and building of confidence is essential to one's job hunt.
While Fiona received counseling for her depression, she realized she needed to make significant efforts to find a new job. "The Hebrew word Hishtadlut kept flashing through my head," she says. Hishtadlut means that one must make their own efforts. It relates to the universal concept of "God only helps those who help themselves."
We frequently hear news stories of people who take out billboards on major highways declaring "Hire Me!" While some may cringe, others applaud the bravery of these individuals ... Then suddenly, they're on Oprah. There's no question that personal efforts need to be extended, that while you may pray for a miracle, divine intervention is a hand reaching across to meet the other hand -- that of personal, human intervention.
This may be the reason why video producer Richard Lucas is going public with his job hunt:
"I'm using my faith to find my next job and blogging about it," he tells me, "I'm letting God lead me to new people and places (driving from New Hampshire to Southern California) in the belief that He will lead me to my next job. I'm not there yet, but the journey has just started and I'm only as far as Virginia."
Prior to his big road expedition, Lucas held jobs in radio, television, high tech marketing and sales. He also owned a repair business in Southern California and most recently, a small video production house in New Hampshire. "I couldn't drum up enough business to get a profit out of the video business so I moved to southern New Hampshire and stayed with my brother for 4 months, looking for work but no joy," he says.
"My plan was to go back to Southern California where there are more video jobs and I have a larger personal network. My faith in God is strong and I believe that on the road trip back to LA, God will show me opportunities along the way. In fact, He did just that at a church in Virginia. I'm staying here now (in VA) for a few days to do video projects while recording segments for a documentary project on miracles."
Lucas says that he believes "God is guiding me to do these things. He will lead me to a new job or even a new career. It may be in Southern California or it or it may be somewhere else. I'm completely walking in my faith here. I'm quite certain that without that faith I would not have the direction and optimism that I currently possess with regard to the future."
Rabbi Stern and other religious leaders applaud this type of optimism. As Stern says, "Everyone in this world gets challenged and there are bumps, the question is 'how do we deal with the bumps'?"
As a clinical psychologist, Dr. Randy Gilchrist is able to make his own observations about faith and unemployment: "From what I have seen, people who are unemployed do tend to go through a definite trial of their faith. Common questions they may ask themselves during that period: 'I'm a good person, why would God allow this to happen to me?', 'Am I being punished', or 'What did I do to deserve this?' (as if God were punishing them personally). In these cases, one's faith is tried, strained, and sometimes lost if a resolution is not forthcoming.

On the other hand, others who have a belief in God that better allows for apparent unfairness tend to do much better in challenging circumstances like job loss and extended unemployment. They may even have their faith strengthened through the experience. In these cases, they may ask themselves an entirely different question, such as, 'how will this situation strengthen me?', 'what better opportunity is God preparing me for', 'how will this help me develop character?', or even, 'how will this circumstance allow me to better serve God or others?'. "

In other words, Gilchrist feels that different conceptualizations of God and varying extents of belief will largely determine the response, which "could go either way."

Bob Pautke of the Cincinatti, Ohio based Job Search Focus Group (JSFG) which meets in the Hyde Park Community United Methodist Church, says he doesn't see a loss of faith in members but the opposite: "They are taking the time to better understand their selves and their gifts, bringing them to a stronger faith." He says he has seen congregants, who are frustrated and seemingly desperate, turn to faith as a source of hope and direction as they attend weekly support meetings to hear advice from experts and peers.
Across the U.S., other churches, synagogues and places of worship now offer programs and services to the unemployed, ranging from networking events to career and mental health counseling, motivational speakers and more.
Rabbi Aharon Ciment of Congregation Arzei Darom in Teaneck, NJ, jokes that he is like Sy Sperling, the president of Hair Club for Men, who famously declared in the late '80s commercials "I'm not only the hair club president, but I'm also a client." Ciment can relate to congregants in need because there was a time when he too was out of work.
Now about to receive his Masters in Mental Health while teaching high school students, Ciment says he would not have considered the idea of going back to school had he not lost his old job and realizes now that it was divine intervention.
He echoes what Fiona stresses about Hishtadlut. During his period of unemployment, he made every effort to look for a new job. In addition, he says, one must have Emunah -- belief, to go along with one's personal efforts.
"Never lose hope," he stresses, "God remembers all of us."
Related
Popular in the Community