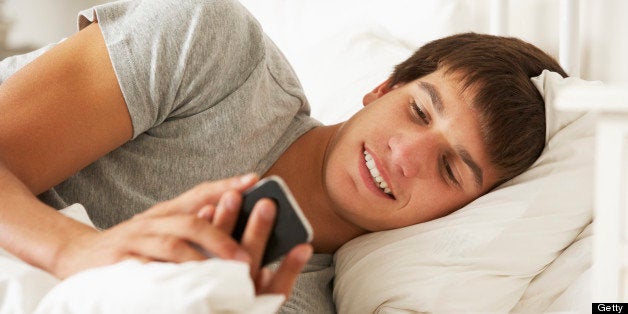 These days, our phones go everywhere with us. According to a recent Pew survey, 56% of American adults own a smartphone and one in four teens say they get online more often via an Internet-enabled mobile device than using a traditional computer or laptop. But what if someone wants to hide what they're doing on their smartphone or mobile device? It's easier than you may think.
The simplest answer is obviously to delete photos, videos, IMs or call logs that you don't want someone else to see. But many users want to keep private content on their phone without worrying that it might fall into the wrong hands. There are perfectly legitimate reasons to hide things on your phone. For example, protecting access to banking apps or encrypting personal photos or files so that someone who casually picks up your phone can't get to them is not a bad idea; and any parent whose kid has unceremoniously deleted photos, files or apps while trying to launch Angry Birds can attest to the benefits of limiting access to important stuff on their phone.
You can semi-permanently hide access to applications by enabling restrictions. iPhone users can restrict access to just about any app on their phone (via Settings-General-Restrictions), causing the icon to disappear from their phone's screen until the app in re-enabled in the restrictions panel. Once enabled, regaining entrance to the restriction panel requires that you enter a 4-digit code created by the user, so it's not a quick process to undo.
Android users can turn on the "hide app" feature by going to App Drawer-Settings-Hide Apps and choosing which apps to hide. The icons will remain hidden until you elect to unhide them via the App Drawer settings.
As you may imagine, this can be a real pain if you're looking to restrict access to a function you use all the time, like your photos or Facebook app. For these purposes, there are several third party apps that will allow you to create a password-locked folder. You then move photos, videos, files or apps into the folder and only someone who knows your password or code can access them. Here are some popular data protection apps:
1. Vaulty (Android, free) or Private Photo Vault (iPhone, free): Photos and videos are stored in a password-protected folder.
2. Personal (iPhone or Android, free): Create a password-protected data vault to store photos, files or notes (like photos of your driver's license or passport, or your bank and credit account numbers).
3. App Lock (Android, free) from DoMobile Lab: Password lock access to just about any function on your phone, from folders to SMS to other apps like DropBox or Facebook.
Yet for every security-conscious user looking to protect data and files from prying eyes or probing fingers, there are those looking for ways to hide nefarious activities. If you're concerned that a loved one (a wayward teen, perhaps) is using a password-locking or masking tool to hide unsafe activities or behavior that you wouldn't condone, it's important that you know what tools exist and how they work.
Some of the more popular options for hiding activity, apps, photos and files are:
1. NQ Mobile Vault from NQ Mobile Security (iPhone or Android, free): All photos and videos can be secured in a password-protected folder. Create a "private contact" so that all calls and messages from that contact remain hidden. Hide Facebook messages. Upgrade to the premium edition to enable "Fake Vault" (a decoy vault folder is created so that users can show fake content to anyone who insists on seeing the content in the vault file) and "Stealth Mode" (the vault folder is completely hidden from the home screen and accessed only by entering the passcode in the phone's dialer).
2. Hide it Pro (iPhone or Android, free) appears on the phone under the name "Audio Manager." When you open the app, it looks like a simple audio management tool, complete with slide bars that actually control volume settings on the phone. However, pressing and holding the title bar causes a password prompt to appear to unlock hidden content. You can store pictures, videos, applications, messages or call logs in the disguised folder. Once installed, the app disappears from the "recent apps" list.
While this list is not exhaustive, it may help to look for similar apps with names like Locker, Vault, Hide, Private or Personal on the phone itself, and also in the purchase history of the user's iTunes or Google play account.
What can you do if you find that someone you know may be using this type of application to hide their activities? It depends greatly on your relationship. If you feel confident that you have developed a relationship based on mutual respect, it's best to simply ask why they feel they need to hide things on their phone. If you need further reassurance, ask them to unlock the folder and give you the password.
However, if your relationship is compromised and/or you do not feel that you are able to trust them to give you an honest answer (or if you suspect that they will show you a dummy folder that some apps offer), explore your options. If it's your child, you could simply disallow them access to a Smartphone. No one said that a data plan is a pre-requisite of child-rearing.
Or consider installing a software application of your own to track their activity on the sly, such as Spector Soft's eBlaster Mobile for Android ($69.95). Get transcripts of text messages, a report of every website visited, location tracking and a voice call log (including how long they're on the call) sent to you automatically. It runs in stealth mode so that the phone's user is unaware that the program is capturing their activities.
Stealth Genie for iPhone or Android offers varying levels of stealth tracking for a monthly fee, depending on the version you subscribe to. The Platinum version starts at $16/month and lets you view and record calls, read all SMS messages, record phone surroundings, see logs of installed apps, even notify you when trigger words are used in messages or voice calls.
Andrea Eldridge is CEO and co-founder of Nerds On Call, an on-site computer and laptop repair service company for consumers and businesses. Andrea established the company with her husband, Ryan, from a spare room in their home in Redding, Calif., in March 2004. Andrea is the writer of two weekly columns, Nerd Chick Adventures in The Record Searchlight, and Computer Nerds On Call for the Scripps-Howard News Service. To ask your puzzling tech questions email her at nerdchick@callnerds.com.
Related