The term "organic" in Los Angeles has become a buzz word plastered on clever t-shirts and labels, but for some it's a new balanced and eco way of living. For me, I'm just trying to be better. I did learn that organic goes beyond the foods you eat, the cleaning products you use and the clothes that you wear though, but to feminine hygiene products as well. When was the last time you checked if the cotton in your tampons and sanitary pads were organic or pesticide free?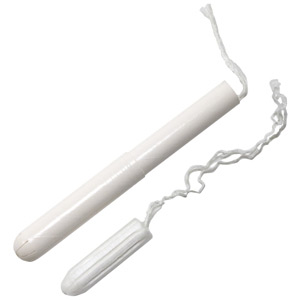 Despite it being such an intimate product, I know that I've never paid much attention to the ingredients on tampon boxes. But then again, I'm also just learning to look more critically at labels when it comes to the ingredients in products and their effect on my health and the environment. As a result, I learned that rayon and rayon-cotton blends are widely used in the manufacture of tampons and that the common sanitary pads sold today, contain a blend of chlorine-bleached pulp, polypropylene, polyacrylates and plastic.
According to the USDA, 55 million pounds of pesticides are sprayed on cotton fields each year in the U.S. And then of course The World Health Organization classifies many of these pesticides as "extremely or highly hazardous." Some cotton pesticides have even been identified as possible human carcinogens.
Apparently there are alternatives to the common pink boxes that most of us buy in bulk, options such as organic cotton tampons inside recycled paper boxes even.
"Women wish to restrict their contact with synthetic materials, unnecessary chemicals and irritating additives and preservatives as well as avoiding the synthetic materials that continues to pollute our environment," says Redondo Beach's Debbie Cooper, Owner of the online store appropriately named Period-Products.com, which carries eco-friendly and organic options including Seventh Generation, Natracare and DivaCup. Cooper says she decided to carry these products in order to give women better choices than the limited selection at most drug and grocery stores.
According to a pamphlet from Seventh Generation, which offers chlorine free tampons, maxi pads and panty liners made with certified organic cotton free of dyes and fragrances, "If every woman in America of reproductive age permanently switched from conventional tampons to organic cotton tampons, we could prevent 6.7 million pounds of pesticides from polluting our rivers, lakes and streams." Another interesting factoid in their reading material states that, the average woman will buy more than 11,000 tampons in her lifetime. That's a lot of waste.
Although not widely available, you can purchase Seventh Generation at Albertsons, Target and Whole Foods or Organic Cotton Tampons from Natracare, which are 100% organic cotton, non-chlorine bleached, rayon-free and certified organic by The Soil Association also available at Whole Foods.
"As more women become aware of the availability of organic cotton tampons and non chlorine bleached sanitary pads the sales of the products are rising in both natural foods stores as well as in mass markets. Seventh Generation has seen a significant rise in the sales of its fem care products in the last six months and expects this trend to continue as more women are educated in the differences between conventional tampons and organic cotton tampons," explains women's health advocate Sheila Hollender, Director of Corporate Giving at Seventh Generation.
Why haven't other brands make the switch yet? Hollender says it comes down to price, "Conventional tampon manufacturers use rayon and conventionally grown cotton -- both of which are a less expensive material than organic cotton."
Besides organic cotton, there are reusable menstrual cups available that are cotton free and GladRags' washable menstrual pads, but frankly I didn't want to try those just yet. Baby steps folks.
Related
Popular in the Community