With rising tension in the Middle East and no peace talks on the table, this latest outbreak of violence leaves many hopeless of a resolution. With close to 70 years of formal conflict between Israel and the Palestinians, the situation continues to deteriorate. 20 years after Prime Minister Yitzhak Rabin's assassination, it has become clear that we have steered off his direction of peace and time has not healed or allowed this conflict to lessen - as time goes by, it seems to grow worse. Today, between boycotting, polarizing news and social network coverage and political messaging that encourages racism, it is tough to bring people together to hear each other. But, I have found hope through the films of the Other Israel Film Festival, which opens this week for its ninth year at JCC Manhattan.

Recently, one of the closing night films of the festival, produced by Palestinian filmmakers, withdrew itself, creating further breakdown of conversation and striking a blow to any of those who are actually trying to create dialogue. Through film, we hope to share with an audience a glimpse of another perspective. I find film to be the closest we get to being inside someone else's mind and actually seeing what someone else sees. When visions are withheld from audiences, they lose the opportunity to be seen by others.

Through film, we get to see that there are people and a day-to-day reality behind the stories we breeze through in the headlines. The films of Other Israel lend a sense of normality to the region and make it stories more relevant to the American eye. Perhaps this is achieved most strikingly through Israel's first major Zombie film, JeruZalem, which is premiering at the festival. How does a fictional story about two young American women visiting Israel during the start of the apocalypse in Jerusalem lend itself to the reality of the conflict?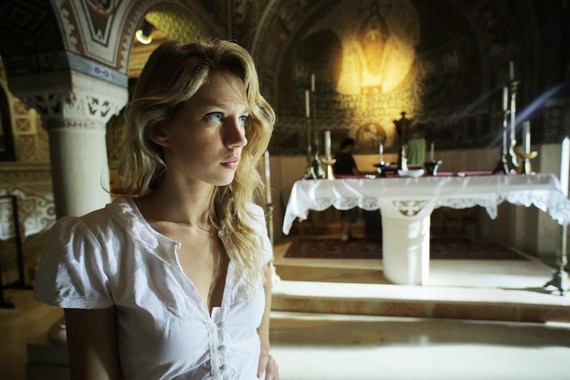 The violence in this film is completely disconnected from any of today's actual violence. Some will claim that the recent rise in disturbing films produced in Israel is reflective of reality. But I consider a film like JeruZalem a welcome escape from reality. By making Israel the backdrop to a classic horror formula, it connects the viewer to a familiar fictional world. It makes Israel more accessible. When people see films about Israel, they immediately put up their guard. Fictional violence allows audiences to let down their guard and disconnect these details from reality. At the same time, they are exposed to a sexy, beautiful world that feels almost familiar.

Someone asked me if this film is good for Israeli tourism? I feel that it is sexy, fun and completely disconnected from reality - there is nothing better. No one contemplating going to Israel is worried about the Zombies in the region. What does come out of the film are details that show a complex and history filled country with a modern twist.

Films like this show us Israel through a new lens. That is what this conflict needs -- new lenses. I enjoy seeing things through new eyes. Instead of shutting down and withholding visions, we should be exposing ourselves to the realities of the other. Jews should see more Palestinian films, and Palestinians should see more Israeli films -- both that are not about the conflict.

When I view the Other Israel film selections, I am inspired. We see films like Arabic Movie, which explores the complexities of Arab culture in Israel through the Egyptian films that captured Israeli airwaves in the 70's-80's. The documentary film Colliding Dreams shows us that the Zionist narrative did not come together in a vacuum. I see the film Jerusalem Boxing Club and experience relationships between Arabs and Jews and other at risk youth sharing a commonality and all learning from one another through sports. Censored Voices shows a human side of Israeli soldiers who were not inspired by the 1967 war victory. These perspectives show me the diversity of life and narratives in Israeli culture.
I am hopeful when I see Mussa, learning how a refugee child integrates into the Israeli school system. Or when I see Oriented, in which young, gay Palestinian men come out and enjoy the nightlife of Tel Aviv. Or Partner with the Enemy, which shows how the economy in the Palestinian Authority is growing and can lead to amazing partnerships. These stories show that collaboration is possible.
The film Rock in the Red Zone shows that there are others in Israel who get lost in the headlines and are ignored and forsaken. This film, like the others, restores their humanity and shows us the people beyond the headlines who live in Sderot, a town best known for the multitude of rockets that hit it from Gaza.
And where does the violence and misconceptions in the region come from? Teaching Ignorance gives us a look at the failed educational systems that raise more generations from both sides of the conflict to hate. The Voice of Peace, One the other hand, celebrates the hopeful peaceniks of the past, specifically, Abie Natan and his pirate radio station.

And on closing night we get to hear from real people as they talk about living in the mixed city of Haifa in Women in Sink, which treats the hair salon as a confessional. I am excited to take this even further and discuss these topics and hear the diverse voices in our community in the conversations that follow each film.
Now, more than ever, we need to create a culture of discussion around Israel. I am inspired to present opportunities to take a closer look at Israeli society and to present the human face of the "others" within Israel, providing a platform for conversation. Now, more than ever, there is a need for our community, left and right -- not just Israel's -- to hear one another and find grounds for mutual respect. Now, more than ever, we need an Other Israel.
Calling all HuffPost superfans!
Sign up for membership to become a founding member and help shape HuffPost's next chapter