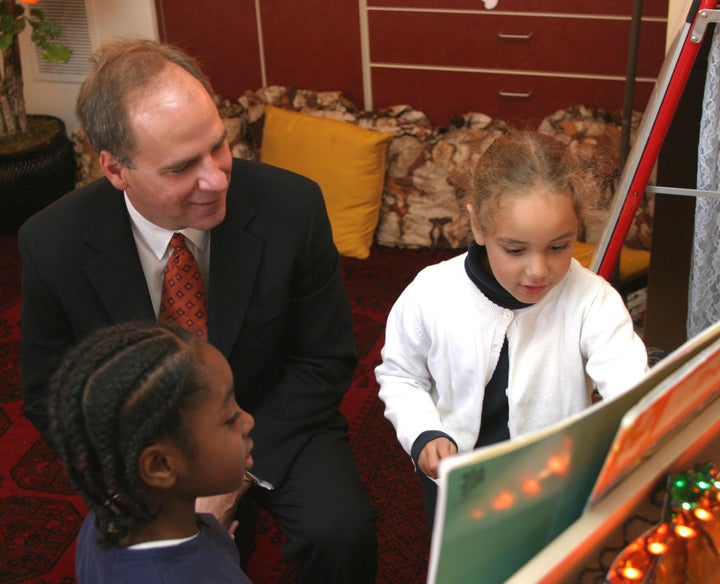 Fed up with what they perceive as a series of unfair laws targeting public school funding and testing, two local school boards are considering resolutions denouncing state Education Secretary Ron Tomalis and his agency.
The Bethlehem Area School Board's Human Relations Committee decided Monday to seek support among other Lehigh Valley school boards and local state lawmakers for a regional resolution against Tomalis, saying he has tilted the agency toward charter schools and away from school districts.
Bethlehem has a backer, the Salisbury Township School District. Bethlehem plans to vote on its resolution in January with or without additional support, said Bethlehem board President Michael Faccinetto.
"Everyone stands up on the steps of the Rotunda and it doesn't mean crap to the people inside," said Faccinetto, a Democrat, who crafted the six-point resolution. "We are going to stand up for students, teachers and administrators."
The resolution accuses Tomalis and the state agency of publicly misrepresenting facts concerning an investigation of PSSA math and reading exams at some schools. It blasts Tomalis for claiming his statewide crackdown on cheating caused a statewide drop in PSSA scores. It says Tomalis changed PSSA testing rules to make it easier for charter schools to reach federal testing benchmarks than it is for traditional public schools.
Tomalis and the agency deliberately targeted school districts by leaving charter schools out of a new grading system to identify so-called "underperforming schools," so children in those schools can use tax dollars to receive a private education under Act 85, the resolutions says.
In creating the new grading formula, the resolution states, the department chose not to use the state's federally approved growth model, which tracks individual student progress year to year and shows some of the Bethlehem schools on the underperforming list are improving student learning.
Finally, the resolution claims Tomalis changed, "without notice," the Act 1 index, which the department uses to calculate school districts' taxable rates. The change, made in September, moves from a one-year taxable rate to a three-year average, which reduces districts' taxing ability, and in Bethlehem that amounts to an $800,000 reduction in 2012-13.
Bethlehem Superintendent Joseph Roy did not comment during the meeting and directors said they are keeping him out of their vote.
Director Irene Follweiler, a Republican, said the resolution is not against charter schools. It is against Tomalis and the state agency.
"All school districts that are receiving public money need to be treated fairly, and the Department of Education is supposed to be the hierarchy for that, as I understand their role," Follweiler said. "Maybe they have a different understanding."
Bethlehem may have at least one backer. The Salisbury Township School Board will debate a similar measure Wednesday.
Salisbury School Director Russ Giordano, a Democrat, said he knows directors in other Lehigh County school districts have been debating among themselves whether to pass similar resolutions. But, he said, none of the discussions has occurred as publicly as Salisbury's and Bethlehem's.
"We are not going to sit back and continue to be their punching bag," said Giordano, who works as Bethlehem Area's human resources director.
The Pennsylvania School Boards Association said it is not aware that any districts other Bethlehem and Salisbury are considering denouncing Tomalis.
Tim Eller, spokesman for the state Department of Education, said the administration's commitment to public education should not be in doubt, despite the continuing rhetoric to the contrary. Eller said school officials wrongly tie their criticism to money.
"Traditional public education establishment organizations seem to only measure one's support of public education by the number of zeros at the end of the check; however, each year through state, local and federal taxes, Pennsylvania taxpayers have consistently increased their investment into public education," Eller said.
However, the resolutions considered in Bethlehem and Salisbury go beyond money. They are aimed squarely at Tomalis as he marshals Gov. Tom Corbett's education polices. Those policies, which come at a time of reduced education funding, are centered largely on using tax money to send more children to more private schools, expanding publicly funded independent charter schools, and tying in part student test scores to the pay of public school teachers, not charter school teachers as well.
The proposed resolutions come at a time when the Republican governor's approval ratings remain low, and a big reason for that is public education cuts that have occurred under his two-year administration. But there is growing anger over the administration's push to expand charter schools, which have fewer educational and financial oversight rules to follow than school districts.
The state school boards association is credited in large part with quashing a charter school bill in October. The bill would have made it easier for charter schools to get started and would have made cyber charter schools immune from the state Right-to-Know Law.
Allentown School Board President Robert E. Smith said he does not recall the state association leading such an organized charge against a bill.
"Finally PSBA showed a little muscle," said Smith, a Republican.
It hasn't just been Pennsylvania where opposition is growing toward market-driven reforms like charter schools and other legislation aimed at teachers.
On Nov. 6, voters in Indiana ousted Republican state Superintendent of Public Instruction Tony Bennett in favor of Democrat Glenda Ritz, a teacher and union official, who opposed many of the reform views and had less campaign money. Voters in South Dakota, California and Idaho also defeated bills aimed at diminishing the rights of teacher unions.
G. Terry Madonna, a pollster and political science professor at Franklin & Marshall College, said Pennsylvania school boards tend not to be partisan. They get angry over the same issues, typically related to funding.
But Madonna said he isn't sure that two school districts' anti-Tomalis resolutions would make a big political statement unless they created a groundswell and other districts joined.
Tomalis could not be reached for this story. However, in prior interviews with The Morning Call, Tomalis said he sends his children to traditional public schools. He also said he is a firm believer in school choice, policies he honed working in the education departments of former Gov. Tom Ridge and former President George W. Bush before moving to the private education sector.
Eller said Tomalis and his top deputies have traveled the state in the past year and a half seeking input from local school officials and listening to their concerns.
But school officials say Tomalis is not listening. He is accusing.
East Penn Superintendent Thomas Seidenberger said Tomalis has been slow to heed local school leaders' pleas for him to seek federal waivers to testing requirements as 44 other states have done since September 2011. Instead, Tomalis has spent time making unfounded claims that his cheating crackdown led to a drop in test scores, Seidenberger said.
"There is a lot of good that can result from a shift in the secretary's priorities if he listens to input and feedback from those in the field," Seidenberger said.
Allentown Superintendent Russ Mayo said he understands the frustration other superintendents may feel. But Mayo said he would not seek such a resolution because he prefers to work within the system to advocate for his district.
Bethlehem officials believe they can no longer work through the new systems Tomalis is creating.
"I am proud of our board," said Director Aurea Ortiz, a Democrat. "We cannot tolerate this kind of behavior from someone who is supposed to be promoting education."
Reporter Patrick Lester and Reuters contributed to this story.
(c)2012 The Morning Call (Allentown, Pa.)
Distributed by MCT Information Services
Calling all HuffPost superfans!
Sign up for membership to become a founding member and help shape HuffPost's next chapter
BEFORE YOU GO