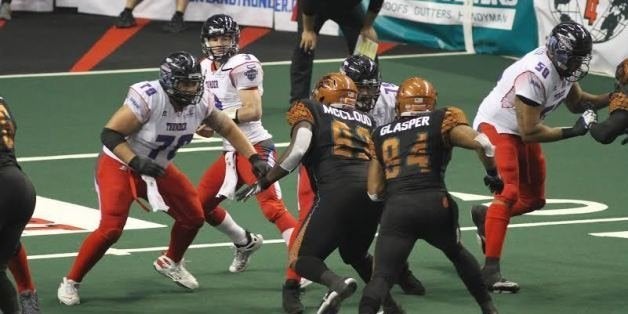 PORTLAND, Oregon -- It's hard to get that NFL fix during the summer.
And yet, you try anyway. You waste your days mindlessly refreshing your team's page for OTA interviews, keeping track of pointless power rankings, and reading manufactured storylines that tell you more about the weaknesses of a 24-hour news cycle than the strength of your team.
If that all rings horribly true, stop what you're doing, find the Arena Football League team closest to you, and bring your kids to a game. We witnessed a Portland Thunder game at the Moda Center on Friday, and it changed our outlook on the summer football drought forever.
But who cares? Don't watch it on TV -- the live experience is a game-changer. From the pregame show to the afterparty, the AFL smacks you in the face with high-octane entertainment, bone-crushing football (there are walls on the field, people), tons of souvenirs and even a post-game meet-and-greet with the players, all for as low as $15 a ticket. Physical attendance is up, CNBC reports, and for good reason.
The fan experience at an AFL game is better than a regular-season NFL game, hands down. Here's proof:
The Pregame Show Will Get You Super Pumped
Just look at the show before the Portland Thunder game on Friday:
You'll See Touchdowns. So Many Touchdowns.
The field is 50 yards long, any ball that bounces off nets adjacent to the field goal posts is live, and there are walls instead of sidelines. The chaos created by the small window of play lends itself to a highlight reel of awkward bounces, crippling hits and Hail Mary passes. On Friday, the Thunder lost at home to the Arizona Rattlers, 69-42, and it isn't uncommon for the combined score to reach more than 100 points in a game. That's everything you want from your wallet-busting NFL experience, right?
You can expect a touchdown on almost every play. The Rattlers, for instance, pulled off a touchdown on several kick returns:
The Weird Rules Are All About High Scoring And Fumbles
The AFL is in the business of high-scoring football, and that's important if you're looking for a summer exhibition to get over those NFL withdrawals. Here's a refresher on some of the AFL's weird rules, compiled by Men's Fitness:
Field: 85 feet wide, 50 yards long, for a faster, higher-scoring affair.
Goal posts: Nine feet wide with a 15-foot high crossbar.
Rebound nets: Kickoffs and passing plays that bounce off the nets are still in play.
Passing: Just like in NCAA, receivers only need one foot inbounds.
Punting: Not allowed. You gotta man-up and go for it on fourth down.
The rebound nets add a kick to an already fast-paced game, and a receiver's ability to get a 10-yard running start before a play is just hilarious:
Portland Thunder is the AFL's youngest franchise -- though the Portland Forest Dragons were the city's first AFL team and had a tumultuous three seasons starting in 1997 -- and went to the playoffs in their inaugural season. The roster turnaround is high, but fans don't care.
They just want to watch some damn football in the summer.
"I'll follow any team that comes to Portland as long as it's not futbol -- soccer sucks," Portland native Tim Gover, 28, told The Huffington Post on Friday. "You got cheerleaders, you got football, you got a high score and cheap tickets. It's football when you got no football going on."
Fans get really into the game, and fly around the stadium as much as the players. Every ball that flies into the stands (and almost every errant pass and PAT does) is the property of the man or woman who catches it. After the game, players stick around to meet the fans and sign autographs.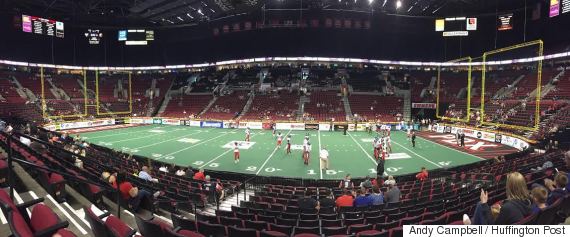 You Can Actually Afford To Bring All Your Friends
Portland Thunder tickets range from $15 to $200 for field-side seats, and season tickets start at $99 a package. Everything above the 200 level was closed off for Friday night's game at the Moda Center, so there's no such thing as a "nosebleed" ticket. You can't beat that for entertainment, let alone for a football competition. We'll still reluctantly fork over a few hundred bucks for NFL tickets, but this is a chance to bring the whole crew.
Do we have to say it again? Football in the summer. Games go until August, right about the time you'll start your NFL preseason buzz.
We're not saying you should watch the AFL religiously on TV. But if you need football in the offseason, or a solid exhibition packed with entertainment for your family or friends, head to a game.
Correction: An earlier version of this story stated that teams have surpassed 100 points in single games; the combined score of games regularly exceeds 100 points.
Popular in the Community