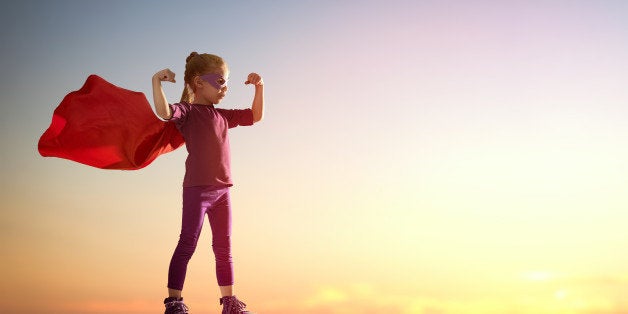 Beneath our business suits, yoga hoodies and work uniforms, don't all women secretly wish we had on a red bustier emblazoned with a golden eagle?
If only her outfit were the source of Wonder Woman's power.
The fabled heroine fought for truth and justice, but in the 75 years since her comic book debut she has achieved even more. She has been a role model for generations of girls, proving it wasn't only men who could fight the bad guys and emerge the hero. Move over, men of steel and caped crusaders. Women, too, could be tough and smart and successful. They could be leaders -- a somewhat revolutionary idea when the character was introduced in 1941.
I had her iconic image in my head when I accepted the prestigious "Wonder Woman" recognition from Multichannel News, a leading trade magazine in the cable television industry, in 2007 when I was CEO of WWE. (One of my fellow honorees wore a Wonder Woman costume to accept her award; my red bustier and star-spangled Spanx must have been at the dry cleaners that day.)
It is always a thrill to be recognized, especially by peers who know the challenges that go into creating our product. Who doesn't appreciate a pat on the back amid all the late nights, long meetings and hard work that go into building a business?
I was very proud to receive this honor.
But I am even prouder that this year my daughter Stephanie is receiving this honor.
Multichannel News says we are the only mother and daughter in the history of the award to both be recognized as "Wonder Women."
What makes a Wonder Woman? It's not bulletproof bracelets, an invisible plane or a golden lasso of truth.
As the co-founder and former CEO of WWE and the founder and CEO of Women's Leadership LIVE, I am often asked to speak on power, success and leadership. I believe leadership is about passing along what I have learned to help others find their own way forward. It is about empowering someone with the knowledge and confidence to pursue their own goals. It's about nurturing an idea and creating a supportive environment in which that idea can bloom into reality. Leadership is about teaching others.
And there is no one I have taught more or learned more from than my daughter Stephanie.
Stephanie is now the Chief Brand Officer of WWE. Sure, I'm glad she followed the path her father and I forged by choosing to work in the company we created and built. But I would have supported any path she chose because I believe in her.
My role as mother and mentor was not to mold her in my image, but to give her the clay she'd use to sculpt the life of her own dreams, which has included a strong work ethic, compassion for others, and confidence in her abilities. I know she is doing the same for her three daughters.
To this day, the best power I have is to empower other women, not just my daughter, to pursue their dreams. It's been my mission as I speak to local business groups, it's the message expressed in a series I host at Sacred Heart University, and it's the motivation behind my new company, Women's Leadership LIVE.
In that sense, we are all Wonder Women.
We all have the power to lead. To teach. To mentor someone else to be their best. To empower someone to conquer their fears, break through barriers, and overcome challenges. To show others you believe in them.
The story goes that before she was Wonder Woman, she was Diana, the Amazon princess with a community of women around her. They believed in her -- even as she left their island paradise for the strange, modern world. Perhaps it was that, not the outfit, that was the true source of her power.
Calling all HuffPost superfans!
Sign up for membership to become a founding member and help shape HuffPost's next chapter