The legendary singer died of advanced pancreatic cancer on Aug. 16 at age 76. Her voice touched millions around the globe during her lifetime, and her reach was apparent on Friday as her family and friends were joined by dozens of politicians, actors, musicians, religious leaders and more.
Here are five memorable moments from the Queen's celebration of life.
The singer's family delivered tender, heartfelt comments.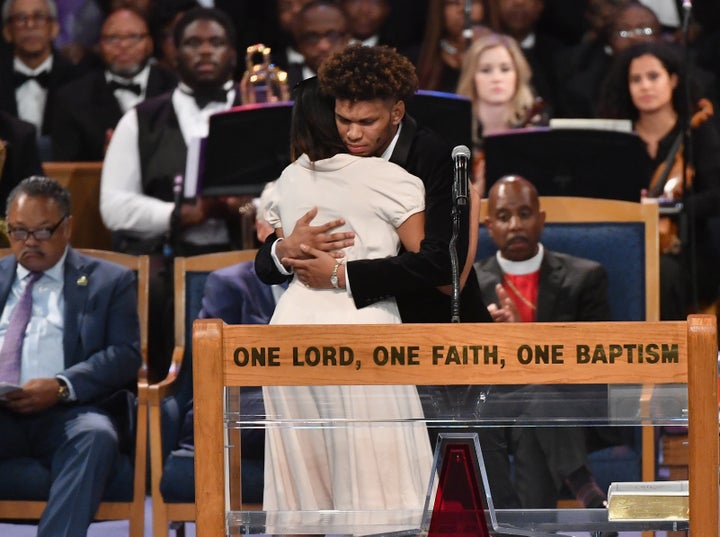 Franklin's nephew Vaughn, niece Cristal, granddaughter Victorie and grandson Jordan delivered comments, musical tributes and readings for their family's beloved matriarch. 
Jordan choked back tears as he honored his grandmother.
"Dear Grandma, I love you. I know in my heart that you're happy now and that's all that I care about," he said. "Thank you for loving me. Thank you for believing in me as much as you did."
Former President Bill Clinton and other politicians shared personal experiences with the Queen.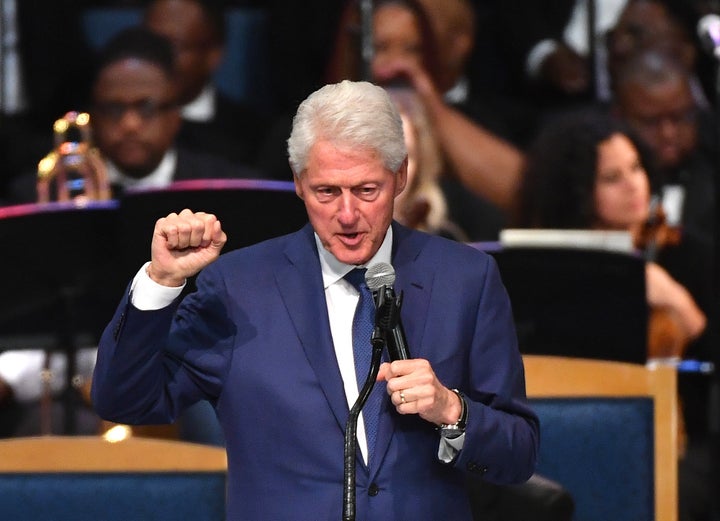 "We started out not as a president, a first lady, senator, secretary of state," Clinton said, referencing his wife, former Secretary of State Hillary Clinton, who was sitting nearby. "We started out as, like, Aretha Franklin groupies or something."
Former U.S. Attorney General Eric Holder recalled when Franklin sang "America" at the farewell ceremony after his term. Rep. Brenda Lawrence (D-Mich.) reminisced about Franklin calling to congratulate her after she was elected mayor of Southfield, Michigan. The experience, Lawrence said, demonstrates an important lesson Franklin can teach women.
"She called me, the little black girl from the east side of Detroit, to say she was proud of me," Lawrence said. "It's about a woman being strong enough and confident enough to put her arms around other women."
Rev. Al Sharpton offered searing comments on President Donald Trump's response to Franklin's death.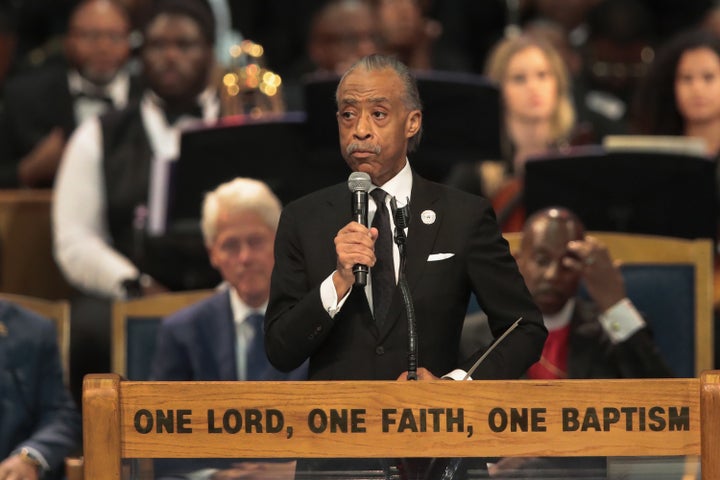 "You know the other Sunday on my show, I misspelled 'respect,' and a lot of y'all corrected me," he joked. "Now I want y'all to help me correct President Trump to teach him what it means."
Funeral attendees started cheering, and many rose to their feet.
"And I say that because when word went out that Ms. Franklin passed, Trump said, 'She used to work for me,'" Sharpton continued. "No, she used to perform for you. She worked for us. Aretha never took orders from nobody but God."
Rousing musical performances by Stevie Wonder, The Clark Sisters and others brought the house down.
There was no shortage of talent on stage at the service. The Clark Sisters brought visible shock to Clinton's face with their vocal abilities. Ariana Grande belted out a rendition of the Queen's hit "You Make Me Feel Like A Natural Woman." Fantasia Barrino stole hearts by removing her shoes before singing "Precious Lord." Stevie Wonder rounded out the celebration by playing the harmonica and offering words, followed by a performance of "As."
Actors Cicely Tyson and Tyler Perry and record mogul Clive Davis remembered the Queen's "magnitude of talent."
Dressed in a giant, iconic hat, the 93-year-old Tyson honored Franklin with a speech some Twitter users quipped should earn her an award. 
Perry addressed Franklin's family, saying: "My prayer for you is that the grief comes in waves and you can walk your way through it."
Davis called Franklin "a true genius of American music" and reflected on her generation-making hits.
"Aretha is her own very special category," Davis said. "Aretha's voice will be heard, Aretha's voice will be impacting, Aretha's voice will be influencing others literally for centuries to come."
CORRECTION: A previous version of this story misstated the song Stevie Wonder sang. This story also has been updated to note that Franklin was raised in Detroit, but was not born there. 
Calling all HuffPost superfans!
Sign up for membership to become a founding member and help shape HuffPost's next chapter