Aretha Franklin, who died on Aug. 16 at the age of 76, will be memorialized on Friday in a star-studded funeral at Greater Grace Temple in Detroit, Michigan.
The legendary singer died as a result of advanced pancreatic cancer, her oncologist confirmed. Franklin didn't leave any final instructions for how she wanted to be memorialized, her niece, Sabrina Owens, told CNN on Wednesday. But her family quickly sprang into action to honor her in a manner fitting for the "Queen of Soul."
Her body was brought to Charles H. Wright Museum of African-American History, which hosted a public visitation period this week for fans to pay their last respects.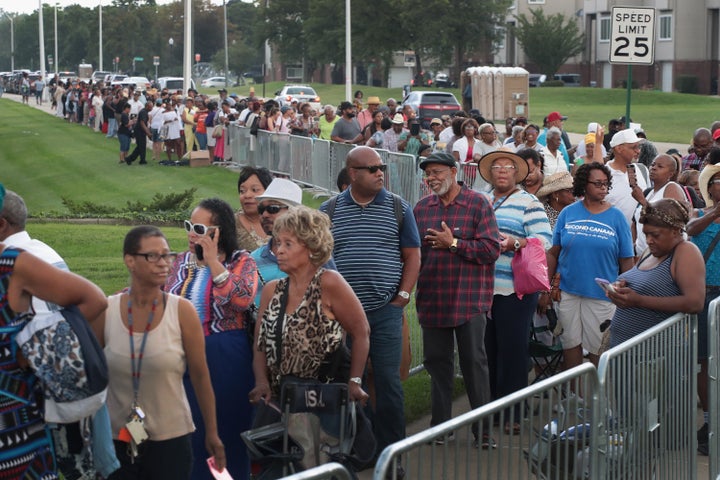 Surrounded by ornate floral bouquets, Franklin was placed cross-legged in a 24-karat gold-plated Promethean casket and dressed head to toe in crimson red with Christian Louboutin pumps.
Following two days of public visitations, the singer's body was transported Thursday for a viewing at New Bethel Baptist Church, where her father once pastored. A concert titled "A People's Tribute to the Queen" will be held Thursday evening at Chene Park Detroit Amphitheater.
On Friday, the late great singer will finally be laid to rest. Here's what you need to know about the funeral:
When
The funeral will take place on Friday, Aug. 31, beginning at 10 a.m. ET.
Where
Services are being held at Greater Grace Temple in Detroit.
Who Is Attending
An intimate gathering of just over two dozen people — including family members and friends, as well as several heads of state, city and country, and music icons ― will attend the funeral.
Who Will Offer Remarks
President Bill Clinton, at whose 1993 inauguration Franklin performed, is scheduled to speak at the singer's funeral. Others offering remarks is set to include Rev. Jasper Williams Jr., civil rights leader Jesse Jackson, Rev. Al Sharpton, former Attorney General Eric Holder, Rep. Brenda Lawrence (D-Mich.), Georgetown professor Michael Eric Dyson, record mogul Clive Davis, actress Cicely Tyson, Bishop T.D. Jakes, Judge Greg Mathis, Detroit Mayor Mike Duggan, Detroit City Council President Brenda Jones, Bishop Charles H. Ellis, and Michigan Gov. Rick Snyder.
Who Will Perform
An equally large line-up of performers is expected to include Ariana Grande, Stevie Wonder, Chaka Khan, Fantasia Barrino, Jennifer Hudson, Yolanda Adams, Shirley Caesar, The Clark Sisters, Faith Hill, The Williams Brothers, Audrey DuBois Harris, Ronald Isley, Edward Franklin, Jennifer Holliday, Tasha Cobbs-Leonard, Vanessa Bell Armstrong, Alice McAllister Tillman and Marvin Sapp.
Where You Can Watch It
Fans can tune into to the services via online live streams and on television. National broadcasters like HLN and the Word Network are expected to air the funeral, which will also be live-streamed by The Associated Press.
Local Detroit stations broadcasting the service will include WDIV-TV (Channel 4), WJBK-TV (Channel 2) and WXYZ-TV (Channel 7). The church's pastor said the service could last up to seven hours.
CORRECTION: A previous version of this story indicated that Greg Mathis is an actor. He is a judge.
Popular in the Community