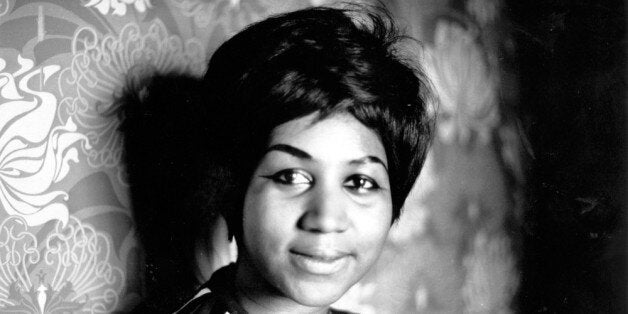 The legendary Aretha Franklin turned 72 years old on Tuesday. Happy birthday, Aretha!
The diva celebrated Saturday night with family and friends, including Denzel Washington and record producer Clive Davis, at an intimate bash at the Ritz-Carlton Hotel in Manhattan, the New York Daily News reported.
The singer told fans that she's currently collaborating with Andre 3000 and Babyface on new songs, which could make for just another interesting detour in a legendary recording career.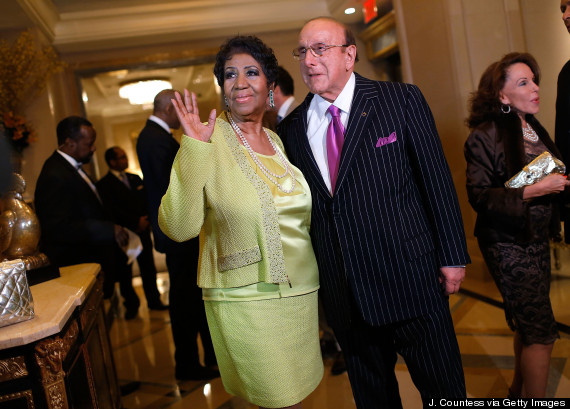 Singer Aretha Franklin and music executive Clive Davis attend Aretha Franklin's 72nd Birthday Celebration at the Ritz Carlton on March 22, 2014 in New York City. (Photo by J. Countess/Getty Images)
Franklin was born in Memphis on March 25, 1942, but she grew up in Detroit. At least some of her talent could be credited to genetics: her father, prominent preacher and civil rights activist Bishop C.L. Franklin, was known as "The Million-Dollar Voice."
By her early teenage years, Franklin, who taught herself how to play piano, was considered something of a child prodigy, according to Biography. Her father often requested Aretha to sing at New Bethel Baptist Church in Detroit, which inspired her first gospel album, recorded when she was just 14.
Those church roots inspired one of the most stupendous music careers in American history, littered with milestones that could define any American singer: performing at the funeral of Martin Luther King, Jr. and the 2009 inauguration of President Barack Obama, and induction into the Rock & Roll Hall of Fame as the first female to be asked.
One of our favorite Aretha moments was the 1998 Grammy Awards. When her friend Luciano Pavarotti fell ill, Franklin was asked to substitute for him -- 22 minutes before stage time. Her performance of the aria "Nessum Dorma" is enduring.
Scroll down to witness some of our favorite songs from the incredible music career of Aretha Franklin. If you're a Spotify user, click here to access a playlist of these songs and more hits from the Queen of Soul.
One of Aretha's highlights at Columbia Records was the pop crossover "Won't Be Long," featuring a stranded Aretha sitting by the railroad tracks, waiting for a man to come back. She wouldn't be singing about being powerless for much longer.
"(No, No) I'm Losing You," 1965
Aretha Franklin never sang for her hometown label Motown Records, but this spooky string-laden ballad sounds like it could have been lifted from the songbooks of Mary Wells or The Supremes.
"(You Make Me Feel Like A) Natural Woman," 1967
Carole King and Jerry Wexler's ode to a natural woman and the man who loves her just as she is helped define the women's movement in the 1960's. It was one of 10 astonishing singles Franklin released between 1967-1968 that established her as the "Queen of Soul."
Even more than "Natural Woman," Franklin's response to Otis Redding's "Respect" -- recorded with musicians from Fame Studios in Muscle Schoals, Alabama -- became a touchstone anthem for what it meant to be a woman and Black in America. Just to clear it up, that line is, "R-E-S-P-E-C-T, take care, TCB." TCB: take care of business, girl.
There aren't many one chord songs charting on Billboard. The song-and-clap bridge is one of the many Franklin songs that hearkens back to her gospel roots.
"I Say A Little Prayer For You," 1968
Burt Bacharach and Hal David's ode to a Vietnam soldier was originally sang by Dionne Warwick, until Franklin covered it for her 1968 album, Aretha Now! Singing background are The Sweet Inspirations, founded by Cissy Houston (Whitney's mother).
A duet with Duane Allman? Just another day in Aretha Franklin's life.
"Spirit in the Dark," 1970
Jazz-inspired, relaxed and earthy, this is one of Aretha's most enduring albums. Of it, rock critic Robert Christgau wrote, "What's lost in soul intensity is more than made up for in a kind of dusky barroom aura -- if you can imagine walking into some funky cocktail lounge and finding the greatest singer in the world at the piano."
From one of Franklin's landmark albums, Young, Gifted And Black. This performance is from a 1973 "Soul Train" episode.
No list of Franklin hits is complete without a mention of Amazing Grace, her 1972 live gospel album recorded with Rev. James Cleveland. It's still the best-selling gospel album of all time.
"Border Song (Holy Moses)," 1972
An anthem about tolerance written by Elton John and Bernie Taupin: it was John's first single to chart in the United States. Another phenomenal track from Young, Gifted and Black.
Something of a Franklin family collaboration, Angel was co-written by Aretha's sister Carolyn and co-produced by Franklin herself and Quincy Jones.
"Until You Come Back to Me," 1973
Although Stevie Wonder helped write this tune and recorded it first, it appeared on Aretha's Let Me In Your Life album first. It's been covered numerous times by the likes of Luther Vandross, Cyndi Lauper and Wonder himself.
"Something He Can Feel," 1976
Written by Curtis Mayfield and delivered by Franklin on original Sparkle! soundtrack. A worthy cover version was later delivered by En Vogue.
"Think," originally released in 1968, extended version recorded in 1980
Who can forget Franklin's adorable turn as a diner waitress in 1980's Blues Brothers? It's been said this scene needed to be shot numerous times because Franklin found it so difficult to lip-sync.
This music video, recorded entirely in Detroit, is one of Franklin's most popular. Clarence Clemons from Bruce Springsteen's E Street Band is playing saxophone, while disco singer Sylvester sings backup.
"I Knew You Were Waiting (For Me)," 1987
Divas unite! George Michael and Aretha won a Grammy for this duet.
"A Rose Is Still A Rose," 1998
A tough-love mantra from a tough-talking mama to the '90s girls: 'Baby girl, you hold the power.' Featuring a video cameo from Lauryn Hill, who wrote it.
What's your favorite Aretha Franklin song? Leave your pick in the comments.
CORRECTION: A previous version of this article misstated the year several of Franklin's singles were released. "Think" was originally released in 1968. "Freeway of Love" was released in 1985. "I Knew You Were Were Waiting For Me" was released in 1987. "A Rose Is Still A Rose" was released in 1998.
Popular in the Community