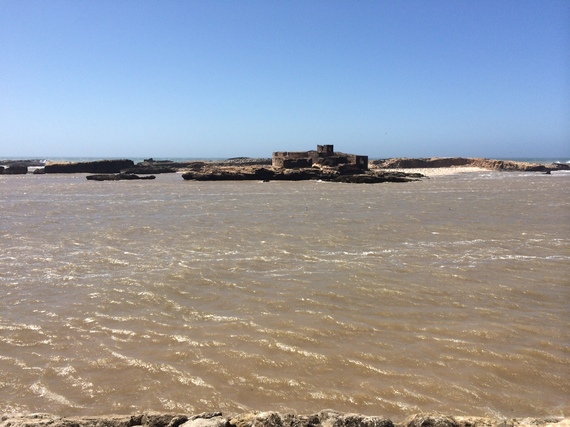 Once you arrive in the town where Hendrix wrote about castles made of sand, Essaouira is a culinary eden. If you are hardcore and organized, you can pack in a lot of delicious into two days. But first there's the opening salvo.
Between Marrakesh and the magical port town lies the only stretch of land in the world where argan trees grow. As you drive from the interior out to the sea, desert land fills slowly with spindly, craggy argan trees. They may look dead, as they can hunker down for five years in a drought, but they are heavy with nuts during the season; enough to sate a nation of ladies with Wonder Woman hair and a growing international market of wannabes. If you don't know what you're looking for, look for trees with goats up in them. Seriously, no one can get enough of this stuff.
Argan oil, aka Moroccan oil as it's been deemed in the Unites States, has unique properties that make it extremely absorbent to the skin and hair as well has exceedingly good for ingesting. Americans haven't quite picked up on the edible variety. But if that sounds good (it gets roasted and ground with honey and orange flower water for a Nutella-like breakfast spread called Amlou), then Essaouira might be your next stop.
DAY 1:
First things first; good morning. Nom on a piping hot, oversized English muffin in the morning. It's called batbout, but you'll fantasize about it later as a Thomas's for Shriek. Walk to the souk aiming for anyone with a fired up griddle. Line up wherever is most crowded and pay 2 dirham (25 cents) for an 8" sourdough breakfast. It's not unique to Essa, but it's an exceedingly good way to start the day. And now you can go to a cooking class on a full stomach. Very wise.
Madada Mogador at the edge of the medina has a fantastic chef/teacher. The first guest to sign up gets to pick the menu. Don't forgo learning to make the triple-layered delight: Pastilla. Blanched and ground almonds, slow-cooked saffrony chicken, and a soft whipped egg make up the core of each layer and then get pinched into a filo wrapper. The lesson is clear and fun and includes a trip to the souk to a fantastic spice shop (Mohammed). Hoard saffron, spice mixes for fish and meat, and a royal tea blend. On the walk, you'll get your bearings on the tiny city and acclimate to the myriad cats that line the streets.
Afterwards, take a walk out to the adjacent port/fish market. It's a sight! There's eel and sardines and St. Jacques galore. You'll still be full after the class though, especially if you make pastilla so you need an activity. Arrange with Lynn Sheppard and Omar Hittouri to spend the afternoon in the countryside visiting Val D'Argan and La Fromagerie. The vineyard is run by a Moroccan-French man, born in the area who moved to France to manage his family's property in Cotes Du Rhone before turning back around at age 47 to make juice in his motherland. He makes three tiers of wine from muscadet, syrah, grenache, and viognier, all lightly sweet and aromatic like the country's cuisine. Pick up a few bottles of his great Gris (like rosé) for drinking on a rooftop when you get back to the medina. Or walk to the end of the boats and up on the wall to imbibe. Photo op, no joke.
And because you need cheese with wine, head to La Fromagerie where Jaouad Hbib and Abderrazzak Khoubbane run a seriously good dairy. Those goats you saw in the argan trees on the way in are grazing on the exterior shells (there are two shells) of the nuts, making their milk (and meat) sweet, tender, and enriched. You'll taste through at least ten varieties. Chill there as long as you can (there's a vine covered courtyard and an interior room washed in white: walls, tables, etc). Definitely get some cheese to go.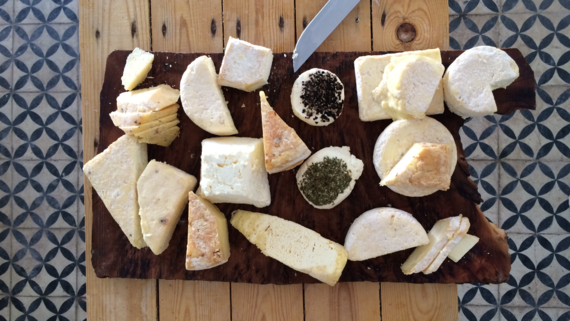 When you get back to town, wander back to the souk to oogle over the surplus of dates -- something like 15 kinds. Buy some for later. If you are lucky enough to be in Essa during fig season, be a glutton. The figs are exploding with flavor, green and purple alike. Other snacks to get are the hard fennel seed rounds and the fluffy, crispy donuts near the Bab Doukala gate. They are similar only in shape. But, I suggest waiting til your last day to partake in these both because they are addictive and you may want to limit your intake, especially of the donuts, to save room for other yummies. But, you heard it hear: Best donut of my life.
If you manage to get out of the souk not-too-stuffed, you're in for a treat at dinner. La Decouverte is run by a French couple; the wife, Frederique Thevenet, just wrote a cookbook with the local henna sagesse, Habiba Ajaoui. Fred's food strikes a balance between homey, French, and classic Moroccan. She has outstanding tagines, fragrant meat dishes, and a sampler plate with brouiats and pastilla if you've missed those items so far in your travels. And definitely get a lentil salad; it's bathed in argan oil, making it massively healthy. Her purveyors are all a stones-throw from town.
For dessert, class is up at Umia, a restaurant recently opened on the north side of town. It's legit nice. Pretty space and pretty plates. Cactus paddles hanging from candle sconces. You may think its weird to go to a non-Moroccan restaurant in Morocco, but at a certain point all the tessalated tile work and interior ornamentation starts to blend together and it's nice to have pot de creme with salted caramel.
DAY 2:
Get back into local today. Go get the harder, smaller -- about grapefruit diameter -- whole wheat looking bread rounds from most any bodega and eat it with the cheese, dates, and figs from yesterday's bounty. The bread has a slight rye taste to it... a relic of the heavy Jewish influence in town? Perhaps. Jews are responsible for building the port and establishing trade routes between Essaouira and Europe (and for the donuts, for sure!). There are several Synagogues in town to visit if that's your jam. Otherwise, occupy yourself until lunchtime by buying carpets, wandering the streets of the medina, and chilling out by the beach. The beachfront was redone a few years ago and has a pretty boardwalk to amble upon and camels and horses to ride. Or, plop down on the sand and watch the kite surfers get some serious wind. If you want more wind and more kite surfing, take a cab to Sidi Kaouki for the morning. It's a beach 25 minutes south that's pretty bare bones save surf shops and a few hostels. Lots and lots of wind; you only need two hours there unless you're on a board in the water.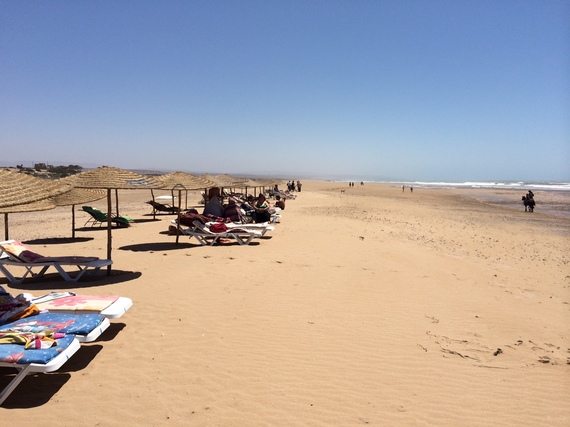 By lunchtime, you'll be hungry enough to eat at La Crevette, which is across the street from the (Essaouira) beach, one street behind the main drag into town. Get a tagine avec kefta des sardines if it's on the menu, as it's a specialty of Essaouira. Imagine fishy meatballs but good. They get steamed up in a tomato broth and flavored with cumin, pepper, and garlic. Their fried fish plate - complete with little shrimp, calamari, smelt-ish fish, and white fish is simple and exactly what you'll be in the mood for also, so order a plate for the table.
After lunch, go to get the donuts if you didn't do it yesterday. And get the fennel cookies to snack on on the plane ride back if you still think that you are going to leave. By now you've possibly adopted a newborn kitty cat named tagine. That said, you might want to check your email or at least check the CDC website for regulations on domestic animal importation, so go to Cafe Papillon for saffron tea and wifi. Sit as long as you want (and go to the "galerie"/shop next door for home textiles and furniture). The place is small and chill. It's two sitting rooms with two couches a piece; more West Village than West Africa. On your way out, if you like almonds, sugar, and orange flower in the form of a paste, tucked into dough, and shaped into a horn/gyoza, get corne du gazelle to save for a sweet treat at the end of the night. I dream about these. They are very tough to find in New York City.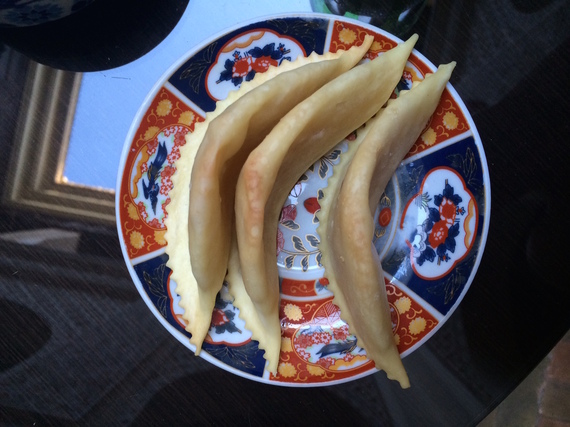 Before you go back to your riad or hotel to get a massage or hammam, go over to Berbere Cafe and put in an order for dinner. It's not a restaurant. It's a dude in a kitchen with a line-up of tagines along a charcoal stovetop that wraps around two walls of the place. Tell him where you are staying (you may need to walk his delivery boy back with you to show him if he doesn't know) and give him two hours to appear with your order, hot and ready to eat, delivered in tagine pots in straw baskets. Get a couscous and a tagine (lamb, beef, goat, fish, sardine ball). Or, multiples. Chow down (crack open your Val D'Argan wine) and return the tagine pots later in the night or the next day before you skip town.
If that's not an option because it'd be weird to get food delivery in your royal suite at L'Heure Bleue (you're overpaying but hey, when in Maroc...), then go to Taros for Oulidia oysters - they are big, fatty ones. I'd say just fill up on oysters for dinner. But if you need more sustenance, go to Umia for a full dinner after a round of the oysters. Afterwards, depending on where you are in donut consumption, get a crepe on the street. They are as good as France plus you can get Amlou on it. And don't forget those corne du gazelle before you tuck into bed. Bonus round. And extra credit if there's a glass of wine left. Curl up with your cat and consider skipping your flight.
MUST EAT IN ESSA:
- Val d'Argan vineyard
- La Fromagerie goat cheese
- Tagine with sardine meatballs
- Donut near bab doukala gate
Addresses and Contact
Madada Mogador http://www.madada.com
Val D'Argan http://www.valdargan.com
La Fromagerie no website, just ask Lynn or Omar
La Decouverte: http://essaouira-ladecouverte.com
Café Papillon no website; 8, rue de Tetouan
Berbere Café no website, just ask for it
Umia no website; 26 rue Squala
Taros http://www.taroscafe.com
Touch base with Lynn Sheppard: info@maroc-o-phile.com
Touch base with Omar: info@fikratravel.com
http://www.fikratravel.com/