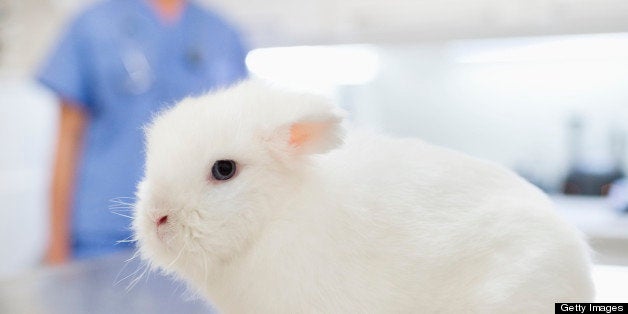 With more than 8,000 miles between them and marked differences in climate and culture, Argentina and Russia seem to be worlds apart, but recently something spectacularly similar happened in these two countries -- the introduction of bills to end animal testing for cosmetics.
The first was Argentina. In June, Senator Magdalena Odarda introduced a Bill that would end the animal testing of cosmetics ingredients and prohibit the sale of new animal tested cosmetics in Argentina after a two year phase in. Violation of the law would result in hefty fines which would be ear-marked for animal protection and welfare programs in Argentina.
The Senator was inspired by progress made in other countries and the enthusiasm the Cruelty Free International campaign has generated. Senator Odarda said:
It's wonderful that we have the support of people who care about animals all over the world, and in preparing this Bill we've worked closely with Cruelty Free International, which is also leading an effort to end animal testing for cosmetics in Brazil and many other countries. Together we can change the world!
Up next is Russia. Last week, a Bill by senior Duma Parliament members Sergei Doronin and Igor Igoshin, published a landmark cross-party bill which would phase out all animal testing for cosmetics and their ingredients by 2020.
The growing global move away from animal testing seems to have also played a large role in the decision by Doronin and Igoshin to introduce the bill.
It is very satisfying to be putting forward this proposal to bring Russia among the leading countries in the world for the ethical principle of no longer allowing animals to suffer for cosmetics. The input from Cruelty Free International on the legislation has been very helpful and I appreciate the global support for the initiative.
I look forward to the time when animals no longer suffer to bring cosmetics to market in Russia, and I'm pleased with this Bill to contribute to the global effort by Cruelty Free International to end experiments of this kind and adopt modern non-animal alternatives.
Of course, Argentina and Russia are just the latest countries to jump on the proverbial cruelty free cosmetics bandwagon. Following the March 11, 2013, European Union ban on cosmetics tested on animals anywhere in the world, the global movement spearheaded by Cruelty Free International, has been like a snowball rolling downhill. Norway, Israel, India and New Zealand now have the same testing and sales restrictions in place as Europe and bills have been introduced in the United States, Canada, Brazil, and South Korea that would phase out animal testing for cosmetics. In addition, progress has been made in Taiwan, Vietnam and China increasing the acceptance and use of alternative tests.
In a global market it is important for all countries to ban animal testing for cosmetics to avoid testing simply moving around the world to countries with no effective laws. Thanks to the work of Cruelty Free International, the innovative alternative testing strategies available and high citizen demand for cruelty free products decision makers around the world are clearly taking notice.
Which country will step up next?
Popular in the Community