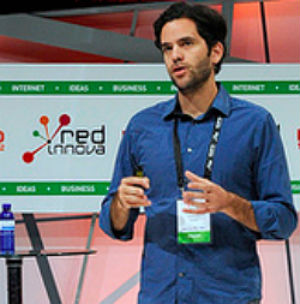 Buenos Aires is thousands of miles away from California. In 2013 when most people think of internet innovation, they think of the valley called "Silicon" that stretches southward from San Fransisco/Oakland.
They don't think of Buenos Aires, the land of futbol, tango and the home of the new Pople.
As Gabriel Gruber locks his door each morning before starting the communte into central city Buenos Aires, he realizes that the "Paris of the South" as it's called by travel magazines is not on the radar of most people looking to join the hi-tech world.
But this is where Gruber has carved out a niche for himself; interested in business and finance from an early age, he now specializes in building lead web companies that are becoming the standard for others to follow.
Diego Elías, who worked with Gruber at Central Bank of Argentina describes Gruber as "...sagacious, proactive, reliable, creative and enthusiastic. The best guy money can buy".
While Gruber enjoyed his time in finance, he finds that in the technology sector the idea is the easy part. "the difficult part is the execution," Guber says. While in the financial sector "...the difficult part is the idea of what to trade."
Gruber was also attracted to technology because he saw that he would have more control over the research and development phases. "...you can have the best idea for a financial trade but you only buy/sell, you are not working on that particular business to succeed."
"The satisfaction of having an idea and transforming it into a real company is what makes me feel happy at the end of the day. For sure money is important, but you can make money in every sector," says Gruber."
Of all the accomplishments Gruber has achieved, his proudest moment came with the creation of his first company, Sumavisos, five years ago.
Starting with no money and no experience in running a company, Sumavisos now has 12 million visitors a month serving 8 languages in 30 countries.
Gruber explains his first step into the business world with his philosophy that continues to guide him and his growing empire.
Gruber says, "I think that having an idea and then executing it into reality is one of the best sensations that an entrepreneur can have. The final result could be good or bad; if you don't take take the risk the result is bad by default."
While Gruber has established his reputation as an innovative leader in directing internet companies, he doesn't keep the knowledge he's learned to himself. He's listed on Quora.com as one of the three best technological mentors in Argentina.
His own mentor, in a fashion, is Facebook's founder, Mark Zuckerberg. While Zuckerberg and Gruber have never met, when faced with a difficult challenge, the Argentine creator asks himself, would "...Mark Zuckerberg be doing this."
While Gruber has not figured out how to get more than 24 hours into a day, he has figured out how to get the most out of the 24 hours he has. Gruber says that the single most valuable lesson learned in his professional life is to "...Focus on high-leverage activities."
Keeping the lesson of leverage (the amount of output or impact produced per unit of time spent), in mind, Gruber has been Mr. Activity once he found his stride.
In 2012 Gruber co-founded Gravlax Ventures, a holding company for several hi-firms which reaches beyond the boundaries of Argentina.
Included in the stable of companies which Gravlax owns and manages are:
* Properati.com: A Real Estate market place for Latam that provides insightful data to helps users take better decisions.
* Sumavisos.com: A Search Engine for Jobs, Cars, Real Estate and Products (30 countries, 8 languages and 12M visitors/month).
* Oony.com: A Search Engine for daily deals (16 countries, 6 languages and 6M visitors/month).
* Loogares.com: A city guide for Latam that connects people with local business based on recommendations from an influential community.
* GetOnBrd.com: A job board for web pros for Latam, curated by web pros.
Watch as Gruber talks about Sumavisos. http://youtu.be/KLcl-EM6GKw
To learn more about and possibly partner with Gruber, his website is:
http://gabrielgruber.com/
Jerry Nelson is a freelance photographer and writer. Originally from America, he now lives and works in Argentina where he has developed a knack for finding and telling the untold story. Contact Jerry for more information about his work there and elsewhere.
Calling all HuffPost superfans!
Sign up for membership to become a founding member and help shape HuffPost's next chapter