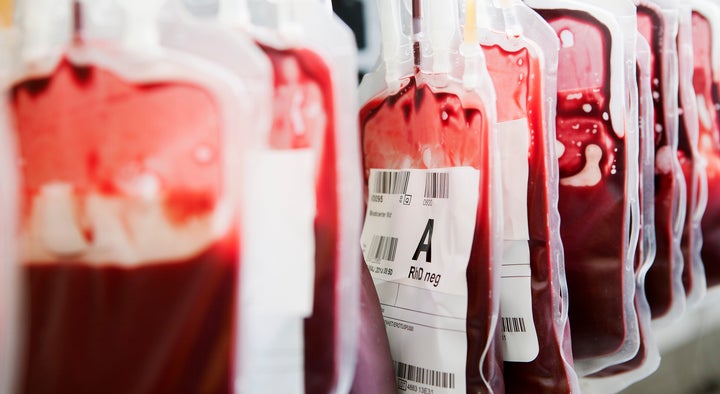 At a signing ceremony Wednesday, Health Minister Daniel Gollán said the policy change was "scientifically and technically accurate," and based on "a medical approach that replaces that old concept of 'risk groups.'"
Argentina can now "move toward a national blood system that is safe, caring and inclusive," he said in a Tuesday statement, per Agence France-Presse.
The country joins a growing minority of nations that has abolished similar blood bans. In countries such as Chile, Mexico, Spain and Italy, blood donors are accessed on individual risk rather than sexual orientation.
LGBT rights groups have applauded Argentina's decision. According to AFP, activists have been urging the government to lift the ban for 15 years.
"It is a great joy to be able to take this step toward equality and non-discrimination in one of the last realms that explicitly excluded us from the full enjoyment of our rights," Esteban Paulon, president of the Argentine Federation of Lesbians, Gays, Bisexuals and Transgender, said in a statement.
Several countries, including the U.S., France, Germany and Belgium, have begun talks about possibly revising their policies.
Earlier this year, the Food and Drug Administration proposed lifting the ban in the U.S. -- at least partially. Under revised FDA guidelines, gay and bisexual men in America would be allowed to donate blood, but only if they've abstained from sex for a year.
Blood donation equality advocates lauded the FDA announcement. However, many argued that the change does not go far enough.
David Stacy, government affairs director at the Human Rights Campaign, said the proposal was "a step in the right direction," but added that it "falls far short of a fully acceptable solution because it continues to stigmatize gay and bisexual men."
The American Red Cross, the American Association of Blood Banks and the American Medical Association are among the organizations that have called for the abolishment of the blood ban in the U.S.
In 2013, 86 members of Congress wrote to the U.S. Department of Health and Human Services to press the agency to reevaluate the outdated policty.
"We have seen vast advances in blood screening technology, blood donation policy changes in other countries allowing MSM to donate, and opposition from our nation's blood banks who have called the current ban 'medically and scientifically unwarranted.'' the letter said. "Our current policies turn away healthy, willing donors, even when we face serious blood shortages."
In the wake of Argentina's policy shift, several netizens have taken to Twitter to express the hope that their home countries will sit up and take notice.
Jared Polis (D-Colo.) was one of those who weighed in on the decision, tweeting to the FDA: "Hope you're watching."
The U.K. and Canada both have restrictions on blood donations by gay and bisexual men. In the U.K., men have to wait at least a year after having sex with another man before giving blood. In Canada, the wait is five years.
Support HuffPost
Every Voice Matters
Popular in the Community