 BUENOS AIRES, Argentina -- Argentina's deadliest train accident in decades was foreseeable and preventable, the nation's auditor general complained Thursday, saying years of failed safety tests and other problems had given the government more than enough reason to cancel the train operator's concession.
Others pointed to high-level corruption: years-old allegations still awaiting trial that a former transportation secretary took free vacations and other gifts from executives of the Trains of Buenos Aires company in exchange for favorable treatment.
The TBA blamed government price controls, saying that keeping fares to less than 25 cents a ride made it impossible to finance improvements.
Rail safety experts, meanwhile, said modern trains are built to withstand the kind of hard stop that killed 50 passengers and injured more than 700 Wednesday.
Newer cars resist the accordion-like crumpling that shoved hundreds into a jumbled mass of limbs, metal and blood in the first two cars when the commuter train hit a shock-absorbing barrier at less than 12 mph (20 kph). But these cars were more than four decades old, "Toshiba Classics" that were refurbished after being cast off by other urban systems.
President Cristina Fernandez declared two days of mourning and sent at least four Cabinet ministers out to give news conferences describing the government's response to the tragedy. None took questions.
One man who might explain why passengers said he repeatedly struggled with the train's brakes before the accident - motorman Marcos Antonio Cordoba, 28 - remained in intensive care and had yet to make a statement.
The current transportation secretary, Juan Pablo Schiavi, said the train's speed while approaching its final stop at the busy downtown Once station was normal, that the motorman was already slowing and that he should have been able to stop during the final 130 feet (40 meters) from the point where the speed was last recorded.
"Those last 40 meters today remain a mystery," Schiavi said.
The crash happened after Cordoba had traveled the length of the Sarmiento line - 14 stations. Before him, another motorman had driven the same route 10 times, since 2:45 a.m. Wednesday morning. Union leaders said the train was in good condition when checked the day before.
Auditor General Leandro Despouy, however, said TBA had been failing safety requirements since 2002. Many of these compliance problems were raised in an extremely critical report in 2008, which recommended ending the concession granted to TBA in 1995 during Argentina's privatization era.
"Back in 2008 we had verification of dramatic and alarming brake problems," Despouy said.
Schiavi said Thursday's news conferences and its support of a thorough crash probe by an investigative judge proves that the government is acting responsibly.
The train's "black box" recordings of conversations between the motorman and control room were already in the judge's hands, and other evidence abounds, from GPS data to cameras and other recordings as well as physical evidence from the wrecked train, he said.
With 703 injuries among the estimated 1,500 passengers, thousands of people desperately rushed around Buenos Aires checking lists of survivors and hoping their loved ones weren't in the morgue.
Many of the dozen or more hospitals that treated the injured said they had no unidentified patients, and by Thursday afternoon the morgue had identified all 50 fatalities.
The Bolivian Embassy announced that a pregnant consular official, Nayda Tatiana Lezano Alandia, was among the dead. She left behind three daughters, Argentina's state-run Telam news agency reported.
Sabrina Espindola, 29, who worked downtown by day and studied to be a surgical assistant until midnight each night, was pulled from the first car, her husband, X-ray technician Ezequiel Mercado, told The Associated Press. "She was getting her degree this year," he said, sobbing at the thought of retrieving her body at the morgue.
The body of Sofia Peralta, 19, also turned up at the morgue, while her brother Fernando, 18, was hospitalized with multiple leg fractures and damage to his arm and face.
"When he woke up, he remembered first his sister. We told him Sofia was gone. He looked at us for a while, then he went very quiet," their uncle Daniel Peralta said.
The siblings worked together as telemarketers at Nextel and took the train together every day, he said. "They were always together," Peralta said.
With the crash still unexplained, Thursday's commute was unnerving for some of the millions of people who have to ride the city's trains each day.
A woman who gave only her first name, Marta, said she abandoned one train after the motorman complained to passengers that he couldn't get the engine to work, followed by a lengthy delay and then lurching stops.
"I got down with the kid and said to myself: 'No, that's enough. I'm getting out of here,'" she said."
Associated Press writers Debora Rey, Paul Byrne and Roger Dwarika contributed to this report.
Related
Before You Go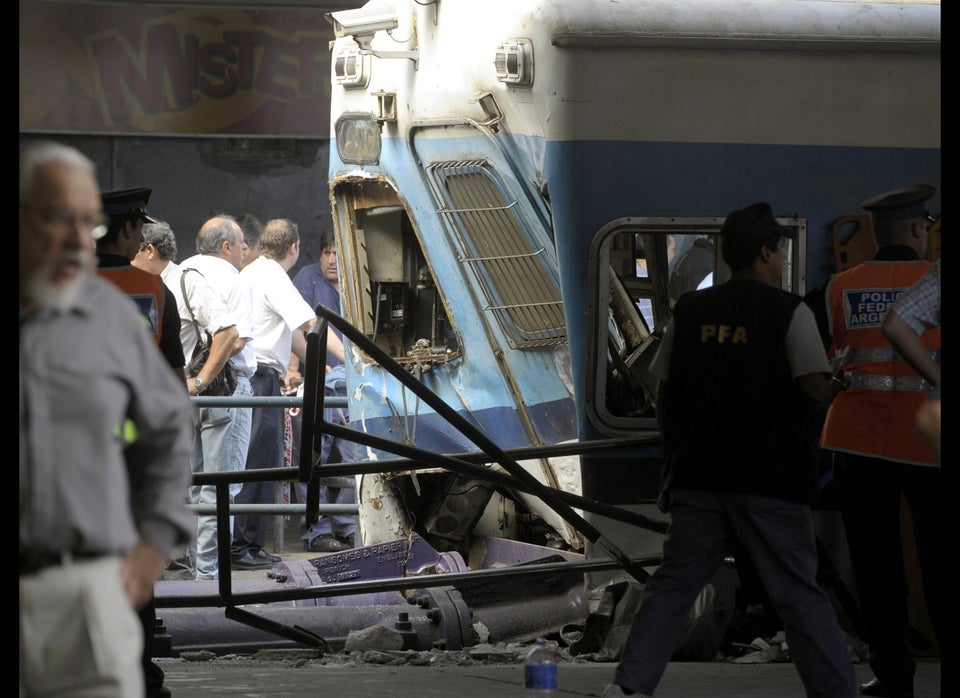 Argentina Train Accident
Popular in the Community