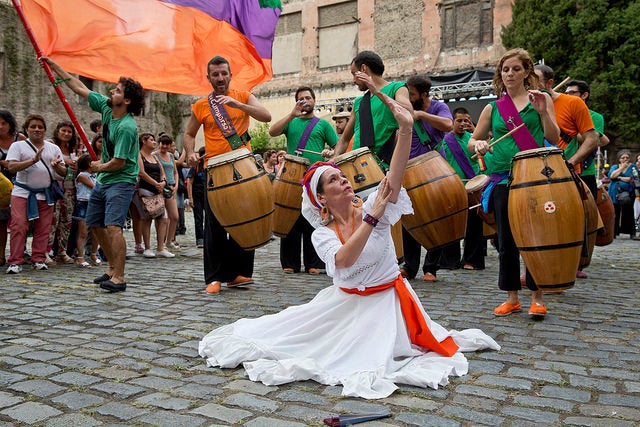 Across the Western Hemisphere, countries celebrate Columbus Day as the beginning of a rich cultural exchange between the east and west. This anniversary took on new significance in Argentina in 1917, when the government decreed the second Monday of October as Dia de la Raza ("Day of the Race"). The holiday honors both the native people already inhabiting the continent, and Columbus' later arrival - recognizing the mutual exchange between the region's indigenous people and Europeans.
In 2010 the nature of the holiday changed when President Kirchner issued a presidential decree changing the name to Día del Respeto a la Diversidad Cultural, "Day of Respect for Cultural Diversity". Her decree declared this observation day to reflect on social equality, intercultural harmony, and Argentina's diverse history as a melting pot of ethnicities and cultures.
On the centennial of this celebration, Argentina is highlighting several themes to promote unity among its diverse ethnic groups. Regardless of our cultural background, these three lessons from Dia del Respeto de la Diversidad Cultural are crucial for fostering respect, ensuring understanding, and building lifelong intercultural relationships.
Assuring Respect: Regardless of your cultural background and conditioning, we all recognize respect. It is universally understood. Recognizing this, Argentina implemented a Plan Against Discrimination in 2005 aiming to end social divisions based upon race. President Kirchner also stated in a Presidential Decree that this holiday would be "a day of historical reflection and intercultural dialogue," celebrating people of all backgrounds, ethnicities and races. This commitment to inclusivity and acceptance teaches us the value of diversity as a source of cultural enrichment, and encourages us to welcome difference as a source of growth and global understanding.
Knowing Your Roots: Argentina created an opportunity with this holiday, for students to learn about their country's various immigrant and native populations, and their invaluable contributions to society. The native Huarpe people are renowned for conceptualizing and constructing an elaborate irrigation system, parts of which are still in use today. Meanwhile, the Spanish are recognized for bringing over a variety of crops that enriched Argentina's diet and helped make Mendoza the 8th wine capital of the world. Each group is honored as a vital part of Argentina's social and historical fabric, offering an important lesson about intercultural history.
Celebrating Difference: Dia del Respeto is one of the country's most important holidays, bringing communities together for celebration and dialogue about diversity and social inclusiveness. Buenos Aires hosts a colorful street parade with music, elaborate costumes representing various cultures, and dancing. In Mendoza, school children come to class in traditional dress representing their heritage, and learn specifics about Argentina's multicultural history. These traditions represent the importance of recognizing each culture as an integral, appreciated member of society.
Fostering respect, promoting intercultural education and dialogue, and reflecting on Argentina's multicultural history are key elements of this vibrant national holiday. Whether you're a descendant of indigenous people or have ancestors from across the world, celebrate our fantastic global diversity by recognizing the importance of intercultural appreciation and exchange. And to everyone celebrating, Feliz Dia del Respeto!
Sharon Schweitzer J.D., is an award-winning entrepreneur, cross-cultural trainer, and the founder of Access to Culture. In addition to her accreditation in intercultural management from the HOFSTEDE Centre, she serves as a Chinese Ceremonial Dining Etiquette Specialist in the documentary series Confucius was a Foodie, on Nat Geo People. She is regularly quoted by BBC Capital, Investor's Business Daily, and Fortune. Her Amazon #1 Best Selling book in International Business, Access to Asia: Your Multicultural Business Guide, (3rd printing), was named to Kirkus Reviews' Best Books of 2015. She's a winner of the British Airways International Trade Award at the 2016 Greater Austin Business Awards.
Support HuffPost
The Stakes Have Never Been Higher
Related
Popular in the Community