Argentine artists have produced a great deal of innovative work since the mid-20th century, but their efforts have been largely overlooked in the artistic centers of Europe and North America. One of their few international showcases has been the Venice Biennale. An excellent exhibition of the Argentine artists who have exhibited at the Venice Biennale, curated by Rodrigo Alonso, is currently on display at Buenos Aires' Colección Fortabat.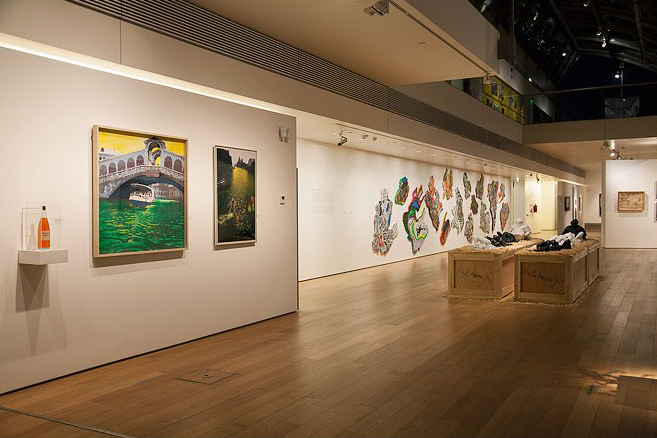 Installation view at the Colección Fortabat, showing works by Uriburu (left), Noé (center), and Minujín (right). All images courtesy of Colección Fortabat, Buenos Aires.
During the early 20th century, Argentina's representatives in Venice were largely conservative and traditional landscape painters, who portrayed the wide Argentine pampas. The first recognizably modern works appeared in the 1950s, as Lino Spilimbergo, Raúl Soldi, Miguel Ocampo, and Alfred Hlito showed a clear understanding of such developments as Surrealism and geometric abstraction. Sarah Grilo produced beautiful abstractions reminiscent of Tachisme, and Gyula Kosice made graceful geometric abstract sculptures.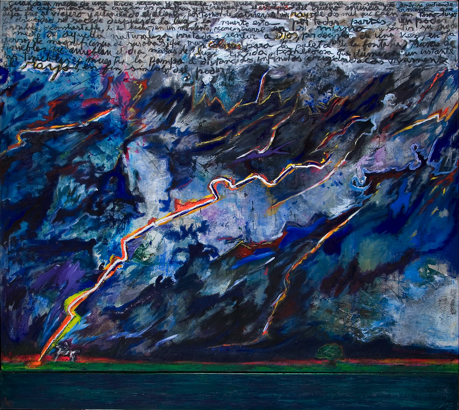 Luis Felipe Noé, Tormenta en la Pampa (1991).
The early 1960s saw the emergence of the bold young Nueva Figuración painters, represented here by a beautiful large canvas by Rómulo Macció, a distant cousin artistically of de Kooning. The playful distorting mirrors of Julio le Parc produce baffling optical effects. In 1962, the great Antonio Berni won the grand prize for drawing and engraving, for a series of large prints in a vaguely Cubist idiom.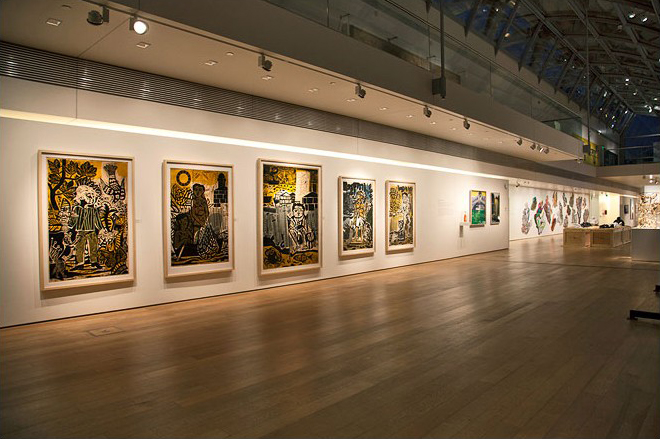 Installation view of woodcuts by Antonio Berni at Colección Fortabat.
1968 witnessed the historic action of Nicolás García Uriburu, with the first of his famous colorations. This is represented here by two photographs enhanced with pastel, and one of his very first, elegant bottles of polluted water from Venice's Grand Canal. The enhanced photographs produce magical images of the Rialto and palazzos floating on a sea of green.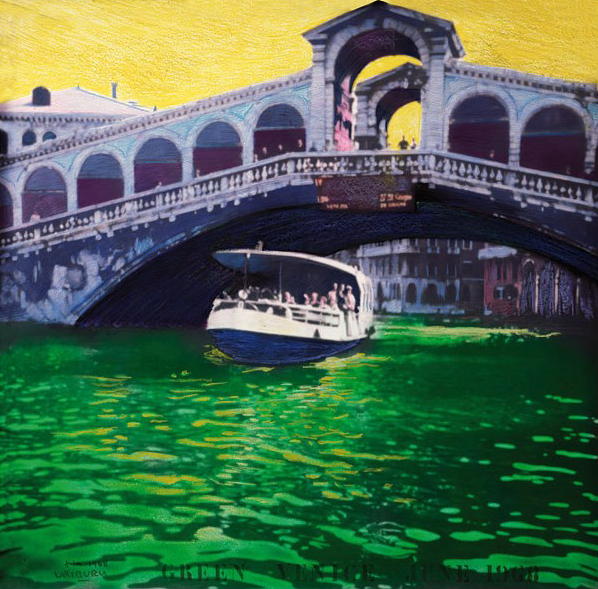 Nicolás García Uriburu, Green Venice (1968).
Later works include a monumental sculpture by Marta Minujín, who filled large packing crates with sequences of black and white plaster busts of Hercules. The effect is of an updated version of Rodin's sculptures, of figures coming into being. Luis Felipe Noé fills a large wall with beautiful shaped canvases, whose bold images alternate between figuration and abstraction. The 15 pieces are in radically different styles, but the artist's idea is that they are unified by the concept of chaos. And the great León Ferrari, who won the Golden Lion in 2007, here is represented by a lyrical sculpture made up -- improbably -- of casts of human bones.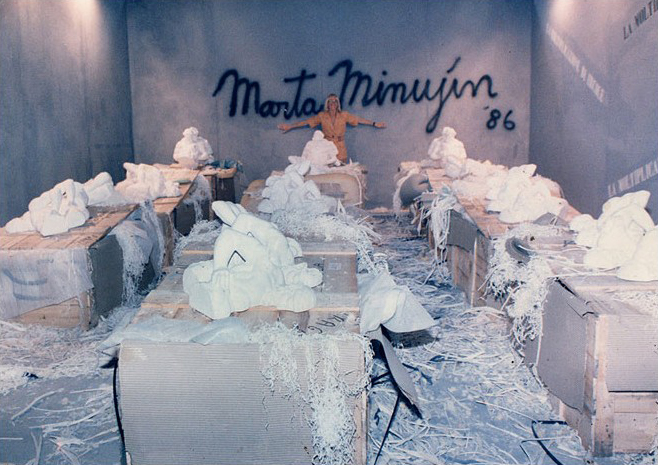 Marta Minujín, La multiplicación de Hércules (1986).
Argentine artists have relished their chances to exhibit in Venice. Luis Felipe Noé recently compared this opportunity to that of a ballerina dancing at the Bolshoi. And Nicolás García Uriburu, thinking back to the excitement of 1968, commented that "For me Venice was like Woodstock -- so many people coming together for an event. Everybody said you can't touch Venice, because it is so perfect. But for one day I changed it, and made it better."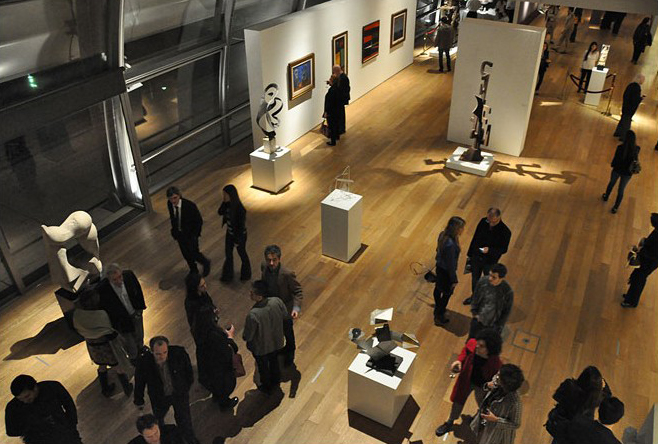 Overview of 'Berni and the Argentine representations at the Venice Biennale' at Colección Fortabat.
Housed on the top floor of the elegant Fortabat building, with panoramic views of the canal, boats, and renovated warehouses of Puerto Madero, in front of Buenos Aires' glittering new skyscrapers, this show constitutes an excellent selective survey of Argentine art of the past century. It is a pity that it will not be shown in Paris, London, or New York. Given the continuing neglect of Argentine art in those art capitals, it is perhaps symbolically appropriate that this lovely exhibition will be seen only in Buenos Aires, and there only in the sadly neglected Fortabat Collection.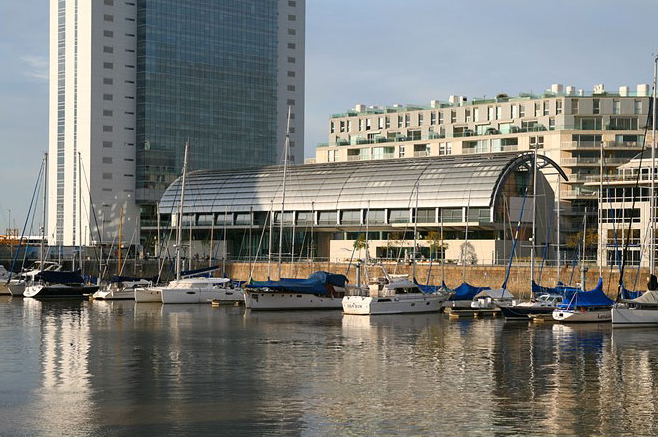 The Fortabat Building at Puerto Madero, Buenos Aires.
Calling all HuffPost superfans!
Sign up for membership to become a founding member and help shape HuffPost's next chapter