Welcome to For Your Consideration, HuffPost Entertainment's weekly breakdown of all things Oscar. Between now and Feb. 25, 2013, executive arts and entertainment editor Michael Hogan and entertainment editor Christopher Rosen will chat about awards season and which films will make the most noise at the 85th annual Academy Awards.
Rosen: Hello, Mike! To paraphrase Ferris Bueller, Oscar season moves pretty fast; if you don't stop and look around once in awhile, you could miss something.
Which brings me to "Argo," your Best Picture front-runner. On Friday morning, Ben Affleck and his film were still viewed as the pesky underdog, nipping at the heels of Steven Spielberg and "Lincoln." On Friday night, Matt Damon told attendees at the Santa Barbara International Film Festival, where Affleck was honored as a "Modern Master," that "no one's going to be surprised if ['Argo'] wins the Oscar for Best Picture." Turns out he might have been prescient: Saturday brought "Argo" the Producers Guild Award for Best Picture; Sunday, the Screen Actors Guild followed suit. That win was shocking: Not only did "Argo" top "Lincoln" for the Outstanding Ensemble in a Motion Picture trophy, but it also beat presumed favorite "Silver Linings Playbook," the first film since "Reds" in 1982 to earn nominations in all four acting categories at the Academy Awards.
To translate that into English: "Argo" has producers and actors behind it, a push that gives Affleck's film the momentum of a runaway freight train. Meanwhile, we're all still waiting for "Lincoln" to win one significant Oscar precursor.
This sharp left turn in the awards race happened hella fast: "Argo" was left for dead after Affleck was unceremoniously snubbed in the Best Director category (even I, unofficial board member of Team "Argo," jumped off the bandwagon); for "Argo" to win Best Picture without a nomination for Affleck, it will have to overcome 84 years of Oscar history. Now, three weeks later, and it'll be an upset if "Argo" doesn't win Best Picture.
Or not. Awards Daily blogger Sasha Stone is comparing "Argo" vs. "Lincoln" to the 1995 race between "Apollo 13" and "Braveheart." Like "Argo," "Apollo 13" won the PGA Award, SAG ensemble award and WGA award ("Argo" is up for the WGA against "Lincoln"); like Affleck, "Apollo 13" director Ron Howard was not nominated in the Best Director category. In the end, "Braveheart" prevailed, winning Oscars for Best Picture as well as Best Director for Mel Gibson.
Yet there's the rub: "Braveheart" was directed by a beloved actor (remember when Mel was beloved?), just like "Argo." So, is "Argo" actually "Apollo 13"? Or is "Argo" actually "Driving Miss Daisy," the last film to win Best Picture without a Best Director nod? Or "Argo" actually just "Argo"?
Hogan: Hey, Chris! "Argo" is blowing my mind, I can tell you that. I assumed that the Best Director snub meant that Hollywood had not forgotten about "Gigli," after all. But instead it looks as if the directors' branch, which decides nominees in that category, is the Revolutionary Guard of Oscar season: they tried and failed to stop Affleck at the gate and now they're chasing the "Argo" jetliner down the runway in their jeeps. Good luck with that.
As you know, I have been Team "Lincoln" for a long time now -- it's not my favorite movie of the year, but it felt the most Oscar-y to me. These wacky high-school dynamics are messing everything up, though. As you implied, the actors' branch -- which accounts for a sizable portion of AMPAS's ~6,000 members -- may well be looking to deliver some well-timed vindication to Affleck, who realized every actor's supposed dream when he made the leap to directing. And the fact that "Lincoln" hasn't won a single Best Picture equivalent at any of this season's bazillion precursor awards ceremonies speaks volume to the lack of enthusiasm it has generated. To me, "Lincoln" feels dead. We're back where we started way back in the fall, with "Argo" at the head of the pack.
Oddly, I have long thought that Affleck would win Best Director -- even when I assumed "Lincoln" would claim Best Picture. So now I don't know what the hell to think about that category. Does Spielberg win anyway? Does Ang Lee sail up in a life boat and claim a Best Director trophy detached from a Best Picture win for the second time in his career? Is this where "Silver Linings Playbook" finally gets some love outside the acting categories?
I know you have a crazy theory about this, so 'cmon: let's hear it.
Rosen: It's a crazy year, so why not have a crazy theory? Mine is Michael Haneke, future Best Director winner at the 85th annual Academy Awards. Here's the reason I'm placing the 70-year-old Austrian director at the top of the list, making me the lone Oscar expert on GoldDerby.com on Team Haneke: process of elimination.
Consider his competition: David O. Russell and Benh Zeitlin are both deserving nominees, but certainly in the "happy to be there" category; the nomination is their award. They're out. So it's down to Lee, Spielberg and Haneke. Only, Lee and Spielberg haven't won anything this year either -- meaning they, too, could be in the "happy to be there" category. Who's left? Haneke, the Palme d'Or winner at Cannes and the only true auteur in the lot! He's old school, and the directors branch, at least, appears decidedly old school this year.
Hogan: I can't argue with your logic -- or can I? While I couldn't agree more that the auteurs within the branch worship at the austere altar of Haneke, I have to think that the full voting membership of AMPAS will place the statuette in the hands of someone a tad more crowd-pleasing.
Hey, before we sign off for the week, let's talk acting: Tommy Lee Jones cranked up his chances by taking home the SAG Award (sorry, I can't bring myself to call it an "Actor") for Best Supporting Actor, and Jennifer Lawrence now looks like a lock for Best Actress. Any chance of an upset in these frames, or can the Oscar-pool pros out there start puzzling in earnest over the mysterious below-the-line categories?
Rosen: It might be time to worry about Best Production Design. The leads held by Day-Lewis, Lawrence and Hathaway seem insurmountable at the moment, and Jones leaped out in front with the SAG win. But I'm not exactly ready to call Best Supporting Actor for Tommy Lee just yet. Robert De Niro and Alan Arkin still feel like legitimate contenders -- the former, if Harvey Weinstein gives him the Meryl Streep-for-"Iron Lady" treatment; the latter, if "Argo" mania grows even stronger. Plus, it would be nice if Jones seemed to want his Oscar; the dude frowned through the Golden Globes and didn't show up at the SAGs. Will his "get off my lawn" demeanor wear thin? Guess we'll find out soon enough.
Till next week, when we can finally get into those docs!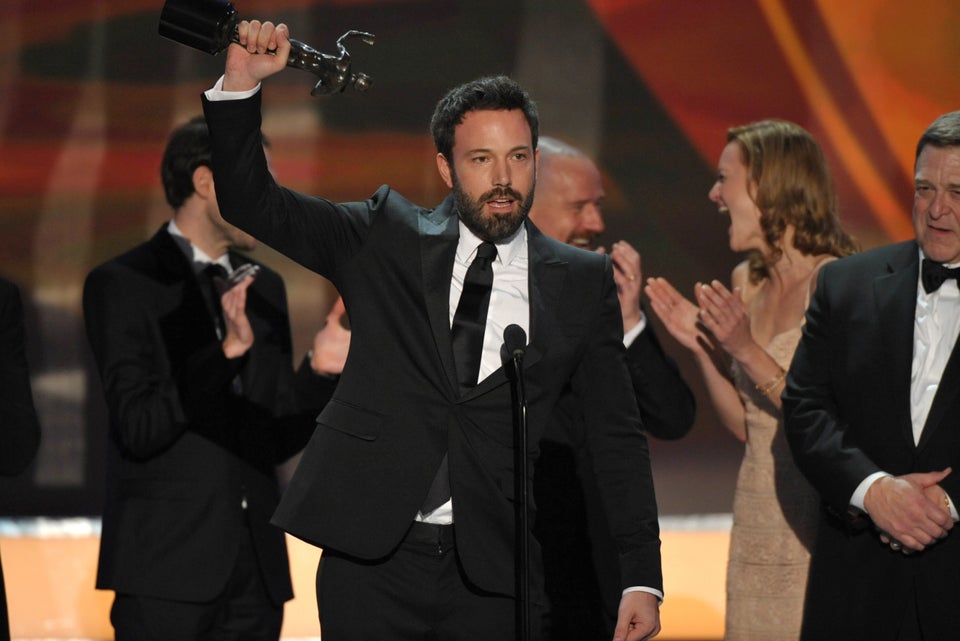 SAG Awards 2013
Popular in the Community