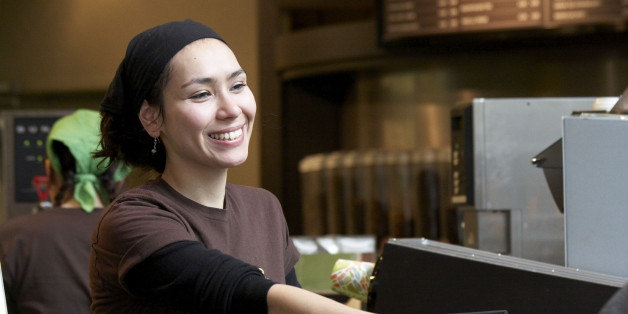 This holiday season, one tea chain is hoping to bring employees a little closer to its customers by footing the cost of their tips.
Argo Tea has been running its GratuiTEA promotion for much of the month of December. The program allows customers who are particularly impressed by a worker's customer service to tip them a dollar at Argo's expense, all via Twitter. By tweeting the name of the server, the location of the store and including the hashtag #Gratuitea, Argo will give that worker a $1 tip.
For the relatively few stores that the company has across the U.S. and abroad -- 33 in total -- the program's gotten some response from customers, with over 300 people sending around 500 #GratuiTEA tweets since December 5th, according to the company. Here are just a few:
Just got great service from Josh S. @argotea in Evanston! #Gratuitea @ArgoTeaEvanston

— Claire Delahorne (@clairelythebest) December 22, 2013
.@argotea #gratuitea I'm so glad I can let y'all know how attentive + helpful Dianne at O'Hare was!

— Somewhat girl (@ohitsjuancarlos) December 21, 2013
Frances at Chicago's Franklin @argotea was SO helpful w my holiday shopping #gratuitea. Thank you!

— Andrea Perez (@andreamvperez) December 18, 2013
Argo Tea founder and CEO Arsen Avakian says the program goes beyond merely putting a few extra bucks in the pocket of employees during holiday time. It's about fostering lasting relationships between his "team members," as he calls them, and customers.
"It's an innovative conduit to reward your team for the behavior that creates that profitable long-term relationship with the customer," Avakian told The Huffington Post earlier this month, using a bit of corporate speak.
Argo Tea keeps its pay information private but Avakian says it pays "way above" other food service companies and wages aren't designed to rely based on tips. (A report by Payscale put typical hourly income for baristas at $8.70, plus a $1 tip per hour.)
While employees do not receive a regular annual holiday bonus, the employee who gets the most GratuiTEA tweets will get $100 extra on top of their tips, while the second and third place workers get $50 and $20, respectively.
While the program is scheduled to end December 24th, Avakian says he's considering making it more permanent. "We're looking into the program more strategically than just a one-off," he said.

REAL LIFE. REAL NEWS. REAL VOICES.
Help us tell more of the stories that matter from voices that too often remain unheard.