Sarah McTaggart, above all else, has a proud mom. According to the singer, whose voice fronts synth-pop act Transviolet, the quartet owes some of its greatest success to her.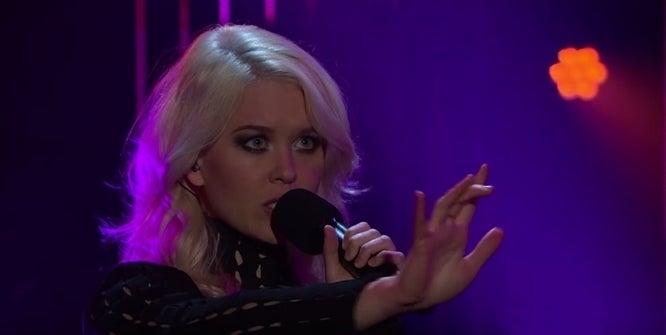 With Transviolet's latest EP Kaleidoscopes playing on Spotify around-the-clock at her office, McTaggart's mother constantly introduces new fans to her daughter's work. The most important person to learn of the band through her motherly pride, though, was L.A. Reid. 
"It was so serendipitous and insane," said McTaggart of how Transviolet found an audience with the the musical tastemaker. 
"It happened because my mom had a conversation with somebody on an airplane," she told Podomatic's No. 1 LGBTQ podcast. "A week later — literally — we were signed to a record label."
After meeting a stylist-to-the-stars on a flight, McTaggart's mother bragged about her daughter's band. Then, in a series of events which only happen in Hollywood, the stylist told somebody who told somebody and, eventually, Transviolet performed for the music industry legend who has shaped performers like Boyz II Men, Pink and more.
Within days, McTaggart and bandmates Judah McCarthy, Michael Panek and John Garcaio were the newest signees of Epic Records. The label released Kaleidoscopes in June 2017, led by first single "The Hamptons." 
It came none-too-soon for the group, which formed while McTaggart was in the Cayman Islands. While there, she met then-San Diego resident Panek through an online site for musicians. The international duo began collaborating via the internet.
After several years and moderate success later, McTaggart recalls working multiple jobs at once to keep her performance dream alive. She was considering giving up when the act got its break.
Since that time, Transviolet has amassed a solid following of avid fans — some which have surprised even the group itself. They received a significant boost when pop superstar Katy Perry shared their music on social media.
"Again, it comes back to my mom!" McTaggart admitted.
WATCH: Transviolet's "The Hamptons" Music Video
"Katy and I kind of grew up together," McTaggart said of the chart-topping icon, with whom she attended and even sang in the same church as children. "We lost touch, but our moms are still super close."
After Transviolet released an early music video, McTaggart's mom sent the link to Perry's mother. Needless to say, it wound up in Katy's hands, and the "Firework" diva tweeted it to her KatyCats. 
"[It] was so sweet of her and so helpful," McTaggart said of the younger Perry's support. "We're so grateful."
Perry isn't the only big-name celebrity high on Transviolet's talents. Harry Styles has also come out as a fan, which McTaggart called "completely random."
"It's definitely so crazy to see the effects of that on social media," she said of the boosts Styles and Perry can lend an emerging act. "Their fans are so passionate and ravenous!"
With the band's second Epic release now available, their profile is decidedly on the rise. Tranviolet music videos are viewed in the millions and Spotify listens surpass the 2 million mark. (One must imagine McTaggart's mother has contributed to both.)
During the podcast conversation, McTaggart discussed "flattering" comparisons to acts like Lana Del Rey and Santigold, sexism she has faced in the music industry and much more. At length, she talked about the group's fervent support for LGBTQ equality.
"We don't think it's a very radical idea for people to love who you love and be who you are," said McTaggart. 
Transviolet's 2015 single "New Bohemia" wraps this sentiment in lush electronica and McTaggart's ethereal voice. Taken from their self-titled 2015 EP, it speaks of a Utopian society where all are free to love as they choose. 
"It confuses and confounds me that we're still having this conversation in this day-and-age and that certain people still have a problem with it," she went on to say. 
"Everyone has their own personal beliefs and personal religion, but personal religion should not interfere with public, civil liberties — it never should," McTaggart stated about much of the backlash against queer rights stemming from religious groups.
"The same people who have this argument are the first ones to tell you they don't want the government getting into their church — but it's ok for their church to come into the government?" she continued. "I'm not into that."
Of the four members of Transviolet, none of whom are LGBTQ, McTaggart notes one is Christian. His religious faith, she said, does not prevent him from being a staunch "supporter of gay rights and LGBTQ rights."
"He knows his religion is his personal religion," she shared, "And it shouldn't effect other people's freedom and ability to love and be who they are."
Ultimately, McTaggart suggested, though many use religion as argument to deny equality, the issue most have against LGBTQ rights is something far more basic. 
"I've had conversations with full-grown adults where it literally boils down to 'I don't think gays should get married because I think it's gross' or 'I think it's 'icky,''" she stated. "Well, I don't want to think about you having sex with anybody either, because I think that's 'icky.'
"Should you not be able to love who you want to love or have sex with who you want?" McTaggart quipped in conclusion. "That's just childish!"
Calling all HuffPost superfans!
Sign up for membership to become a founding member and help shape HuffPost's next chapter