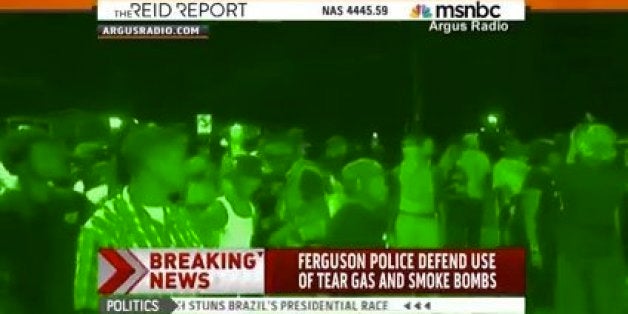 NEW YORK -- On Wednesday night, about half a million people watched online as a militarized police force in in Ferguson, Missouri, squared off with largely peaceful crowds protesting the killing of unarmed teenager Michael Brown.
"We've just been told by the St. Louis Police Department to turn off our cameras," said the voice on KARG Argus Radio's livestream broadcast. "We will not be turning off our cameras. We will continue to broadcast, even if it is at our own peril."
That voice belonged to Mustafa Hussein, a political science student who volunteers at the small, urban music station based in nearby Maplewood.
Hussein told The Huffington Post that Argus Radio, which launched online a year ago and is run by five volunteers, recently purchased video equipment so it could livestream concerts. But the station decided to use the equipment for the first time Wednesday to cover the interaction between police and protesters, which it was worried local affiliates would not continue to cover through the night.
For several days, protesters in Ferguson have been demanding answers to why a police officer shot and killed Brown last week. The police response to protests intensified Wednesday night, with heavily armed SWAT teams shooting tear gas and rubber bullets into crowds.
Hussein filmed the confrontation, operating the camera alone on foot even as he ran from the tear gas and projectiles. Some local affiliates also provided streaming coverage online, but TV satellite trucks did not have Hussein's ability to maneuver around police roadblocks. Hussein managed to get ground-level footage that major cable networks didn't have, and both CNN and MSNBC aired his footage throughout the day Thursday.
Police on Wednesday night also cracked down hard on the press, on several occasions trying to prevent journalists from recording their actions. Police arrested The Huffington Post's Ryan Reilly and The Washington Post's Wesley Lowery, and objected to the reporters recording them or asking for their names and badge numbers. Vice's Alice Speri said police asked if she wanted to get shot after she photographed an officer. Police also fired tear gas at reporters from Al Jazeera America; when the journalists dispersed, the police began dismantling the TV crew's equipment.

Hussein, who is working on his master's degree with a focus on constitutional law at the University of Missouri-St. Louis, said police may not be "intentionally infringing upon the constitutional rights of protesters."
"There is a longstanding history in this county of the officers themselves being uneducated on what the constitutional rights of civilians are," he said.
Hussein said he is physically fine, despite being "hit in the back with a canister or something." But the station's camera was damaged, and Argus Radio is now seeking donations for a new one.
As many as half a million people simultaneously watched Wednesday night's livestream, and about 1.2 million people in total watched it, Hussein said. This included several thousand still viewing the footage Thursday afternoon.
Argus Radio did not run into server problems, despite the uptick in web traffic -- but the station will have to borrow a camera to continue the livestream it has dubbed "I am Mike Brown Live from Ferguson, MO."
"The reason we named it Mike Brown is because that is the sentiment of the community," Hussein said. "Every person who lives in that community feels that they could be the next Mike Brown. Their children could be the next Mike Brown. Since Mike Brown's voice was taken from him, we are the voice of Mike Brown."
Watch Wednesday's Coverage Below:
CORRECTION: A previous version of this story stated the wrong school for Hussein. He is working on his master's degree with a focus on constitutional law at the University of Missouri-St. Louis.
Support HuffPost
The Stakes Have Never Been Higher
Related
Popular in the Community