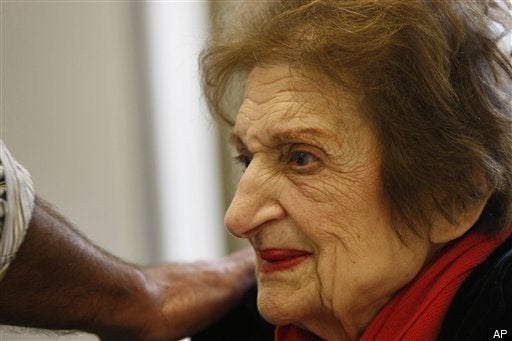 Longtime White House scribe Helen Thomas caused more than a few eyebrows to perk up when video surfaced on Friday of her declaring that Jews should "get the hell out of Palestine" and go back to Germany and Poland.
Captured by Rabbi David Nesenoff of RabbiLive.com, the footage made the rounds on mostly conservative and neoconservative sites, with some private complaints that her comments weren't getting wider play.
Thomas on Friday apologized in a written statement, saying she deeply regretted the comments -- which were offered, ironically, during the White House's Jewish Heritage Celebration.
But even as she was trying to walk back the remarks, calls for her firing mounted. Among the more vocal was former Bush Press Secretary Ari Fleischer, who claimed to have a close relationship with Thomas when he was manning the daily briefings.
"She should lose her job over this," Fleischer said in an email. "As someone who is Jewish, and as someone who worked with her and used to like her, I find this appalling."
"She is advocating religious cleansing. How can Hearst stand by her? If a journalist, or a columnist, said the same thing about blacks or Hispanics, they would already have lost their jobs."
A longtime fixture of the White House press room, Thomas hasn't exactly hid her politics on the Middle East conflict. The day after Israeli Defense Forces stormed the flotilla, she pressed spokesman Robert Gibbs as to how the administration could stand by the blockade of Gaza and the broader treatment of Palestinians by the Israeli government. A good faction of political and foreign policy observers found the line of inquiry refreshing.
The comments that surfaced on Friday were far less filtered than the quite-pointed questions she's offered in the briefing -- enough so that they've spurred earnest conversation as to whether she should be given a pass because of the historic perch she's held as the longest serving White House correspondent or whether it's time for her to leave that perch.
Here is the clip of Thomas:
Popular in the Community