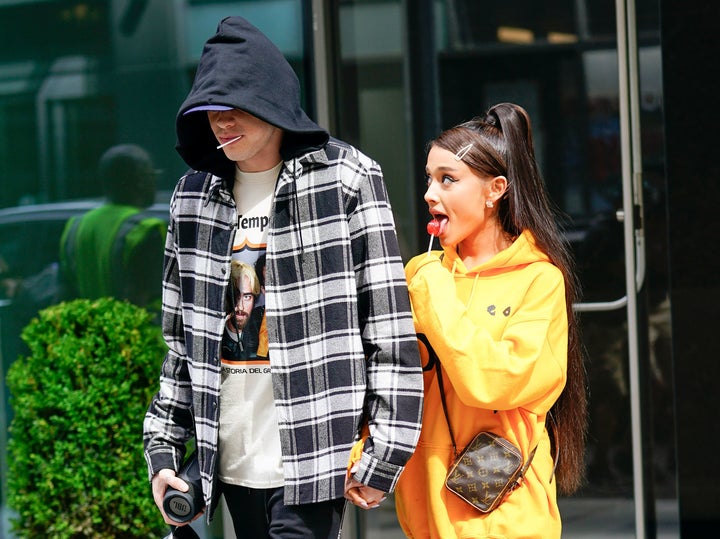 Ariana Grande had time this week to clear up some rumors for fair-weather fans. 
After a short-lived break from social media and ahead of the release of her fourth studio album "Sweetener," Grande responded directly to a follower taking shots at her new relationship
When one fan commented, "Ari cheated on maccccccc" on Instagram Tuesday, Grande fired back, writing, "I didn't but go off. can u like ... go stan someone else? ur boring."
But she wasn't done just yet. After learning the same follower intended to skip the track named after the comedian on the new album, Grande responded, "aww boo fucking hoo Alexa play Pete Davidson," setting off a firestorm in her comments. 
The new couple has been repeatedly targeted by haters on social media for their ― how shall we put this ― grand(e) displays of affection for each other. Since going public with their relationship, the two have shared daily updates of their new life together, such as dressing up in "Harry Potter"-themed costumes, endless internet flirting and even furnishing their new apartment. 
The negative attention drove Davidson to go dark on Instagram after a comment he left on a photo of Grande's grandfather was wildly misinterpreted by fans. 
"The internet is an evil place and it doesn't make me feel good," he wrote after deleting all of his posts. "Why should I spend any time on negative energy when my real life is fucking lit. The fact that I even have to say this proves my point. I love you all and I'm sure I'll be back at some point."
While their relationship might be moving at lightning speed for some fans, Grande previously addressed why she got engaged so quickly, after announcing she'd named a song in Davidson's honor.
"The truth is i been the fuck thru it and life's too short to be cryptic n shit about something as beautiful as this love I'm in," she wrote. "so ǝʇǝԀ it is."
REAL LIFE. REAL NEWS. REAL VOICES.
Help us tell more of the stories that matter from voices that too often remain unheard.
BEFORE YOU GO
PHOTO GALLERY
Ariana Grande's Style Through The Years