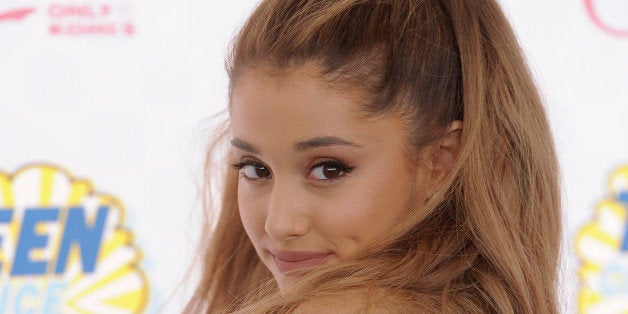 The first rule of talking to Ariana Grande is: Do not ask questions that may be of any interest to the public.
Apparently, it would be a "Problem" for reporters to inquire about:
Relationships/Dating/Ex-boyfriends
Mariah Carey
"Sam & Cat"/former co-star Jennette McCurdy
Working/collaborating with Justin Bieber
Her grandfather passing away
The singer also allegedly requested she only be photographed on her left side. The Australian news site reports that Grande's first sitting for mX newspaper was a "stop-start affair, with the singer checking each frame after it was taken and asking for shots she wasn't pleased with to be deleted."
Grande reportedly kept everyone waiting for 20 minutes while she went to change outfits, before one of her reps returned and demanded that the photographer delete all his photos. When the photographer refused, the singer apparently canceled all remaining interviews and photo shoots she had scheduled for the day.
HuffPost Entertainment's request to Grande's reps for comment has yet to be returned at this time, but if they did prohibit reporters from asking the singer about any of the aforementioned topics, it's probably for the best that she canceled all of the interviews.
"It was just a photographer or something who got mad at me because I left to change my outfit mid photo shoot because I didn't like my top. I was like, 'Oh, I'll be right back!' and then I came back and he had left. I was like, 'Oh, shit!' And then he came out and said all these ridiculous untrue things about me. I was like, 'That's not real. That's nonsense!'"
"@ArianaGrande is kind, caring, and more than anything she is a great human being. Some people make up rumors for a living....so saying things about Ari comes with her now being a big star. But saying she isn't a good person that ain't gonna fly," Braun wrote on Twitter. "Just yesterday she did an impromptu meet and greet for all her fans that almost got her kicked out of her hotel after a 14 hour work day. Why? Because she knows u care so she does too. There is Zero truth to anything different. Enough is enough."
While Grande may not be the diva she was made out to be, you still probably can't ask her anything interesting.
Popular in the Community