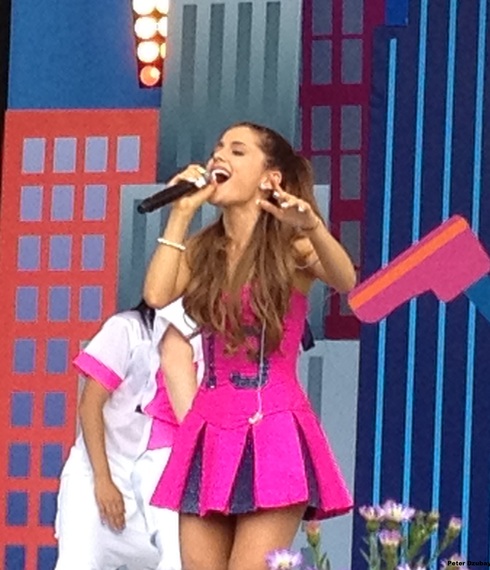 Ariana Grande performs in the World Wide Day of Play 2013 PETER DZUBAY
I'd like to be Ariana Grande's puppy, if only for a day. I first saw Sirius Black on Ariana's Instagram, a big-eyed mixed breed adopted bouncing ball of curly black fur, ensconced in a soft tan leather seat on a private jet. Don't get me wrong. I'm not looking to be adored, pampered and connected on a soul level by a Grammy Award nominated, fetching young singer, although that seems quite lovely now that I think about it. Hmm. What was I saying?

Oh, yes. I would give up that daydream just to be Sirius the social media canine juggernaut. Within hours of Ariana posting that photo, Sirius' "first flight" had more than one million likes on Instagram and more than 20,000 comments. Yes, comments. Kittens and puppies have always been the darling of the internet, but isn't that a bit much? When you're on fire, you're on fire. More than 27 million fans follow her religiously on Twitter, Instagram and Facebook. Ariana can connect with her fans, and they with her, in real time, 24 hours a day, seven days a week, digital chatter from the subliminal to the profane. That connection can be organic, as felt in her live concerts, or defined by gigabytes upon which her fans feast from afar.

My day as Sirius would go like this. I would beseech Ariana with my big puppy eyes to post silly photos of me around the globe. You can do a lot of flying in 24 hours. Not just anywhere. My first stop would be a refugee camp in South Sudan. I'd let the orphaned children pet me. The trip would be worthwhile just to make them smile. Next stop, the South Pacific islands that make up Vanuatu, where thousands were displaced from last week's cyclone.
I would nestle on Ariana's lap while she sings, if only to bring a little beauty into the islander's lives as they piece together the wreckage. Haiti would be next, five years after the earthquake. I would try to remind Ariana that natural disasters may briefly capture our attention, but it can take years for communities to rebuild. I would beguile a local musician to play a song with Ariana, bridging cultures. I bet that would be a cool song. Haitian Arianator pop.

If you were impressed by my Instagram posts before, watch out, because that was nothing. At our first stop, I met eight year old Ayak, a Sudanese left for dead after a village raid by feuding tribes, sparked by an argument that no one can remember, was captured in a moment of pure joy, beaming as he teased me with a scrap of food, inches from my nose. Ariana took the photo just as I leaped for Ayak's treat, my tail curled clockwise, photobombed by his sister, Adeng. A moment later, Adeng tickled me mercilessly. That posting went mad viral, with 33 million likes by dinnertime.
With each stop, each photo, each posting, it would grow and grow. I would open eyes, hearts and minds, to see hidden beauty in surprising places. I would bring smiles where hope seemed lost. I would invite my adopted siblings Coco, Toulouse, Ophelia, Fawkes, and Cinnamon. I hope you'll join me. Please. -- Sirius, Ariana's Wonder Dog.
Calling all HuffPost superfans!
Sign up for membership to become a founding member and help shape HuffPost's next chapter