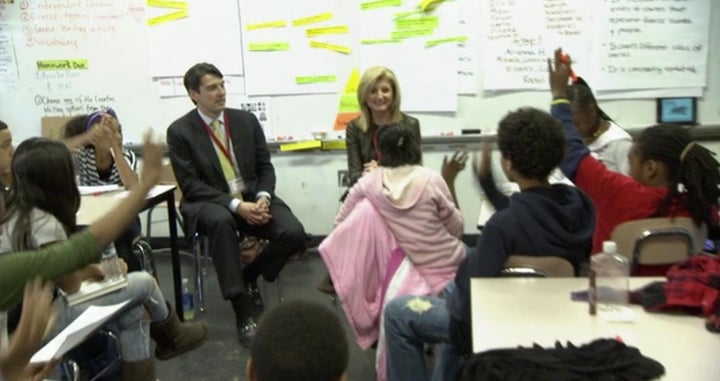 On March 15, Arianna and AOL CEO Tim Armstrong visited middle schoolers at Urban Assembly Academy of Arts and Letters in Brooklyn to teach a class on journalism.
The lesson was a volunteer effort through Citizen Schools, a nonprofit that connects public middle schools in low-income communities throughout the country with professionals to share learning hands-on learning experiences.
"Our class with sixth through eighth graders at Brooklyn's Academy of Arts and Letters was inspiring, as the children showed an eagerness to learn and a hunger to engage," Arianna said. "That's why the work of Citizen Schools is so important. If given the opportunity to challenge themselves, even after the school day is over, schoolchildren will gladly take it. It's my hope that all companies and organizations will work to expand such opportunities for children."

The session kicked off a "30-Day Service Challenge" encouraging all AOL and Huffington Post employees worldwide to find ways to give back to their local communities.
Related
Popular in the Community