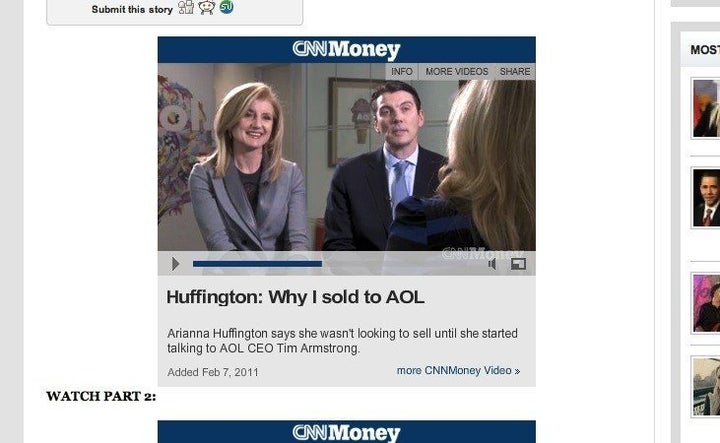 Arianna and Tim Armstrong sat down with Poppy Harlow of CNN Money on Monday to discuss AOL's acquisition of HuffPost.
While the deal had been brewing for awhile, the pair had managed to keep things under wraps. "The last couple weeks we were afraid it was going to leak," said Armstrong, AOL's CEO. "One of our key strategies was hiding in plain sight ... Arianna has been at our sales conference ... she's been at our Patch company meeting."
Asked about other potential suitors, Arianna explained that "AOL was the only partner right now that would work for us, because we were not for sale. We were not looking to cash out. Our investors were perfectly happy with the trajectory The Huffington Post was on. This was not something we were looking for, it really came organically out of my conversations with Tim and the alignment of our visions."
In the interview's second segment, Armstrong and Arianna stressed that their content wasn't trying to lean to one viewpoint, but to look "beyond left and right" and be transparant.
"I think it's hard to argue they have not been moving directly dead center," Armstrong said of HuffPost.
"We now have a larger platform to prove that point," added Arianna. She also pointed out that the traditional left-vs-right construct can be "stifling" and is "not in tune with where young people are."
"We went to challenge the conventional wisdom," she said.