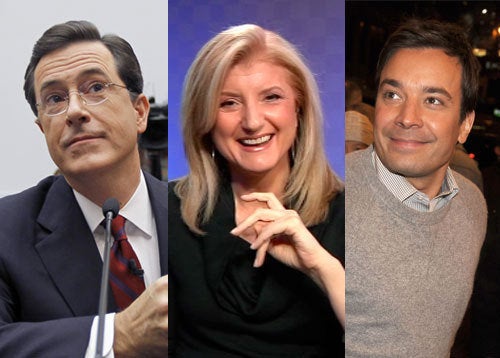 When Stephen Colbert auctioned off his self-portrait this March, he raised a total of $26,000 to benefit students in need. Little did the nation (or Jimmy Fallon) know that Colbert was just getting started. On last Wednesday's "Colbert Report," Colbert announced that his BFFFSM (Best Friend Forever...For Six Months) Jimmy Fallon would be matching his donation, dollar for dollar. However, Fallon, on "Late Night," countered. He said that he had never agreed to that arrangement. He went on to announce that if his audience could raise the $26,000 by the end of the week, Colbert would perform Rebecca Black's hit "Friday" live with The Roots. Gauntlets were tossed, funds were raised, and songs were rehearsed. But what of this BFFFSM relationship between Colbert and Fallon? New relationships are a fragile thing and rarely last when the road starts off so rocky. The gripping human drama that ensued in the midst of all of this comedy and fundraising was of particular concern to Arianna Huffington, who took time out of her busy schedule to have a chat with the dueling philanthropists on the day of the big performance, and to try to understand exactly what they meant to each other. She also cajoled Colbert into giving her a sneak preview of his rendition of "Friday."
REAL LIFE. REAL NEWS. REAL VOICES.
Help us tell more of the stories that matter from voices that too often remain unheard.