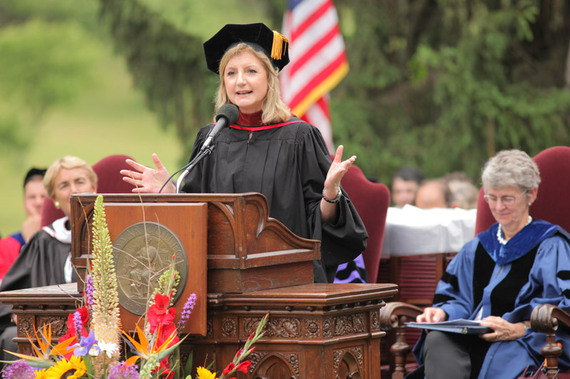 Blogging for the The Huffington Post going on six years with some of those blog posts showing up in Vassar's Media Roundup for alums online, little did I know my alma mater was considering Arianna Huffington as a commencement speaker. I found out like everyone else, when a story first appeared in the The Miscellany News, Vassar's student newspaper, a few months ago.
As Class Historian for Vassar's first coed freshman class, to me it was historically coincidental that Arianna Huffington opened her address at Vassar's 151st commencement in Poughkeepsie, New York, 75 miles north of New York City, with a reference to her own Greek heritage. Born in Athens, Greece, Arianna wondered aloud if she had been chosen as commencement speaker because the Greek goddess Athena, gracing our college seal, was not available.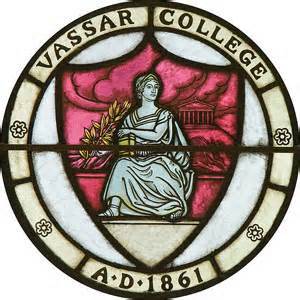 Little did Arianna know how close to the truth she had come.
Last year for our Landmark 40th Reunion of Vassar's first coed class, a reunion co-chair wanted someone to dress as Athena, the warrior, in body armor and a helmet, but could not find any takers among his classmates so he brought a female guest to do the honors and help lead our class in the traditional alumni reunion parade on campus. Who knew Arianna might be available. We never thought to ask.
Yes, it's true Vassar Female College, its original name, was founded by a beer brewer, Matthew Vassar, whose stated goal was to provide women with an education equivalent to the education men of the day were receiving. Vassar wanted the college, named after him, to be the female equivalent of what all-male Harvard and Yale were to men then.
Vassar, founded in 1861 on the cusp of the Civil War between the states, was the first accredited college in our nation to offer women the opportunity to earn a bachelor's degree and in 2011 celebrated its Sesquicentennial with an alum made up as Matthew Vassar on the cover of Vassar's alumni magazine.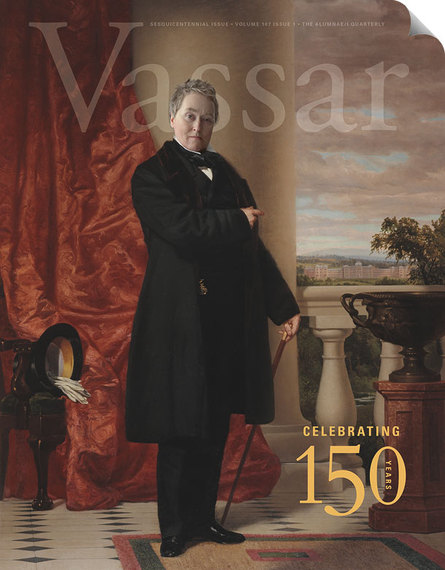 As you may recall, when Athena wasn't available, Vassar got Arianna to speak at commencement. So when Matthew wasn't available, Vassar got Mary Louise from the class of 1971 for the cover. Hint: You may have seen this alum on screen.
How can you not love a school that has a 150-foot long daisy chain, carried over the shoulders of 24 women (and sometimes men) from the sophomore class, preceding the seniors receiving their diplomas?
Watching Arianna deliver her address to 611 graduating seniors and their parents, family and friends in Vassar's Outdoor Amphitheater before the rains came, watching her through the miracle of live streaming online, I couldn't help but think back to my own Vassar commencement with drama film major, class president Jack Sheldon Weiss, aka Jackie St. James, addressing the multitudes and commencement speaker, Pulitzer Prize-winning New York Times columnist Anthony Lewis, speculating on the Watergate fate of President Nixon who would resign two months later. Then there was marching down the aisle to get his diploma, now made up in clown face, the classmate I had kissed onstage, playing ingenue, Muriel McComber, in Eugene O'Neill's only comedy, Ah, Wilderness!, performed in Avery, a former riding stable turned into a theater, only he wasn't wearing clown face then, he was playing the romantic lead. My parents drove up from Cleveland Christmas House Parties weekend to see the play, and my Harvard boyfriend took a bus down from Boston. Not to be outdone, or rather becoming undone, during the historic graduation of Vassar's first coed freshman class, a male streaker, said to be a part-time Vassar student, flying fittingly by, sporting only a Nixon mask. My dad wanted his money back.
President Alan Simpson wasn't there for our graduation. We missed him. He was on leave. Simpson and Yale President Kingman Brewster, at one time explored an academic marriage of Vassar to Yale in New Haven, Connecticut, but it was not to be, and both schools went coeducational, separately.
My graduation day was a bright, sunny day, June 2, 1974. Not too hot, not too cold. Goldilocks, just right. Afterwards, all lucky seven of us, my parents and four younger brothers, went to eat at the Treasure Chest restaurant, somewhere along Route 9. I thought I was so sophisticated because I ordered coq au vin, not only ordered it, but knew how to pronounce it, courtesy of my French diction class with Professor Elisabeth Arlyck. Those were the days when you could order and eat a whole hot fudge sundae with whipped cream and a cherry on top for dessert without batting an eyelash. Actually, you didn't dare bat an eyelash, lest it fall off into the hot fudge, those also being the days of falsies, though I never wore them myself.
Cherchez la femme, another French expression. Loosely translated, "find the woman" who's the cause of all this. It's how I think of Vassar grads -- both men and women. Daring.
Daring to be different. Daring to explore the limits. Daring to do the right thing. Daring to step away from the pack. Daring to be labeled troublemakers. Or frontrunners.
From daring to break off an engagement to another man to marry JFK and become one of the nation's youngest First Ladies, Jacqueline Bouvier Kennedy '51, a role model for high school girls like myself, trying to figure out where to apply to college, to the pride of Texas, Democrat Frances "Sissy" Farenthold '46, the first woman to have her name placed in nomination to be vice president of the United States at the Democratic National Convention in 1972, fast forwarding to Diane Downey '77, running the Republican National Convention in Cleveland in 2016, to Watergate's Washington Post Publisher Katharine Graham '38, calling the shots that brought down a president and for her trouble had former US Attorney General John Mitchell hoping she got a certain part of her anatomy "caught in a wringer", to Lynn Povich '65, sister of Maury Povich, among the women on Newsweek's staff to bring the first class action suit for sex discrimination for women employed in the media, as chronicled in her book, The Good Girls Revolt, to Jane Fonda '59, always an activist, who won her first Oscar as a call girl in Klute in 1972.
Jane Fonda, in 2015, daring to star with Yalie Sam Waterston, Lily Tomlin, and Martin Sheen in Grace and Frankie on Netflix, debuting, as fate would have it, on May 8, 2015, the birthday in heaven of Vassar Dean Elizabeth Daniels '41, who left this earth on my late grandfather's birthday last year, January 28, 2014, honored a few years earlier for having worked at Vassar the longest of anyone. A Chemistry-turned-English major, Dean Daniels graduated from Vassar, then never left.
Arianna Huffington, whose address to Vassar's graduating seniors in the class of 2015, an address greeted with thunderous applause at its conclusion, dares to dare, too, a woman who dared to start up The Huffington Post ten years ago, who dares to re-invent herself time and again, daring to reach for the stars, like Vassar's first faculty hire, Professor of Astronomy Maria Mitchell, who not only discovered a comet, named for her, and has her own Google Doodle, but has a lunar crater named for her, too.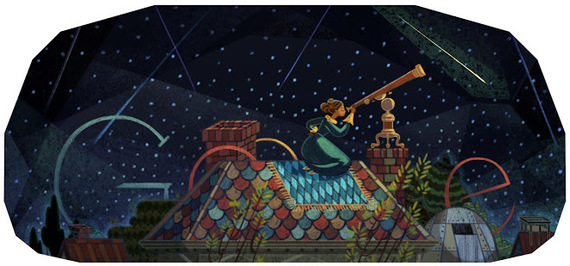 Maria Mitchell sitting atop the bank building in Nantucket where her father worked with her telescope peering into a starry navy night. Photo Credit: Google
Arianna Huffington told the Vassar graduating seniors not only to reach for outer space but to concern themselves with their inner space. "You're the first generation born into the digital world. And you can be the first generation to master it, to make it serve you, instead of the other way around. And when you do, you'll find that you have the wind at your back because that's what the times are calling for."
Quoting Iain Thomas, Arianna told the class of 2015: "Every day the world will drag you by the hand, yelling, 'This is important! And this is important! And this is important! You need to worry about this! And This! And This!' And each day, it's up to you to yank your hand back, put it on your heart and say, 'No. This is what's important.'" Arianna continued: "It's from this sacred place that life is transformed from struggle to grace, from information to wisdom."
Arianna cautioned, "We're drowning in data. What we're lacking is wisdom." Her parting advice, "As you leave this magical campus, don't let technology wrap you up in a perpetually harried existence. Don't be so connected to everybody that you're not truly connected to anybody. Or to yourself."
Lonna Saunders may be reached at lonna2@msn.com.
REAL LIFE. REAL NEWS. REAL VOICES.
Help us tell more of the stories that matter from voices that too often remain unheard.