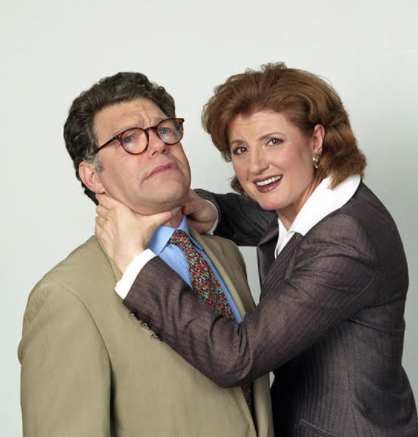 Arianna Huffington is defending Sen. Al Franken (D-Minn.) against a New York Post story claiming that a photo from 2000 shows the comedian turned politician groping her breast and buttocks.
Huffington denied Tuesday that Franken, who has been accused of sexual harassment by two women, was inappropriate with her during the 2000 magazine photo shoot, tweeting another photo from the session of her pretending to choke Franken.
The Post's Page Six section published photos from the session on Monday, along with a story from an unnamed source who said Franken was touching Huffington inappropriately that day.
The photos published exclusively by the Post show Huffington and Franken hugging on a bed, with Franken's hand near Huffington's shoulder and breast. Another photo shows the two back-to-back, with Franken's hand reaching toward Huffington's buttocks.
Huffington told the Post that the purposefully suggestive poses were a nod to a comedy sketch, titled "Strange Bedfellows," that the two had performed together for comedian Bill Maher's show "Politically Incorrect" in 1996.
"Just got more photos from the same 'scandalous' photo shoot. Here instead of Al Franken 'groping' me, I'm 'strangling' him," Huffington, the founder and former editor-in-chief of the Huffington Post, said in a tweet.
"I hope the statute of limitations has expired," she added mockingly, along with the hashtag #lockmeup.
Huffington and Maher have already criticized the New York Post for using the satirical photos to make another sexual harassment claim against Franken.
Huffington said earlier Tuesday that she should be the one to say whether or not she was victimized.
"I think I'm a better judge of how I felt in that satirical photo shoot with Al Franken than the recollections of an anonymous bystander," she tweeted.
"I thought the point of this moment was to believe women's accounts of their own experiences."
The media mogul also retweeted a statement from Maher calling the Post's story "so ridic" and "an insult to any real victims."
Franken, a former comedian who had worked on "Saturday Night Live" in the mid-1970s to the early '90s, is already under fire over sexual harassment claims made against him by radio host and anchorwoman Leeann Tweeden.
Last week, Tweeden revealed in an essay that Franken forced her to kiss him while rehearsing for a skit they were performing together for a USO tour in December 2006, two years before Franken was elected to the Senate.
Tweeden also said she was asleep when Franken groped her without her consent and had their photo taken. The senator later apologized to Tweeden for the photo and said he didn't remember rehearsing for the skit in the same way Tweeden did.
Lindsay Menz, 33, also accused Franken of grabbing her buttocks while the two took a photo together at the Minnesota State Fair in 2010, two years after Franken was elected. Menz told CNN of her interaction with the senator after seeing Tweeden's story, she said in an interview.
Defending Franken for a third time on Tuesday, Huffington said that the New York Post's story about the photos "trivializes sexual harassment because he was no more 'groping' me than I was 'strangling' him in the photo I just tweeted."
In a statement to the paper, Huffington said the "whole point" of her "Strange Bedfellows" sketch with Franken "was that we were doing political commentary from bed."
She added, "This shoot was looking back at the sketch, and we were obviously hamming it up for comedic effect."
Before You Go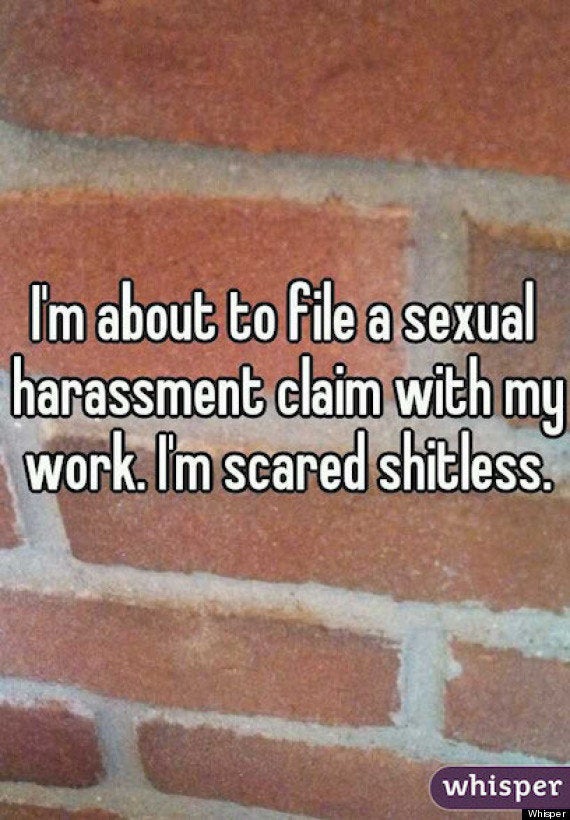 Women Who Reported Sexual Harassment
Popular in the Community