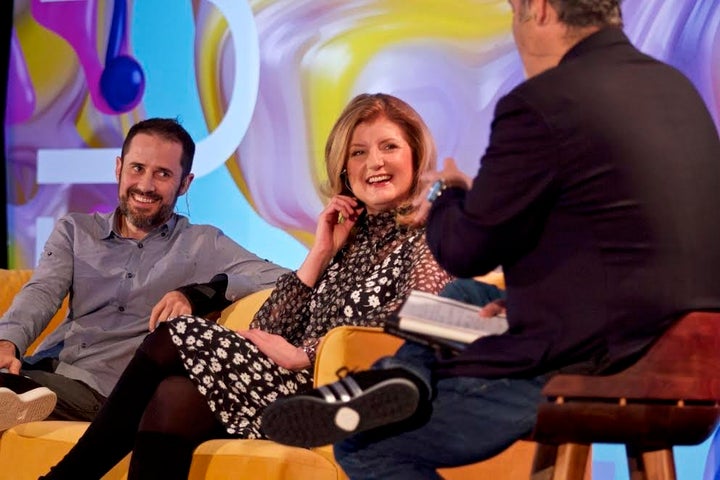 SAN DIEGO -- Americans are struggling with information overload and the hidden costs of being perpetually "plugged in." And there's perhaps no one who feels this most acutely than the people who helped create the current tech and media ecosystem.
Dave Pell, a "news-obsessed" media curator who trawls dozens of sites every morning to deliver the most fascinating news of the day, is one of them. At the inaugural Near Future Summit in La Jolla, California on Wednesday, Pell wondered aloud whether knowing "all this stuff" is worth it compared to the real-life moments he misses out on when he glances at his phone. He shared the stage and a bit of this paradox with The Huffington Post's editor-in-chief Arianna Huffington and Evan Williams, who founded influential and popular publishing platforms like Blogger, Twitter and Medium.
"You get a notification on your phone about something that happens in another country," Pell began. "Is that really worth taking your attention away from your kid or from sleep or from meditation?"
Of course, it only takes a moment to glance at your phone when it beeps or buzzes. But all those moments lead up to a day full of distractions, said Huffington, and unless we start setting aside prescribed times to look at our devices and then put them away, the non-stop information barrage is going to prevent people from doing the creative or important work they long to do.
"The people who are going to win the near future are the people who can sit undistracted without ... feeling compelled to look at everything that's coming their way," she said.
Huffington then directly addressed the approximately 250 attendees and speakers at the invitation-only conference, and asked them to join her creating a new set of norms around healthy media consumption, including setting devices aside during mealtimes, not charging devices in an outlet near the bed and even -- gasp -- turning off devices for a set amount of time every day.
"All these people who are here, who are leaders in different areas and have their own followings -- I hope they're going to be a part of this," she said.
Williams agreed with Huffington. He compared the bits and bytes of media competing for our time and attention to unhealthy, processed foods. We consume both things, he explained. And like food, there's some information that's useful, nourishing and worth knowing -- and some that's just junk.
"We have many multi-billion dollar corporations shooting Cheetos into your bedroom at night, using every technology available to overwhelm you with cheap calories and put them right in front of your face," he said. "And we don't yet have the consciousness to say, 'Actually, even though my base instinct is to grab that, I know better.'"
There's some irony to the creators of The Huffington Post and Twitter are warning people away from constantly-updating feeds and lightweight media "snacks." Both sites built their reputation on having the fastest, most relevant news updates, and both sites have content that ranges from heavy, serious news to fun, entertaining fare. But it's a contradiction all three speakers readily acknowledged on stage, and one that many more tech and media leaders already embrace.
Huffington, for instance, recalled the time she has spent with friends in Silicon Valley, describing parents who are so protective of their children's time and development that they shield them from the very products they themselves create. In practice, this means Silicon Valley kids without iPhones and iPads, Huffington said. Instead of electronic devices, they play which chickens and legos in a "completely retro environment."
"Anyone who is part of the creation of this new ecosystem -- they're very careful not to get high on their own supply," she said, to crowd laughter. "The know the intention of consuming more and more of people's lives is not a bug of the [tech] system, it's a feature."
Huffington's observations are supported by past media reports of members of Silicon Valley's "digerati" sending their children to no- or low-tech schools and enforcing strict device-free times and zones for their children. Even Steve Jobs said back in 2010, the year the iPad was announced, that his children hadn't used one, and that he and his wife limited the amount of technology the children used at home.
Williams, who is also part of that low-tech parenting push in Silicon Valley, wondered if checking your phone while playing with your kids would one day be looked upon like smoking around children.
So do these tech/media giants know something the rest of us don't? Yes, because they've already learned the hard way that burning out can be a matter of life and death. Huffington cited her oft-told moment of awakening: the day back in 2007 that she collapsed from burnout and sleep deprivation, an experience she details in her new book The Sleep Revolution. She hit her head, broke her cheekbone and eventually needed stitches to close the gash above her right eye. Huffington said she was grateful for the injury, because without it she would probably be dead.
"In a sense I'm grateful for that, because I would probably be dead, the way I was living my life," she said. "It forced me to look around and see the amount of burnout in our culture."
CORRECTION: A previous version of this story stated Arianna Huffington broke her cheekbone in 2008. It was 2007, and we regret the error.
Related
Before You Go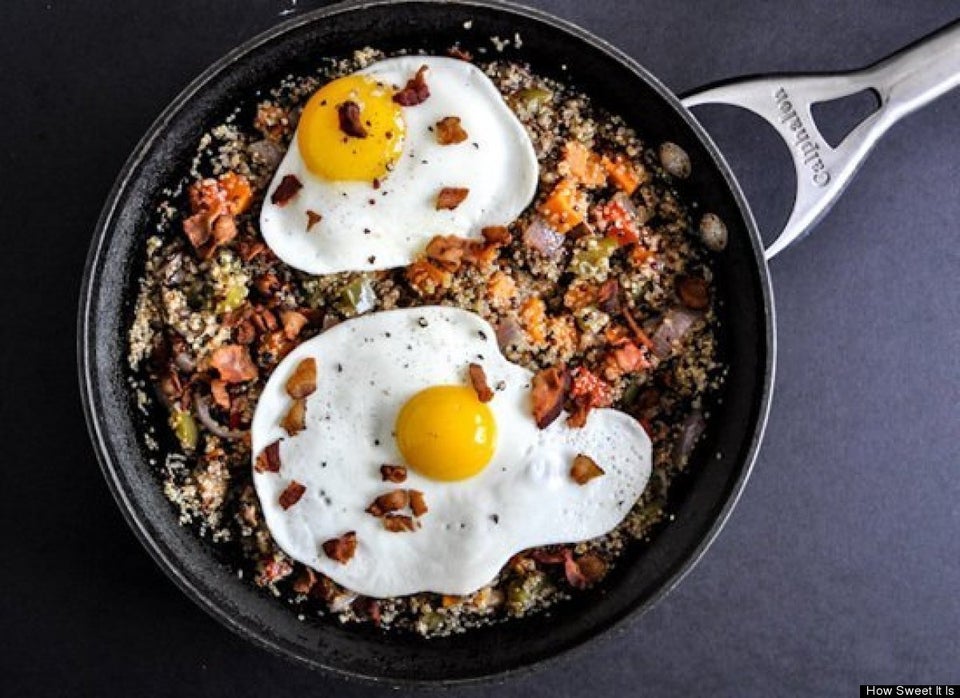 19 Ways To Unplug