Arianna Huffington has skewered some people in the media, and certainly others have skewered her. Today, however, she was simply assisting master sword swallower Dan Meyer.
Meyer, who holds five Guinness World Records, was in New York City to film a documentary that includes sticking a 3-D endoscope down his throat. He was a guest of HuffPost Weird News, and put on a swallowing show outside Arianna's office, coaxing the news organization's titular head to be his assistant.
"I want to thank Arianna for not impaling me," Meyer said. "At least 29 people have died sword swallowing in the last 50 years, so at least I'm not No. 30."
Meyer has made a name for himself by taking sword swallowing to the extreme. In 2007, he swallowed a 24-inch blade while submerged 20 feet underwater in a tank of 88 sharks and stingrays.
In 2008, he made it to the finals on "America's Got Talent" and on "Stan Lee's Superhumans" he swallowed a glowing sword, heated to 1,500 degrees.
He'll be performing on Feb. 25 at Ripley's Believe It Or Not! in Orlando, Fla., to mark World Sword Swallower's Day, along with other steel slurpers and blade glommers from around the world.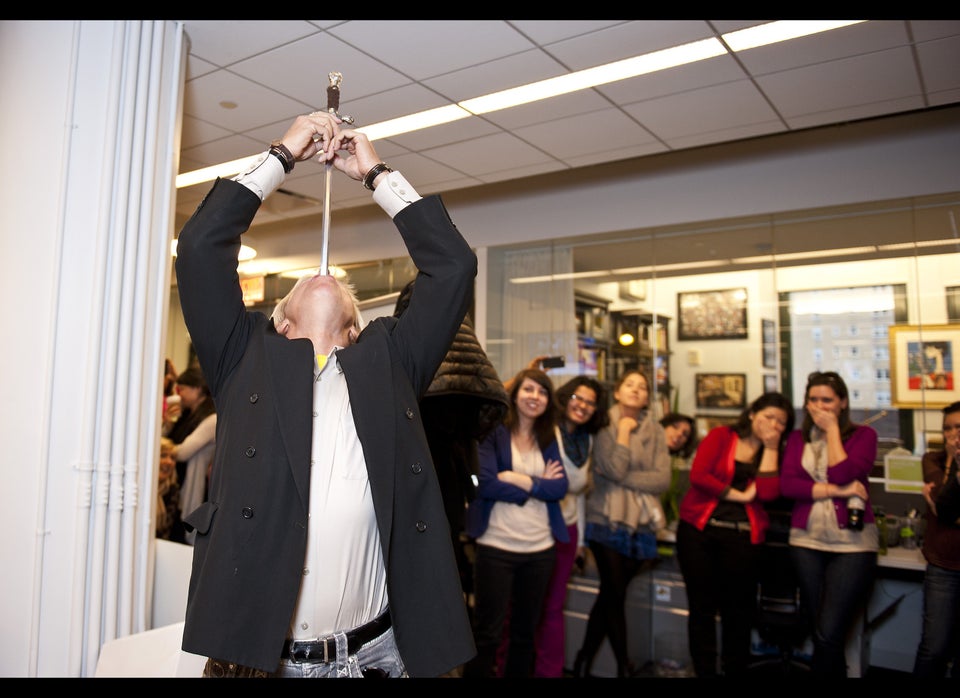 Sword Swallower - Dan Meyer