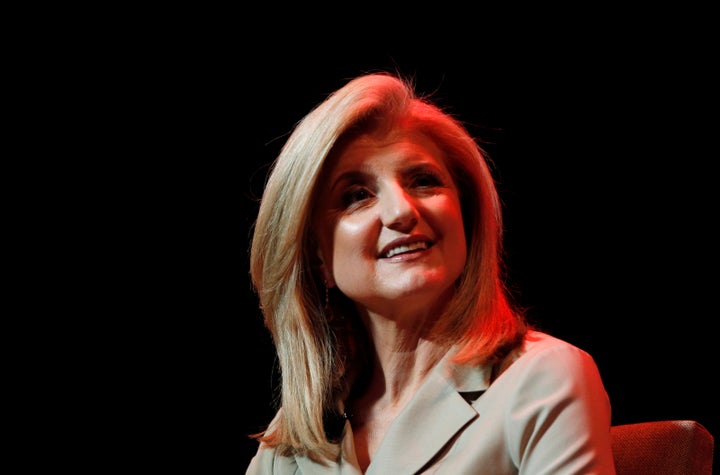 On Wednesday, Uber CEO Travis Kalanick announced in a blog post on The Huffington Post that The Huffington Post's editor-in-chief, Arianna Huffington, would be joining Uber's board of directors.
Valued at more than $60 billion, Uber is fighting legal and regulatory battles around the world. The ride-sharing pioneer stands at the very nexus of pressing questions about technology and work in the app age. In short, the company is one of the biggest and most controversial business stories of our time, which is why HuffPost tries to cover the company's every move.
So how can HuffPost readers rely on HuffPost's coverage of Uber going forward, knowing its editor-in-chief has a personal and financial stake in the company's success?
According to media ethics experts, the newsroom will have to take precautions to keep readers' trust.
"How influential is Arianna Huffington over The Huffington Post?" Kelly McBride, a media ethicist at the Poynter Institute, asked in earnestness.
Quite influential, HuffPost assured McBride.
In that case, "It's definitely a concern," McBride said. "Uber is a massively controversial company, and it's sort of right in the sweet spot for Huffington Post coverage. ... It's a blatant, obvious conflict of interest, and it can be managed."
On Wednesday, Huffington told editors at the site that she was recusing herself from news coverage of Uber. This, according to McBride, was a good first step. Huffington should go further, she said, and designate an editor in charge of all things Uber, and assure that editor and everyone else "that there's editorial independence to make decisions that serve the audience, not Arianna Huffington or Uber."
Huffington has already done so, she said in an email responding to questions about the board seat. The responsibility to watchdog Uber coverage will fall to Jo Confino, an executive editor overseeing the site's business coverage, who was previously at The Guardian for 22 years.
"Today might be my first day on the Uber board, but I'm in year 11 as Editor-in-Chief of The Huffington Post," Huffington said. "And throughout all of those years HuffPost's editorial independence has been a paramount concern, whether we're covering people that I or other staffers know personally, or stories involving the interests of our parent companies or involving our advertisers, as is clear from our multi-part Highline series on Johnson & Johnson."
Huffington said every story related to Uber will be accompanied by a disclosure noting that she's on the company's board. According to an email sent out to HuffPost staffers Wednesday, such a disclosure will be attached whether the story subject is Uber, one of its competitors or ride-sharing in general.
That disclosure is going to see a lot of action. HuffPost's newspage for Uber indicates that the site often runs multiple posts about Uber each day. Many of these stories ask hard questions about Uber's business practices; as Huffington notes, that includes stories that ran on the site when she already knew she was joining the company's board. (See here, here and here.) Uber's business model famously relies on classifying drivers as independent contractors, rather than employees, in order to save money. Many on the left believe Uber is helping to put downward pressure on working standards in the broader transportation industry.
Despite the assurances to staff, one senior editor, speaking on the condition of anonymity, said the arrangement "makes me very uncomfortable."
Given the company's newsworthiness, Huffington's relationship with Uber is problematic, but workable, said Bob Kaiser, the former managing editor at The Washington Post. Kaiser said making a clear disclosure in every story related to Uber would help. He noted that The Washington Post, which is owned by Amazon founder and CEO Jeff Bezos, includes a parenthetical disclosure to any coverage of Amazon or other business interests of Bezos.
"I wouldn't have joined any board of a commercial enterprise when I was an editor or reporter myself," Kaiser said. "I wouldn't have done it if I were her, but in this corrupt world we live in, this is not an egregious thing. It's modest by my standards."
For as long as there have been newspapers, media moguls have had relationships -- personal or financial -- with powerful businesses and politicians. That was true for William Randolph Hearst and Joseph Pulitzer, and it's true today for the likes of Rupert Murdoch and Michael Bloomberg.
What makes Huffington different is that she is not a publisher who resides strictly on the business side. Her title is president and editor-in-chief, making her the site's top-ranking editor. She makes broad decisions related to news, as well as more granular ones, including assigning stories and spiking them. Bezos, for instance, does not regularly join story meetings with editors and reporters or steer coverage. That responsibility is left to the paper's editor, Marty Baron.
"I don't think you'd find Marty Baron advocating for another company," said Aly Colón, the Knight Professor in Journalism Ethics at Washington and Lee University.
McBride said one potential solution would be for Huffington to recuse herself as editor-in-chief, relegating herself to the business side as a publisher.
"When you're editor-in-chief, your job is to serve the editorial mission of the organization," she said. "Which means you do have to set aside some of your personal passions, because they create too many conflicts of interest."
One problem HuffPost could face is the prospect of self-censorship by editors and reporters, McBride said. Even if the staff has assurances it can cover Uber as it normally would, she said, some journalists may be reluctant to pursue stories critical of Uber knowing of their boss' relationship to the company. This is an issue McBride said she often sees in newsrooms in smaller cities and towns, where publishers are friends with local power brokers.
"That's really a question about the culture of the organization," Kaiser said of self-censorship. "It shouldn't be. But if there's a culture of intimidation, then it could be."
According to Colón, all the editorial safeguards in the world may not erase some readers' skepticism. In this sense, he says, the very perception of a conflict of interest could saddle the site with a credibility issue on Uber matters.
"It's a challenging situation," Colón said. "It doesn't mean [readers] will cease to trust Huffington Post news about Uber. But it will raise a question for anybody who knows she's on the board. There's no way around it … If I read a positive story now about Uber in The Huffington Post, I would wonder."
Of course, one way to ease readers' concerns is for the HuffPost staff to cover Uber even more aggressively than it has in the past.
As Colón put it, "The product will be part of its own proof."
Note: The Huffington Post's Editor-in-Chief Arianna Huffington is a member of Uber's board of directors, and has recused herself from any involvement in the site's coverage of the company.
Popular in the Community