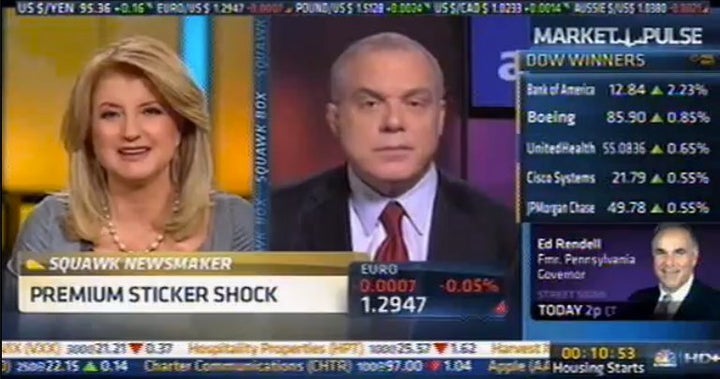 Guest-hosting CNBC's 'Squawk Box' on Tuesday morning, Arianna interviewed Aetna CEO Mark Bertolini about "his mission - to bring the mindfulness benefits that [he] brought to 34,000 employees to everyone in America."
Bertolini described finding that "when employees are in the highest quintile of stress, their health care costs are $2,000 higher than the average employee."
The CEO described a 12-week program that thousands of his employees completed: "We measured both pre-and-post heart rate variability and productivity of those employees. We saw dramatic drops in stress... and 69-minute gain in productivity of our employees over a year. The result for us was an 11:1 return on that investment."
Arianna brought up Bertolini's own path to well-being--he fell down a ravine and broke his neck in a skiing accident and spent a year taking painkillers until he discovered yoga and meditation.
Bertolini said of his experience: "The medical system gave me drugs. The disability system told me to go on long-term disability. But if you read the literature it says that you need to be active at work, you need to have a purpose, and I couldn't do that on the seven different drugs they were giving me to control my pain."
Watch the full clip below:
Related
Popular in the Community