Arianna Huffington stopped by "The Colbert Report" last night to chat with Stephen about HuffPost's first ever Pulitzer Prize, awarded for David Wood's "Beyond the Battlefield" series. While there, she and Stephen bantered for a bit about who's really aggregating who, and whether it's cooler to win a Pulitzer or a Peabody.
"The Report" won a Peabody this year for its wildly entertaining and educational coverage of Super PACs, which this site posted about each day, and even put together a timeline of Colbert's foray into the 2012 election. Arianna pointed out that that Colbert would then post our aggregated content onto The Colbuffington Repost, his site that aggregates The Huffington Post.
"I believe at this point, the Internet ate itself," Colbert conceded.
Arianna then took a moment to explain to Stephen why Wood's piece, about veterans returning home, was worthy of the Pulitzer for national reporting.
The same thing that you did last week, asking people how to help military families that are ignored, especially during this campaign, that's what David Wood's 10-part series on returning vets -- dealing with their struggles, their wounds, the impact on their families and communities -- that's what it did.
When pressed what she will do now that her site won a Pulitzer, Arianna said that her next life goal is decidedly more low tech. "What's next for me is to learn to cook," she told Stephen. "Do you know what it is like to be Greek and not know how to cook? It's a little bit like being French and not know how to have afternoon sex."
Before the show taping, Arianna presented Colbert with a prize of his own. Sure, it may not have been handed down from the Pulitzer committee, but it's no less important. In honor of Colbert joining -- and, in his view, winning -- the War For Women, he was made an Honorary Woman.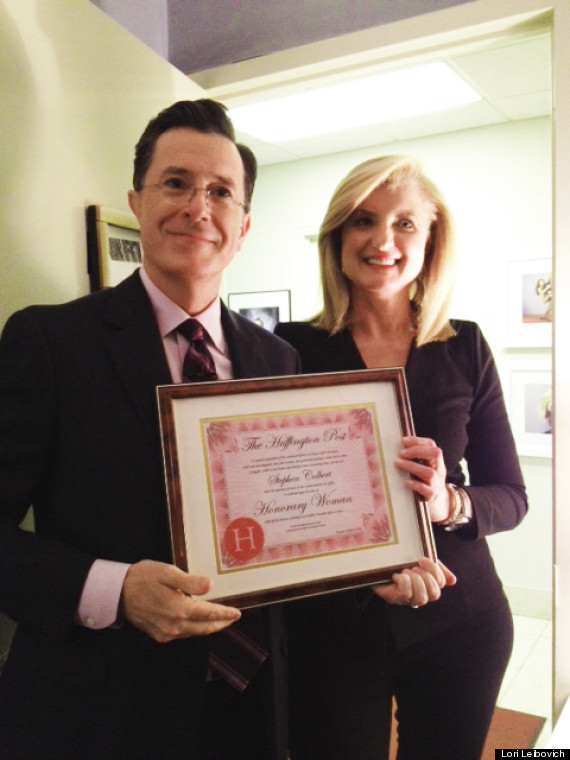 The text reads: "In special recognition of his continued efforts to bring to light the issues, both real and imagined, that face women, and generously putting a male voice to their struggles, which is far louder and therefore more convincing than a female one, Stephen Colbert with the approval of most of the women around the office, is conferred upon the title of 'Honorary Woman' with all the honors, privileges and nearly the same rights as men."
Calling all HuffPost superfans!
Sign up for membership to become a founding member and help shape HuffPost's next chapter
BEFORE YOU GO