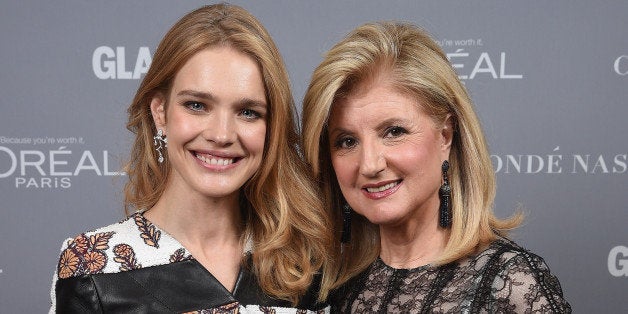 At the 2014 Glamour Women of the Year Awards, held on November 10th at Carnegie Hall, Arianna Huffington presented an award to Natalia Vodianova. Vodianova, a supermodel and mother of four, launched the Naked Heart Foundation ten years ago to support children with disabilities and their families in her native Russia. Vodianova, who was raised by a single mother in a family including a child with special needs, works to build accessible play parks around Russia and provide programs and camps for children with special needs.
Read Arianna's speech in full below.
It's easy to get Natalia Vodianova's story wrong. Usually, it's told as a Dickensian rags-to-riches tale. One minute Natalia is selling fruit in the freezing cold in a tiny Russian town, the next she's an international supermodel.
And while that's all true, it doesn't begin to capture the real story: What's special about Natalia isn't the scale or the swiftness of her success; it's the incredible things she's done with her success.
As it so often happens in fairy tales, it was pain and adversity that first opened her heart. Her father left when she was a baby. Her younger sister Oksana was born with cerebral palsy and diagnosed with severe autism. But Natalia and her mother were determined not to abandon Oksana to a government institution, despite the fact that that's what a huge number of Russian families did.
At 17, Natalia was discovered by a talent scout and left for Paris. But the real story of Natalia Vodianova begins at 22, ten years ago, when she launched the Naked Heart Foundation to give thousands of special needs children in Russia the joy, the carefree sense of discovery and play that she and her sister never had as children by building -- so far --130 playgrounds in 103 towns across Russia.
That's what I love so much about Natalia. She didn't wait until the end of her career. At the first instant that she was able to, she began giving back. In every conversation I've had with her, I've been moved by the passion and the commitment that she has poured into what she clearly sees as her life's work. Oh and did I mention, she's doing all this while raising four children of her own, the youngest being six months old?
You know, the world likes to talk about people being "discovered." But in Natalia's case, it gives the world way too much credit! If the fashion world hadn't "discovered" Natalia, I am convinced we'd still be on this stage tonight. She'd have simply found another way to make a difference because that's who she is.
And that's the real story of Natalia Vodianova.
Natalia, pozdravlyayu! Congratulations, and before you come to the stage, we are so thrilled that your mother, who is your heroine, is here to celebrate you, which gives us the chance to celebrate her. Larissa, will you please stand? And now, ladies and gentlemen, Glamour Woman of the Year Natalia Vodianova.
Calling all HuffPost superfans!
Sign up for membership to become a founding member and help shape HuffPost's next chapter
BEFORE YOU GO
PHOTO GALLERY
The 2014 Glamour Women Of The Year Awards