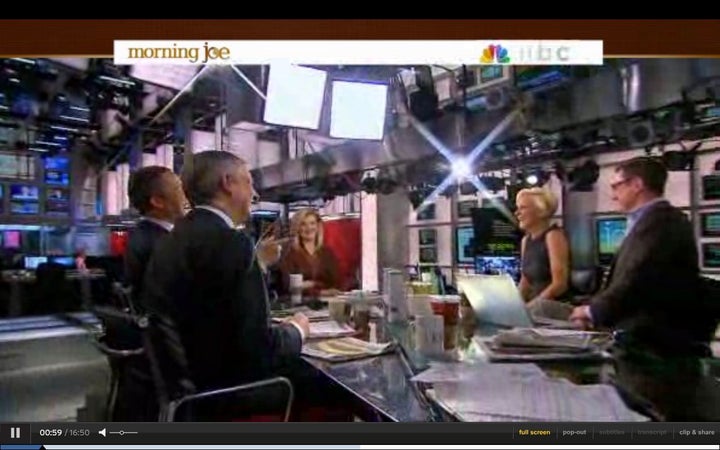 Arianna joined Harold Ford, Jr., Jon Meacham, and hosts Joe Scarborough and Mika Brzezinski to discuss the politics of gun violence Tuesday on "Morning Joe."
(The conversation begins at 5:09 in the clip below.)
The jumping-off point for the discussion was new polls that show broad and growing support among Americans for certain gun-control measures. For instance, a Washington Post/ABC News poll shows that 58% of Americans support an assault weapons ban, and that 44% of Americans now hold an unfavorable view of the National Rifle Association.
Scarborough speculated that the NRA's decline in popularity could be partly attributed to executive vice president Wayne LaPierre, whose defiant press conference a week after the Newtown shootings inspired a raft of criticism.
"That guy wasn't the face of the NRA that I've known for decades," he said.
"He seemed totally divorced from the reality of the moment," Ford, Jr. added.
Arianna said that, given the new public support for stricter measures, now is not the time for President Obama to play things safe. Citing a Huffington Post article authored by Sam Stein, she lamented that "the president is not planning to include a ban on assault weapons in what Joe Biden is going to be proposing--his emphasis is going to be apparently on background checks, on limiting some of the ammunition that a gun can carry, but not a ban on assault weapons, which if you look at the numbers, the majority of the American public would be in favor of. So this is actually the time for really radical leadership of this issue...not just to be safe."
Watch the entire "Morning Joe" clip below:
Related
Popular in the Community