A checkered flag, a bumper sticker reading "NICE BUTT," a girl's heart racing: Nearly every minute of the season 22 premiere of ABC's "The Bachelor" included a cunning little reminder that our new old Bachelor, Arie Luyendyk Jr., is a race car driver. (He's also a realtor, of which we were reminded slightly less often.)
Arie is the Bachelor who very much needs an introduction, because when he was last part of the franchise ― on Emily Maynard's season of "The Bachelorette" in 2012 ― a huge contingent of today's "Bachelor" audience hadn't even started watching the show yet. A healthy number of his contestants, like Maquel and Bekah, were still teenagers when he wooed Emily and earned the skin-crawling nickname "The Kissing Bandit."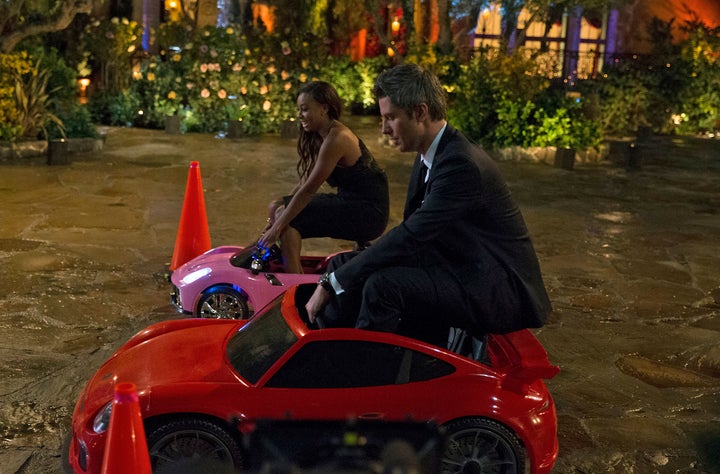 So, in an incredibly bland premiere, we took another turn around the Arie track, and were reminded that he was in love with Emily, drives race cars, sells property and kisses very photogenically. The women vied for his attention by playing it astonishingly safe: The only risky limo exit was probably Ali's request that he smell her armpits (in service of a bad pun about "pit stops"). 
HuffPost's "Bachelor" podcast, "Here to Make Friends," recapped night one of Arie's race toward love on Tuesday. Co-host Claire Fallon and guest Brett Vergara, a community strategist at BuzzFeed, dissected the night in bad racing references, ineffective pickup lines and Laurens (so many Laurens). 
One of many unsurprising moments: Arie sped to his first kiss of the season, planting one on Brittany T. early the first night ― after a racing competition, no less. Here's what we thought:
Claire Fallon: Brittany T. has a surprise activity for Arie.
Brett Vergara: Which is quite the activity.
Claire: It's tiny race cars!
Brett: I'm here for tiny race cars.
Claire: I know this is not how it happens, but I love the idea of her getting ready for the night and packing up a huge crate with two tiny race cars and tossing it in the trunk.
Brett: It's like, I've only got two suitcases, and I've gotta make sure I've got my racing gear in one.
Claire: Use them both on tiny race cars. They bet a kiss, and he basically lets her tie him, as far as I can tell, and then they kiss.
Claire: Off to the Kissing Bandit races. She says it was amazing.
Brett: I truly appreciated the look when she was giving her little recap of it. There was the eye twitch.
Claire: It really looked like she was letting a delicious chocolate truffle dissolve on her tongue.
Brett: There was so much emotion in that one look.
Claire: She said his lips are like clouds, or like pillows.
Brett: I feel like you wouldn't want to kiss clouds. Clouds, you just like…
Claire: Go right through.
Brett: Yeah, you want some pushback. A little bit!
Claire: His lips are so wet and cold, and insubstantial.
Do people love "The Bachelor," "The Bachelorette" and "Bachelor in Paradise," or do they love to hate these shows? It's unclear. But at "Here to Make Friends," we both love and love to hate them — and we love to snarkily dissect each episode in vivid detail. Podcast edited by Nick Offenberg.
Calling all HuffPost superfans!
Sign up for membership to become a founding member and help shape HuffPost's next chapter