Ariel Vegosen is founder of a genderqueer education organization and an "on-playa" Burning Man community -- for the uninitiated, on-playa is a term that can be roughly translated to mean "on campus" or "on-site" -- serving a diverse array of people who refuse to allow others to restrict their gender expressions or identities to the conventional binary of "M" or "F."
I caught up with Vegosen, who goes by the pronouns he, she, or they, a few weeks after Burning Man 2016. They were kind enough to indulge me in a Q&A about her organization, called Gender Illumination and her Burning Man community, called Gender Blender. Without further ado, following is a transcript of our chat. I hope it will illuminate at least a few minds in the same way all of my conversations with Vegosen have done for my own way of thinking about an increasingly visible, ever more vocal transgender, genderqueer, gender-nonconforming and otherwise gender-variant community of people.
Thom Senzee: What is Gender Blender and Gender Illumination -- how are they similar and how are they different?
Ariel Vegosen: Gender Blender is a community committed to creating safe, awesome, fun, creative spaces for trans, gender queer, gender variant, gender nonconforming people, queens, kings, and those of us who are shape shifting the gender binary. We also serve to educate and give space to those that have always wanted to explore gender but have never before. We run workshops, play parties, events, and a Burning Man theme camp. We welcome new people (older burners and non-burners, alike). You can learn more about the Gender Blender community at www.genderblenders.org
Gender Illumination is a non-profit organization designed to create safer spaces for Trans, gender queer, gender non-conforming, and non-binary people through the tools of education and policy reform and to facilitate opportunities for people to explore their own personal gender stories and identities. Gender Illumination offers tailor made gender inclusivity trainings to businesses, corporations, non-profits, health care providers, schools, and faith based communities. Gender Illumination runs a mentorship program and creates gender rituals. For more information go to www.genderillumination.com
Both Gender Blender and Gender Illumination are committed to working from a place of intersectionality and acknowledging how racism, sexism, homophobia, transphobia, ableism, and classism are directly connected.
Can you talk more about what Gender Illumination is up to?
Since launching this past February, Gender Illumination has run successful gender inclusivity trainings for businesses and organizations including major tech companies all across the US and Canada, Urban Services YMCA, and faith based institutions. We have facilitated workshops at The National LGBT Task Force conference Creating Change, the Isabella Freedman Center, Adamah, Midrasha School, Pacific School of Religion, and Groundswell Institute. Gender Illumination was part of the LGBT In the News Transcending Stereotypes Panel and the Center for LGBTQ and Gender Studies Affirming Gender Diversity Panel. Gender Illumination holds monthly workshops in the Bay Area of California focused on healing, storytelling, theater, and creative ways to end oppression. Currently Gender Illumination is in dialogue with Bay Area health care providers and is hoping to launch specific health care gender inclusivity trainings. In addition to adult trainings, Gender Illumination has facilitated youth based programming for trans and gender queer youth at Rainbow Day Camp and Camp Kickin' It.
Gender Illumination runs an intergenerational as well as peer to peer mentorship program that empowers both the mentor and the mentee to grow in their gender identity, leadership skills, and feel more comfortable and confident in who they are.
Gender Illumination creates spaces for Trans and gender non-conforming people to celebrate their stories and to heal their trauma through art, theater, dance, and ritual. We have curated two performance pieces for the larger public and have been hosting public rituals around gender justice. In addition, Gender Illumination works with faith based communities to make existing rituals more inclusive and to build specific gender coming out and gender celebration rituals for individuals. Gender Illumination has participated in Trans Marches and Pride in numerous different cities from San Diego to SF.
Gender Illumination is the proud recipient of the Living the Next Economy Activation Award. For more information on how to schedule a training, workshop, speaking engagement, or to become part of the mentorship program please go to www.genderillumination.com
How can someone, perhaps a CEO or H.R. professional, wishing to engage you and either or both of your organizations reach out for a workshop or materials to educate their staff or inform their corporate culture on gender issues? And, once they do reach out, what kinds of help can they expect? Explain how you engage organizations from start to finish...
The best way for a CEO or H.R. professional to connect is through our website www.genderillumination.com or by emailing me at ariel@genderillumination.com. Gender Illumination offers full gender inclusivity trainings and consulting. We tailor make each training to match the needs of the business or organization we are working with. We offer half day trainings, full day trainings, as well as an extensive year long partnership that involves multiple trainings throughout the year. We focus on training HR departments, all employees, changing workspace environments, bathrooms, and health care insurance systems to be inclusive to trans and gender non-conforming people. We do gender consulting and help businesses write policies that are inclusive to people of all genders. We also do unconscious bias trainings, diversity trainings, and trainings on ending workplace harassment. Upon reaching out to Gender Illumination a business can expect a consultation call in which we work together to figure out which service will best suit the needs of the business. After that Gender Illumination tailor makes a successful training and continued consulting until the business or organization has mastered the skills of inclusion and all employees and systems are on board.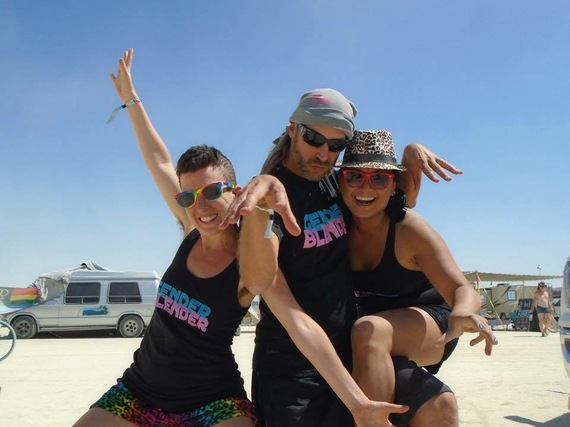 (L-R Ariel Vegosen, founder of Gender Illumination and Gender Blender, a genderqueer safe-space camp at Burning Man, David Bronner, CEO of Dr. Bronner's, which supports both Gender Blender and Gender Illumination, and Cindy Vee, part of the camp's leadership team)
Why is there a need for Gender Blender at Burning Man?
A lot of people want to believe that Burning Man is Utopia because it is a festival that is radically inclusive, gift giving, and a place to radically express yourself. The truth is people don't drop their sexism, racism, homophobia, transphobia, classism, ageism, or ableism when they walk through the gate. Burning Man is an 80,000-person event. It is powerful and beautiful but it is not Utopia. I have firsthand experienced misogyny and inappropriate comments based on how I express my gender at Burning Man. There have been hate crimes that have occurred at the event based on people's gender. Burning Man is a city like any other city in the United States -- it has serious issues. Don't get me wrong, I love Burning Man the same way I love NYC and San Francisco and Washington DC and many other cities that I have spent time in -- but all of these places have flaws. Oppression is a national problem that does not go away because we build a beautiful artistic city in the middle of the desert for a week.
In fact the only way oppression is ever going to end is if we address it and educate ourselves to create liberation. Gender Blender exists at Burning Man because we are needed. Before Gender Blender existed there were no groups focused on gender liberation and creating safer spaces for Trans and gender queer community at Burning Man. The work we do at Gender Blender is not just about the short time we are at Burning Man. This work influences people and the information we teach they take back with them to their lives outside of this festival. Gender Blender exists outside of Burning Man as well. We are a year round community -- committed to each others' well being, to creating safer spaces for Trans and gender queer community, and to creating spaces for people to explore their gender.
Tell us more about Gender Blender -- how has it grown over the years?
Gender Blender started with a vision that Ronnie Appleseed and I had in 2008. We were sitting on playa (the area where Burning Man is held) and after having been to Burning Man for four and five years we noticed that there was no gathering point for people like us, no safety, and despite all the radical expression we still felt like folks couldn't fully explore their gender identity. So we decided we would build that space. We would create a safer space for trans, gender queer, gender non-conforming, queens, kings, all those in between, and those wanting to experiment or explore their gender. Our theme camp and mission has always been infused with ending all forms of oppression and having fun while doing that. Our main gift to the Burning Man community is the safer space for trans and gender queer people, a place to explore, and of course have smoothies (hence the blender). We started the camp with a very small group of people and since have grown in numbers, gained allies, built a beautiful community, and in this process my own gender identity has expanded. We have had the opportunity to build strong connections and allyships with other queer camps at Burning Man -- these connections have been necessary in our growth. These allyships are not just about Burning Man. I really believe that in order for there to be gender justice we need justice around race, class, and sexuality as well. It is very important for marginalized communities to work together and to create strong bonds. I am very proud of how far Gender Blender has come and the amount of people we have touched along the way.
What is something you are proud of that Gender Blender has accomplished. Not to embarrass you but I heard Gender Blender received an award this year...
I am incredibly proud of the community Gender Blender has built. I am proud of the way people in my theme camp show up for each other year round. I am proud that every year Gender Blender facilitates an anti-oppression workshop and that for us Burning Man is not just a party in the desert it is part of our activism and social justice work. At gender blender we teach tools of healing, liberation, support, and consent. This year we won an award for our play party because of how we teach consent, safer sex, and for creating an environment that centers and celebrates people that are often marginalized including trans, gender queer, gender non-conforming people, people of color, disabled people, fat people, femme people, and anyone that has spent time in the margins of society. We welcome all people of all backgrounds and genders and we honor and celebrate our beauty as Gender Blenders.
What are your hopes for Gender Blender and Gender Illumination?
I am incredibly thankful for the many activists, organizations, and gender justice communities that have been doing the work of gender liberation for generations. I am thankful to be part of this movement and doing this work through Gender Blender and Gender Illumination.
My hope is that Gender Blender continues to grow and inspire. I hope new people join our theme camp (you can do so at www.genderblenders.org or email info@genderblenders.org). We plan to create more workshops, events, art, theater, play parties, and safer spaces for trans and gender queer people both at Burning Man and beyond.
My hope for Gender Illumination is that we are a leader in this current gender liberation movement. There is an awakening happening in our society around gender right now and I am excited for Gender Illumination to be offering Gender Inclusivity Trainings, consulting, mentorship, and ritual at this time. We have a real chance of shifting the narrative around gender in this country and internationally. I hope companies, organizations, businesses, health care providers, schools, and communities of faith are able to use Gender Illumination's services and create more inclusive environments. (We can be reached at www.genderillumination.com or ariel@genderillumination.com)
Calling all HuffPost superfans!
Sign up for membership to become a founding member and help shape HuffPost's next chapter